The Chicago Bears finally win! It's not that great of a win but a win is a win and it was against a division rival. We won on a holiday to whenever you beat a rival team on a holiday is way better because people will remember it more and it's more legendary to win on a special day. This isn't the first time we have taken care of the Lions on Thanksgiving there have been other times. Throughout NFL history Bears and Lions play a lot on Thanksgiving and in the recent years of NFL we own them on this day. In 2018 we had our backup quarterback in just how we did this year. In 2018 it was Chase Daniel and he lead us to a win on Thanksgiving at a score of 23-16 that was a very good game. It wasn't exactly him who won us that game it was Eddie Jackson grabbing a clutch pick 6 to seal the deal that game which most Bears fans for sure remember. In 2019 we beat them on Thanksgiving again and the final score of that one was 24-20 which was a complete nail-biter just like the 2018 game. The Bears were on their final drive of the game down 17-20 and they needed something out of the drive late in the game. We were around midfield and on 3rd down needing a conversion, Mitchell Trubisky hit Anthony Miller deep to keep the drive going. Then a play or two later he hit Anthony Miller again on 3rd down on the right sideline hauling it in around the one-yard line the Bears would later punch it in and with the Lions having a little bit of time to go down the field Eddie Jackson picked off David Blough to secure the win just how he did in 2018. The teams didn't meet on a holiday during 2020 but you all know they did this year 2021 and we won off an 8-minute game-winning drive which ended in a Cairo Santos field goal. We own this team on Thanksgiving and all the games we would beat them would all end in the same way. Back to back times, we beat them off game-winning drives, Eddie Jackson in two out of the three of the Thanksgiving games sealed it with a pick, they all ended so close with the Lions always finding a way to blow it and all of these games were in Detriot so this team plays good football when there in Detriot on Thanksgiving day. But I wouldn't really say we played that good of football today. We did well enough to win but there were for sure flaws I can go over in this game. I know we're happy to have a win but all we did was beat the Lions with their most used offensive weapon D'Andre Swift leaving early in the game. I feel like if we played the way we did today against any other team we probably would have lost. So let me go over the main parts of this game Andy Dalton's performance, our offensive weapons performence, the whole Matt Nagy situation, the Lions flaws that costed them the game you name it. 
Andy Dalton played solid:
The offense today didn't score a lot of points but Andy Dalton played pretty good in this game. He had 317 passing yards, 1 passing touchdown, and 1 interception. The interception he had was pretty bad and he should have had two but the Detriot corner dropped it. But overall Andy had a solid day he did enough to get us by. In this type of game where your playing a winless team and all the Lions will do is put up like 14, all Andy has to do is put up 16-20 points and stay away from turnovers which he did other than the one had. At the age he is at he isn't going to pop off a stunning game he didn't need to all he needed to do was get the job done and he did. His job today was to make the big throws when he had to, don't make dumb plays that will keep the Lions in the game, and just overall just keep a conservative game. He did all of those things and that's how we won. That is pretty good for a backup quarterback and that's pretty much what he is. He really doesn't have the skill anymore to be a starter and he's not the type of quarterback anymore to ride out a full season of being a starting quarterback. So him being backup level what he did was pretty good. Fields will probably be our starter when he gets back from injury, not Dalton. I know there are going to be some people out there who are going to say something like Dalton got us our first win in over a month and snapped our losing streak when Fields was in so Dalton should start. No, I don't think so Fields should still be our season starter he is the best for the team even though Dalton won today. But if Fields is injured for a while then having Dalton in a few games isn't a big deal to me because he is one of the best backups you can find. He is a 10-year veteran and has great pocket awareness he isn't as fast as Fields to escape pressure but he knows how to pass the ball out fast and know where the pressure is coming from and when it is coming so he knows when to throw a pocket pass at the right time. Justin Fields might have the talent for when he is on offense for us but Dalton has the IQ and that is exactly what you want in a backup who is teaching a rookie stud like Fields. I was saying Fields is more mobile than Dalton and can leave the pocket but Dalton on some plays can do that. He can't do it every play because I see him get sacked a lot and doesn't dodge people at the last second like Fields does. But what I like about when he escapes out of the pocket is that he does it when we need it the most if him taking a sack is going to lose us the game in that situation he finds a way to roll out and make a throw on the run even though that's not his style of play. That is what veterans do they know how to do something when they need it the most because they have been around so long. Dalton's stats might not wow you but he got the job done and in a game like this that's all we really needed was just a below-average outing. Speaking of his stats Andy Dalton is the first Bears quarterback in over a year to throw over 300 yards in a game the last Bears quarterback to do that was Nick Foles. He didn't make Patrick Mahomes passes that were big yards to get him that high of a stat but the consistent passes that were being completed by him over and over again got him to that amount of yards.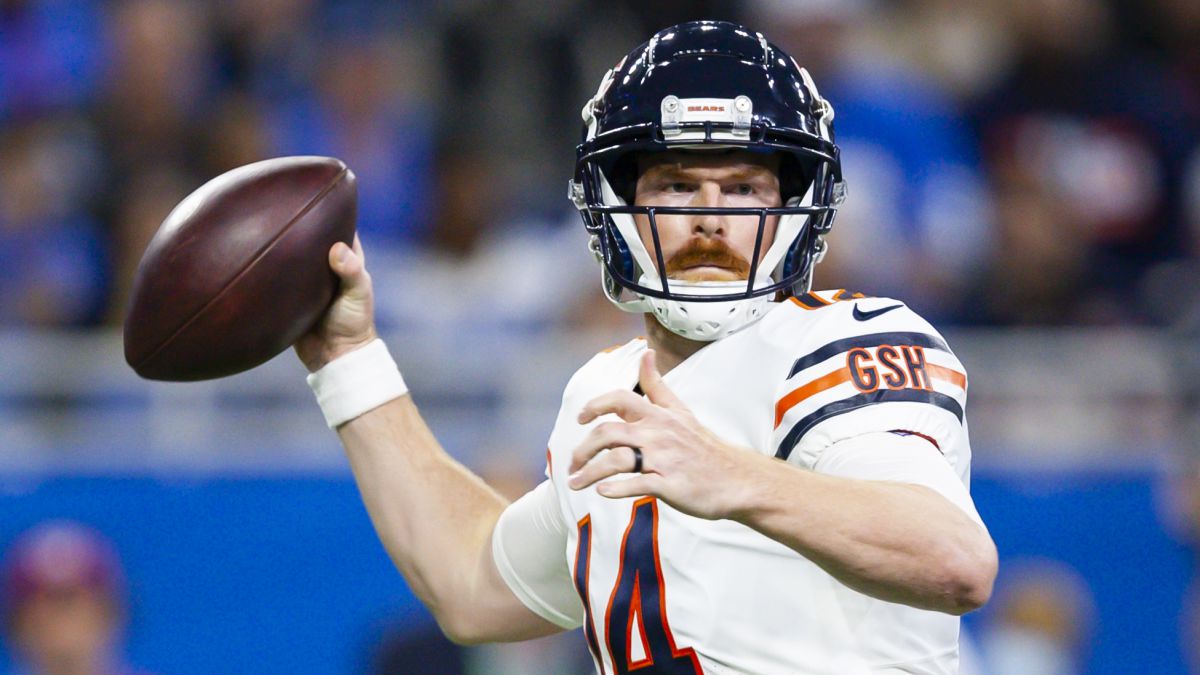 Our offensive weapons did decent:
The offensive targets we have aren't the deadliest guys but they did well today. Our best receiver this season Darnell Mooney reached 100 yards. That is Darnell Mooney's second 100 yard game in a row. Mooney did have a pretty good amount of drops this game just how he did last game against the Ravens. Sometimes he does have a drop problem because he is not at a wide receiver one skill level. Robinson has been getting no touches this year and he has been hurt the past 2 games so Mooney has been getting nothing but targets. So if Mooney gets all of these targets he is going to drop them at some point most wide receiver ones aren't dropping multiple passes a game they are catching most of them because they are receivers on top of the NFL. Allen Robinson never drops the ball one of the best-contested catchers in the NFL the reason why he doesn't drop it much is because he is a skill-level wide receiver one. Mooney is not at that level he is still young and isn't ready for this type of stage to be a top wideout. But we don't have much of a choice because when Robinson plays it's like he's gone missing so Mooney has really gotten some seperations. But even though I have my doubts of him being the main target I still do think it's impressive with the way he's been balling out I knew going into this season he was going to get more targets but I didn't know it would be this much. Fields is out right now but when Mooney and Fields are on the field together they are a dynamic duo and can create a great future together with the connection they have. I would say the same with Fields to Robinson but Robinson is for sure leaving after this year and Mooney can be here for a while so Fields and Mooney can be the real deal a few years from now. So even with Mooney dropping a good amount of passes today it's still great getting to 100 yards and being the main threat on offense today.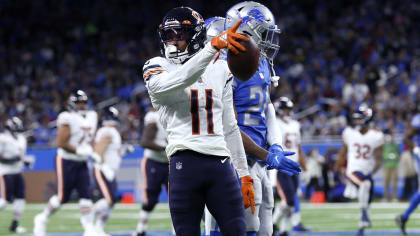 Mooney was great but there were two other plays that were great and those players were the tight end duo of Cole Kmet and Jimmy Graham. I think as a tight end duo it's great having a young guy and a hall of fame veteran it's two different skill sets you have to guard and Kmet can learn from Graham as well. But today these guys finally had some impact the tight end position has been completely silent so it was really great to see these guys get some receptions today. Jimmy Graham got us our only touchdown today which was about a 15-yard touchdown and was late in the 2nd quarter. That was Graham's 83rd career touchdown and was his first touchdown grab of the year I was happy to finally see Graham get action in the red zone because he is so good on red zone grabs last year they looked for him every time they were in that area they did it today Graham got us our only touchdown of the game good job by the 12-year veteran. Then to a complete opposite tight end Cole Comet super young unlike Graham and is more of a blocking tight end not a red zone threat like Jimmy Graham. But even though Kmet's main skill being blocking his receiving today was pretty good. I saw Kmet make all different types of receptions today dump off catches, catches on 3rd down, and much more. Kmet today had 8 receptions and 65 yards sometimes in games I will see Kmet make one pretty good reception for a good amount of yards but today he had all types of catches to add it up to a good all-around game for him receiving. He really isn't that good of a receiving tight end when he was drafted he was known for his blocking so seeing him get receptions made me feel good. I thought this season he would be a guy who should get more grabs because all he did last year was block and he really hasn't gotten the touches I wanted him to get this year but today he did what I've been wanting him to do all year. That stat line is perfect 8 receptions and 65 yards I love to see it the game he had today probably won't happen very often but if he were to do this on a regular basis that would be nice. 
Matt Nagy still needs to go:
We got the win but Matt Nagy still needs to go. Us getting a win will distract us from how unorganized this team is right now. Before this game, there were non-stop talks about Nagy getting fired after the game today no matter the outcome and all these weird rumors and talks about players saying bad stuff about the coach Matt Nagy. Just because we won doesn't mean all of that is gone this front office is still out of line. At the end of the day, Nagy still needs to go even though he secured a win today and maybe saved his job today he should still be out of here all he did to save his job was put up 16 points on a terrible defense full of nobodies and showed know run game today. Not impressive he saved his job against a terrible team the worst team in football. Even us doing enough in today's game to win you can still see all of the flaws on the field of this team when Matt Nagy is coaching. The fact we put up 16 points of offense to a team like this is sad I feel like at some point this team should have a game where we can have a rare explosive game on offense and today's game could have been that game but it wasn't because Nagy can't find ways to put the ball in. We were moving the ball down the field great going down was no problem but whenever we got to the red zone the offense would just stall. Out of all the time we would put into moving first down after first down we can only put the ball in once is not good. Whenever we got to the red zone it seems like our ability to take shots at the end zone was poor because it was never aggressive when we have the chance to go in. Nagy has problems with that he should know how to score in the red zone he needs to know how to get the ball in because he knows how to move the offense down the field but doesn't know how to do red-zone possessions. All the things I saw about Matt Nagy you already know everybody knows the flaws that he has. Nagy has been doing the same trash stuff for 3 years now you already know and since he's been doing it for that long it's time for him to head on out. I really think there is a good chance he will stay for the rest of this season because not once in the Chicago Bears franchise they have fired a coach mid-year not once. But I think if it's ever going to happen for the first time make this time the first because I want Nagy gone now and as soon as possible because he should have been gone a long time ago. 
The Lions did everything possible to give the bears the win:
Man the Lions in this game shot themselves in the foot. With all the mistakes that they put on themselves was embarrassing. I'm a diehard Bears fan and it pisses me off how much this Lions team makes themselves lose week after week. They mostly did that today by putting flag after flag after flag. There were times they would put 3-4 flags in a row on themselves the good teams don't do that. To be honest the average or below-average teams don't do that no teams do that only teams who are winless like the Lions do that. The Lions would be driving with good field position and can put extra points with the bad offense they have. But to destroy their drives they would get multiple flags in a row on them like 3-4 in a row. With that happening that would make them in this game have multiple 1st and 30's with how many flags they would do. I just don't understand if there going to go offsides that many times and it's obviously not working when you're trying to guess the snap and go rush the quarterback then stop guessing and wait for it to be snapped. They had a lot of holding calls to any type of flag that you can get in football the Lions got in today's game. They got all sorts of things holding, offsides you name it I even saw a couple of illegal formations by them and that's terrible to you should know where you should be set. But even though I think it's terrible with all the flags the Lions have I'm glad it happened because if they didn't do all of that I think we would have lost. So the Lions doing this just came in huge so it's fine by me I just hope the Lions team can adjust on this.
That is my Chicago Bears Thanksgiving recap! Thank you so much for reading I enjoyed making this article a lot. Let me know your thoughts on this let me know if you agree with my takes. It's always fun to watch games on Thanksgiving even if a matchup is trash teams. Again thank you for reading and like always bear down!!