The Chicago Bears and Justin Fields are heading down to Lambeau Field for a primetime game. Yes, the best rivalry in football history is being played on this week's Sunday night football. It's awesome we are having a matchup with our most hated rivals on national television but whenever we play this Packers team on primetime things always go horribly wrong. The games in the past we have had with this team have proven this. We have played this team so many times on Sunday night football and I can't even remember the last time we beat them on Sunday night. Like I said earlier this game is being played in Lambeau field and we never play good football there. It's the worst combo the team we never beat on a primetime night and a stadium we don't play good at. It seems like whenever we play the Packers on primetime it's usually in Green Bay for some reason and it always just goes wrong and I wouldn't be surprised one bit if Sunday night's game turns out how it always does in the past. Not only do we always lose to Green Bay on primetime we always lose to the Packers whether it's on primetime or not. We just can never beat the Packers in the recent years whether it's in Soldier Field, Lambeau, or primetime the Packers will always beat us mostly because of Aaron Rodgers. But out of all the times, we don't have luck against Green Bay in primetime and the last time we beat them on primetime was in 2015. That was a great win for Chicago they had like a 5 win team going up against a like usual really good Packer team with Aaron Rodgers and we beat them on Brett Farve's retirement night while it was Thanksgiving. The Packers own us in primetime I can't take that away from them but that 2015 win was a great one. We beat them on the Thanksgiving holiday while it was a special retirement night for one of their most legendary players and we spoiled it! They own us for sure but you do have to admit in that game and situation that was a good one to take from the Packers. But my main point from mentioning that game wasn't to brag it was to prove that we can't beat them in these types of nationally televised games. It was 6 years ago when it last happened for us and it was so long ago we had a primetime win against them Jay Cutler and Matt Forte were still on the team. So I wouldn't say that I have a lot of confidence in this game because the last 10 years will show why. Every time the Bears-Packers play everyone hypes it up because it's the best rivalry in football and acts like it's an evenly matched game. They are correct it is the best rivalry in football I 100 % believe in that and always back that statement up. But just because the history and background makes it the best rivalry doesn't mean it's going to be an evenly matched game. The Packers are obviously the better team and they have for the last 10 years. The Packers are super bowl contenders and were not even close to being a playoff contender. Everyone thinks since these two teams are the best rivalry and have had so many great battles in the past that automatically means that when they play each other on Sunday that makes the game evenly matched. To be honest, it doesn't it's just an obviously better Packers team playing against the struggling Bears and people always make these statements on how the Bears can win but there aren't many ways. I even admit that as a bears fan and that's tough to admit but it's true. Well, enough about my intro let me recap my parts of the teams like I always do. When I type these articles I mostly break down the other team. So I will recap the Packers offense, Packers defense, a little bit of the Bears offense, my keys to Bears victory, and my favorite part the score prediction.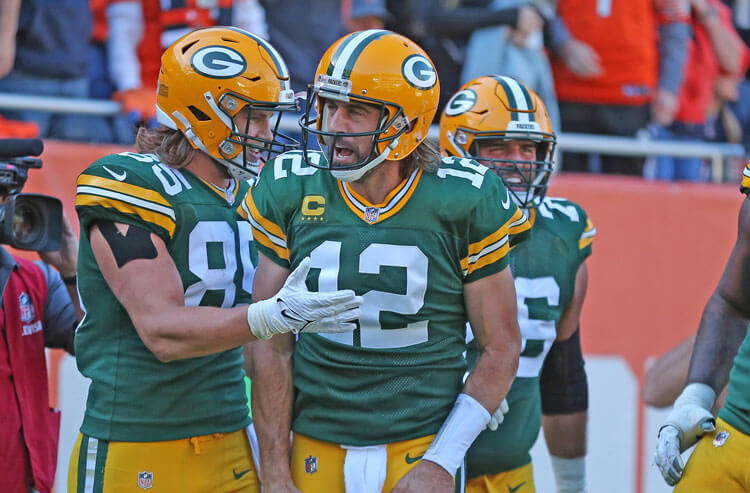 Packers offense:
Rodgers has been on a roll the last two weeks:
In the last two games, the Packers offense has been on a roll especially Aaron Rodgers. In their last two games against the Rams and the Vikings, Aaron Rodgers was shredding it up. Aaron Rodgers stats combined in those two games were 692 yards, 6 passing touchdowns, and 0 interceptions! One of those games against a pretty good football team the Los Angelos Rams. People say the best defense in football and Rodgers is torching their secondary with Jalen Ramsey that's impressive. The Vikings aren't totally on that level but to have the numbers he has in those games are numbers most quarterbacks won't get. This isn't a surprise to me to see these types of numbers and to see how good he is playing because already know who this guy is and most of you guys do to. He has already broken the fans of Chicago so many times I just don't even want to think about it. He has broken our hearts by being the bad man that they say he is with all the big throws and game-winning drives he has had against us. He is capable of doing this every game he has done this to everyone but he always has the best chance of it when he steps on the field against the Bears. He can do everything with his game there is a reason why he is always doing the things he's doing. He has insane accuracy, great decision making and my favorite part about his game is his arm. Rodgers has a great arm he is one of the best deep-ball throwers I would say him and Russell Wilson are the two best deep-ball passers in football. With one of my football takes I'm always very confident in his Russell Wilson is the best deep-ball thrower. He is but if it wasn't for him even me being a Bears fan I'd have to put Rodgers into that number one spot for deep ball throwing. There has been some talk about Aaron Rodgers toe being hurt and that is a ridiculous thing to point out that might slow him down. People say his toe injury might slow down his mobility and could affect his game but that hasn't seemed to be the case with the stats he has put up the last two games. You got to be desperate for ways to have Rodgers to start playing badly when you're saying his toe will affect his game. The legendary quarterback's play threw that I highly doubt the toe injury is serious and even if it was Rodgers would battle through it no problem. Rodgers has been going off lately and he always goes off against us so this is the worst time for Rodgers to get hot right before he's playing us. 
Adams is Rodgers right hand:
Davante Adams just playing lights out not a surprise just like with Rodgers. Both Rodgers and Adams are going off at the same time and both of these guys are arguably the best players at their positions. So if they're both playing at the highest level they possibly can be at their just going to destroy your coverage. Rodgers and Adams are without a doubt the best quarterback-receiver duo in football. These guys just have a sensational connection to each other they always find ways to connect. It's just so scary with this duo because if one of them is on the top of their game and the other is just doing average they can still pop off because just one of them on the top of their game makes the connection elite. But it's even scarier going into our game against them there both playing as high as they have been. Teams know Adams is the only guy Rodgers really wants to get the ball to no one else and they still can't guard him. Makes sense he is the best route runner in the league and having the stats this year of 1,085 yards, 5 touchdowns, and 80 receptions! He is beyond the most targeted receiver on the Packers no one else is really even that much of a threat with any routes or deep balls. He's just Aaron Rodgers right-hand man Adams is why this offense works so perfectly. I saved this stat for last for the stats I'm naming off of Adams because this one is so incredible. Adams this year is averaging 98.5 yards per game! That is pretty much a 100-yard outcome every game that he is in he just knows how to get open. So obviously Adams will be a matchup nightmare for the Bears especially with our cornerback group being so weak having our only good corner be Jaylon Johnson. Johnson is so good I like him but he is still young there have been times where I see him get burned him still being inexperienced will be a probably when covering Adams. 
Running back duo of Aaron Jones and Aj Dillion:
This duo of Aaron Jones and Aj Dillion is actually pretty good. Their stats aren't totally that great and that is because they are not used that much. Their stats for not being used much is pretty good and I feel like if they were to be used more they can prove that their skills can create an elite duo. One thing you might be surprised about here is that Aaron Jones is the Packers second most targeted offensive weapon. He gets the most targets behind Davante Adams and it really proves how weak their receiving core is behind Davante Adams. All they have is Allen Lezard who at times can be decent at the best. They have veteran Randall Cobb who really isn't good anymore a few years ago he used to be a great speedy slot receiver but now he's just not even a threat nothing but washed. But even if they had other good receivers besides Adams I still wouldn't blame them for making Jones the second most targeted weapon on the offense. Jones is one of the best catch and run running backs in football I would most definitely put him in the conversation for the best catch and run back in football. He has great hands with shifty speed added to his catching. Aj Dillion on the other hand is the complete opposite he is more of a power runner. Whenever it's third and short it's always handed off to him. He has good size for his power running teams know he is only used on 3rd and shorts and they still can't stop it because he is so good. Another part of that would be because of the Packers offensive line they are very good on the line.  
Packers defense:
This Packers defense is really good this Packer defense is probably their best defense since 2010 the year they won the super bowl. There in the top 10 for every category for defense there pretty steady everywhere. This scares me this is their best defense since the year they won the super bowl because I don't want to see the Packers in the super bowl that will be a pain to watch. They have the same offense now than they did in 2010 but expect their offense is better this year and added to that a defense that is on their 2010 skill level. Everything on this defense is solid on every spot they got great tacklers, good coverage guys, a very capable pass rush, good run defense up front, and all around there just so steady everywhere. To have a good defense you don't have to have a superstar pro bowl player at each position you just have solid steady guys at multiple positions and that's even better than having multiple pro bowlers. Their biggest strength out of all the positions on their defense is for sure their secondary. They got so many guys playing well on this secondary they of course got former bear Adrian Amos who's having a pro bowl year, Darnell Savage, who's having a great season in coverage and in-run support. One guy on the secondary who most people won't mention but I will because I know he is good and that is rookie Eric Stokes. Just because he is a rookie you shouldn't sleep on him he has been on of the best rookie corners in the NFL. But lastly, with their secondary coverage, I feel like you should all know him and that is Jaire Alexander arguably the best corner in the game. I have heard there is a good chance he will miss this game but also have heard he has been participating in every Packers practice so he might play. But even if he doesn't play secondary looking steady on every step. To their big boys upfront, a guy you want to look out for is Rashan Gary this guy has been playing sensational with this year having 50 pressures and 7 sacks even though he's missing his guy on the other side Za'darius Smith. For sure the scariest Packer defense we have seen in a while so that's not good. In their last two games they have had a good amount of points scored on them by the Vikings and the Rams but in both of those games, a lot of those points were in garbage time of what I have heard. But both of those teams have good offenses to mostly the Vikings with Dalvin Cook and receiver duo of Justin Jefferson and Adam Thielen so them putting points on you isn't a big deal. So what I'm saying is the Packers defense can be beaten but I wouldn't count on it. 
Fields and Robinson are both playing:
Yes, both Fields and Robinson are both set to play. According to the Bears, Justin Fields is fully healthy still hurting a little bit but set to play. Robinson will most likely be playing after suffering that hamstring injury. I know even when both of these guys are on the field at the same time they still don't play that well together as a duo because the offense here in Chicago is a completely broken system with Matt Nagy at play-caller question marks on the offensive line you name it. So even having both of these guys back it still won't be a pretty offense but the last time these two guys played together we had a pretty good offense going against the Steelers. Robinson in that game actually looked like his old self and in that game, it looked like the Bears actually wanted to get him the ball. I think they were tired of taking heat from the fans saying Robinson isn't getting any touches so they finally made sure he got the ball. I mean come on were right you have a top 7 wideout in your lineup and he is barely getting targets? I don't care if teams are doubling him you still have to get the ball to him he is one of the best-contested catchers in football he can get some of those. A lot of it is Matt Nagy's fault the routes he has Robinson running are all on the same side of the field all of his routes are all the same routes going in the same direction. If you're struggling on the Chicago Bears you can always blame Matt Nagy because he is always utilizing plays in the worst way possible. But having these two guys back will help I'm excited to see how they will perform together.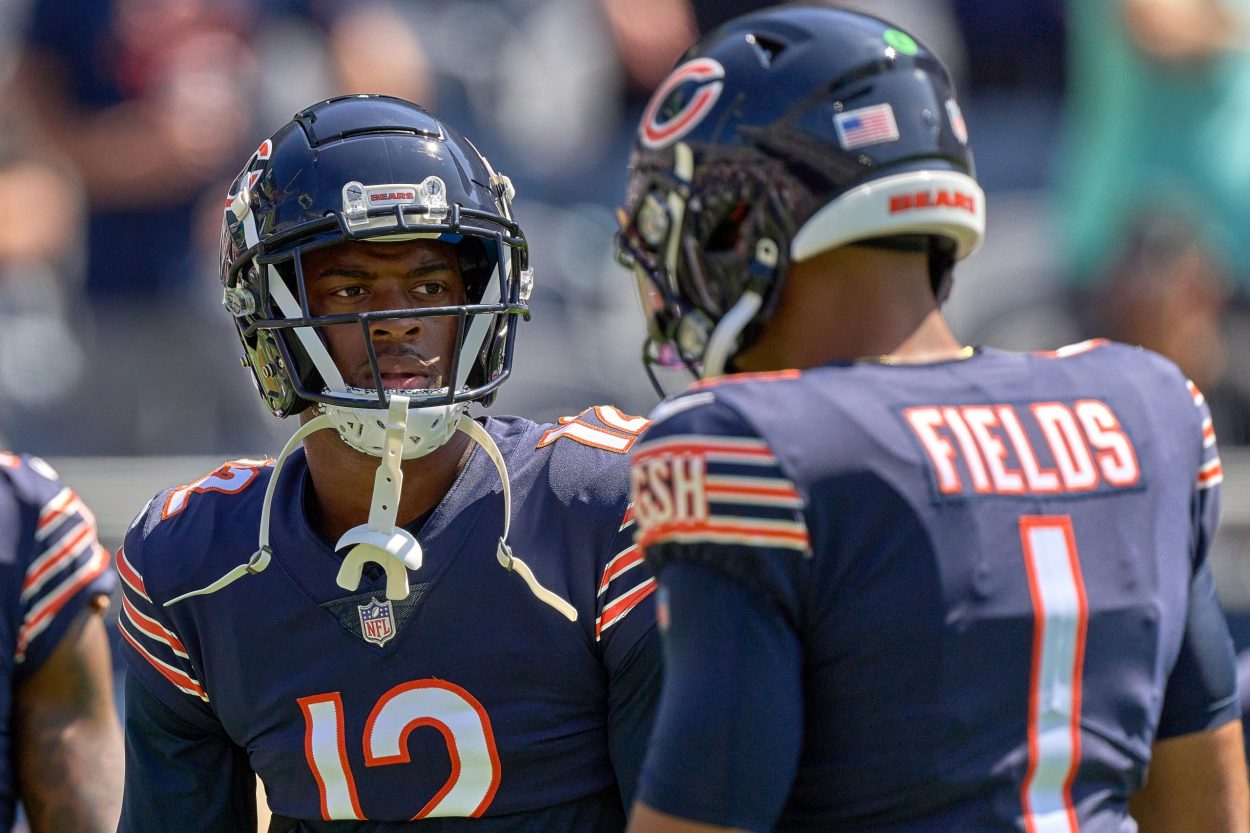 Keys to Bears victory:
Play action bombs with Justin Fields:
Justin Fields is a capable deep ball thrower I don't understand why the Chicago Bears can't corporate more play-action into their playbook when it clearly works with rookie quarterback Justin Fields. Whenever Justin Fields has his best games is when he is going deep off of play-action it makes no sense why you won't do it. It seems like he hits every offensive target when he is on play-action it seems like everyone gets some touches and the whole offense as a group looks like it actually starts to click. If you look at how well we have run the football this your most teams will be putting resources upfront to stop the run so that will make it easier for us to start making plays off of play-action. So we should be running more play-action from what we have seen with Fields. We need successful deep balls too if we want to win a little bit of offense has to click. Like how else are you going to beat a team with Aaron Rodgers the only way to beat him is to outscore him and that's unlikely to do so we need to use play-action. 
Flawless RedZone production:
Yes, we need a good red zone offense in this one. I know that is asking a lot out of offense like the Bears but what has to be done has to be done. We have not been a team that has been good in the red zone we only score 54% of the time we are there. That percentage is bottom 10 in the NFL so when we need it in this game it's not going to magically change but if you want to win this game you have to be flawless in the red zone. We need as many points as we can to keep up with this Packers offense we need to score with every chance we get no settling for field goals we need some points in this game. I know a lot of the things I'm saying seems very unlikely to happen but it's how you need to win this game I think that every time we're in the red zone we have to put it in every time. You're not going to beat Aaron Rodgers only getting field goals you have to play to win. But even with how bad we are in the red zone the Bears do have a good amount of red zone weapons to throw to. Veteran tight end Jimmy Graham who has 84 career touchdowns is a really good red-zone threat. I notice that's when we target him the most and we should target him in the red zone way more. Graham is such a good big body tight end his body and his skills evolve around red-zone targets he is playing his former team so get the ball to him. We have Robinson coming back one of the biggest offensive threats in football in the red zone and anywhere on the field. You got Darnell Mooney who has been having a sensational your so I'm confident with the weapons we have for the red zone.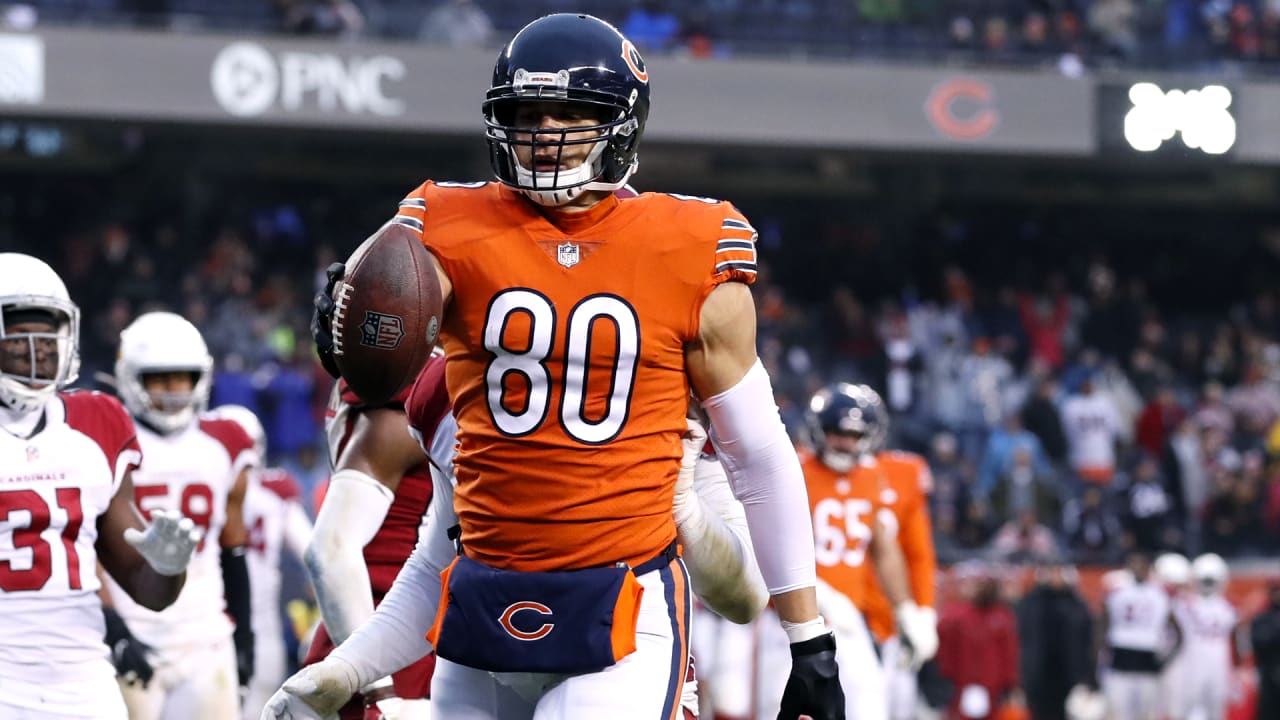 Pass rushers need to have the night of their lives:
The pass rushers need to be huge in this primetime matchup. We are missing Khalil Mack big part of the Bears defense obviously so his loss is going to hurt. But Robert Quinn is in and he is having the best season out of any player on this defense he has got 12 sacks and if he wants to continue that this game would be perfect for that to get into Rodgers face. Robert Quinn having a monster game would probably be the only way we can win this our coverage won't be good so the way to affect the coverage is to get some pressure and prevent deep ball throws. It's not just Quinn who has to have a good night everyone on that defensive line needs to have a solid day mostly Quinn needs to breakout then the rest of the guys play solid and that can change things. Rodgers will beat you with clean throws with no one in his face every time. But if you get him down to the dirt and get in his face and hope he makes a dumb throw that can be the turning point for us. 
Score prediction:
Time for my score prediction my favorite part of the article! I have made it clear who I think will most likely win this one but the score is always fun to say. With the Bears never playing good against Green Bay and Rodgers always having the edge on us I am going to have the Chicago Bears walk into Lambeau field and lose at a score of 26-14. It is hard to pick the Packers to win but it's my honest opinion let me know your prediction and thanks for reading.