The Bears in their week 8 matchup are set to play the 49ers. Both teams are very similar and are in the same situation right now. First off their teams are similar because they both have lockdown defenses with both teams having top 3 middle linebackers. The 49ers have Fred Warner who is a guy I hear a lot of people say is the best middle linebacker. The Bears have Roquan Smith I wouldn't say he is on the same skill level as Fred Warner yet but in the future, he will soon to be. Roquan Smith will be the best middle linebacker in football some Bears fans say he already is but I wouldn't say he is yet. He has what it takes he is one of the best isolation tacklers and maybe the best coverage linebacker. Other players these teams have similar is the quarterback situation. The Bears and 49ers both drafted quarterbacks with their first-round picks the 49ers taking Trey Lance and Bears taking Justin Fields. Both teams have rookie studs who can take over the NFL in the future with there skills. Not only in their quarterback room they have the young guys they both have veteran quarterbacks Jimmy G and Andy Dalton. These teams coming into this season had the same problem. The problem was do they start their veteran quarterbacks or put in their rookie's both teams have had their rookies play snaps the Bears have started Fields a couple of games but Lance hasn't played as much as Fields. Both teams started their season with their veteran quarterbacks Jimmy G and Andy Dalton both having the same idea to let the young guys learn. The last position these teams have in common is the running back room. The Bears have David Montgomery who is currently hurt and Khalil Herbert even when the Bears running backs are hurt our run game is always strong we always find a way to get good yards off running. Same with the 49ers they have been a run-heavy team the last 3 years that's how they got to the super bowl in 2019. In the 2019 NFC Championship, I'm pretty sure Jimmy G only threw 6 times and they still won because their run game is so dominant especially when Raheem Mosert is in the game for them. With all that said it's obvious these teams are exactly the same with players, playstyle, situations, and defenses. These teams can't get any more identical that's why it's going to be such a good competitive game. These teams' rosters are the same as I was explaining the whole time before their season situation is even more identical with both teams in desperate need of a win. Both teams kind of have the same record with the Bears standing at 3-4 and the 49ers at 2-4. Both teams into this season were expecting to have bounce-back years from the season before especially the 49ers. So both teams need to save their playoff hopes they need this win badly. It's going to be a low-scoring, defensive, and hard-hitting game without a doubt. So with these teams being exactly the same in every category possible, it's going to be a good one to have a pre-game recap on. So my recaps in this article will be going over the 49ers offense, injuries, keys to Bears victory, and my favorite the score prediction.
49ers offense:
Deebo Samuel gets all the targets:
The 49ers are a run-heavy team even though this season I think there without their main running back Raheem Mostert they still run the ball a lot and it works. But when this team does pass the ball most of the targets are going to Deebo. He is pretty much the only receiver they throw to it makes sense because they run the ball and grind it out and when they're not doing that their hitting Kittle through the middle of the field and when it comes to passing too wide receivers it's all to Deebo. Besides Deebo Samuel literally know one is getting the ball passed to them on this team. Deebo has 63 targets already this season that's more than doubled the second highest targeted receiver. It's usually not a good thing if your passing offense is just going to one guy because that's very predictable but with how good Deebo is he will still play good because he is having a fantastic season. After the catch he is elite, he can put the moves on you and has the speed to make plays that are going nowhere into an actual good run. His stats this year are 648 yards, 4 touchdowns and he is the big-play play machine. The 49ers offense in their super bowl run in 2019 had everything they had a run game that can milk the clock and had a highlight offense that can make big plays when they didn't want to run. But the 49ers offense isn't really like that anymore they don't have multiple guys who can make huge highlight plays. But the only guy they have now that can do that is Deebo. He is the guy who makes big plays he is the guy who will blow out for a 40-yard reception or make a nice catch run he is that type of playmaker. With that playstyle and him being the only one on the team who can do that makes him fun to watch. He is the only guy who can make the big 40 yard plays that you see. They have second-year receiver Brandon Aiyuk in his rookie year he was super good one of the better rookie receivers from last year's draft class. He is just like Deebo he can make those flashy plays most plays I saw him make last year were flashy ones especially that one hurdle he had against the Eagles you have all seen. But this season he hasn't been like that he hasn't been the flashy guy he used to be in his rookie year. Not that is he playing badly he is barely getting any targets at all he hasn't been a factor in this offense. I really don't know why maybe it's because of Jimmy G or maybe the playcalling but he hasn't been apart of anything. They have a good amount of receiver room on this team which seems like would be enough to get themselves by but I guess not. The receivers they have seemed like they pretty decent enough to get pass offense going but it isn't clicking. But with the whole receiver core were mostly worried about Deebo he gets all the targets.
Trent Williams is the best-left tackle:
I have said before the 49ers run defense is good and it is because of their offensive line and the best part about their line is left tackle Trent Williams. I would say left tackle is the most important position on the offensive line because I have seen with the Bears offensive line most of their sacks are coming from when the defensive linemen pass the left tackle. Our left tackle is trash most of our flaws from the line are because of our trash left tackle it shows it's the most important blocking position because a lot of superstar defensive linemen are rushing from that area. Not only is Trent Williams good all over the 49ers line their linemen are good they aren't the best because Trent Williams is on the team if the 49ers offensive linemen were to be on any other team they would be the best linemen on that team. But with how good this line is the stats really say how good they are to their best blocking is when they're blocking for the run. Their top 10 in the NFL in run blocking win rate which is pretty good. Left tackle Trent Williams creates most of that great run blocking he is the best-left tackle in football he is good at everything. Trent creates blocking in running and passing he might be the best at blocking in both categories of running and passing he is just so elite. To be honest, he might be their best offensive player I know most of you would say Kittle, and I wouldn't blame you for thinking that but with how insane Trent is he might be their best offensive player I'm not saying he is but he is in the conversation for it. It's hard to find guys like him who can be the best blocker at passing and running. It's crazy what one guy can do their offense probably wouldn't be the same without him their running wouldn't be their whole entire offense if it wasn't for him. It shows how good a player he is that he's just one blocking linemen and their whole offense can flip without him I got to say there is no argument about him being the left tackle he is for sure the best I don't know anyone else who would be better.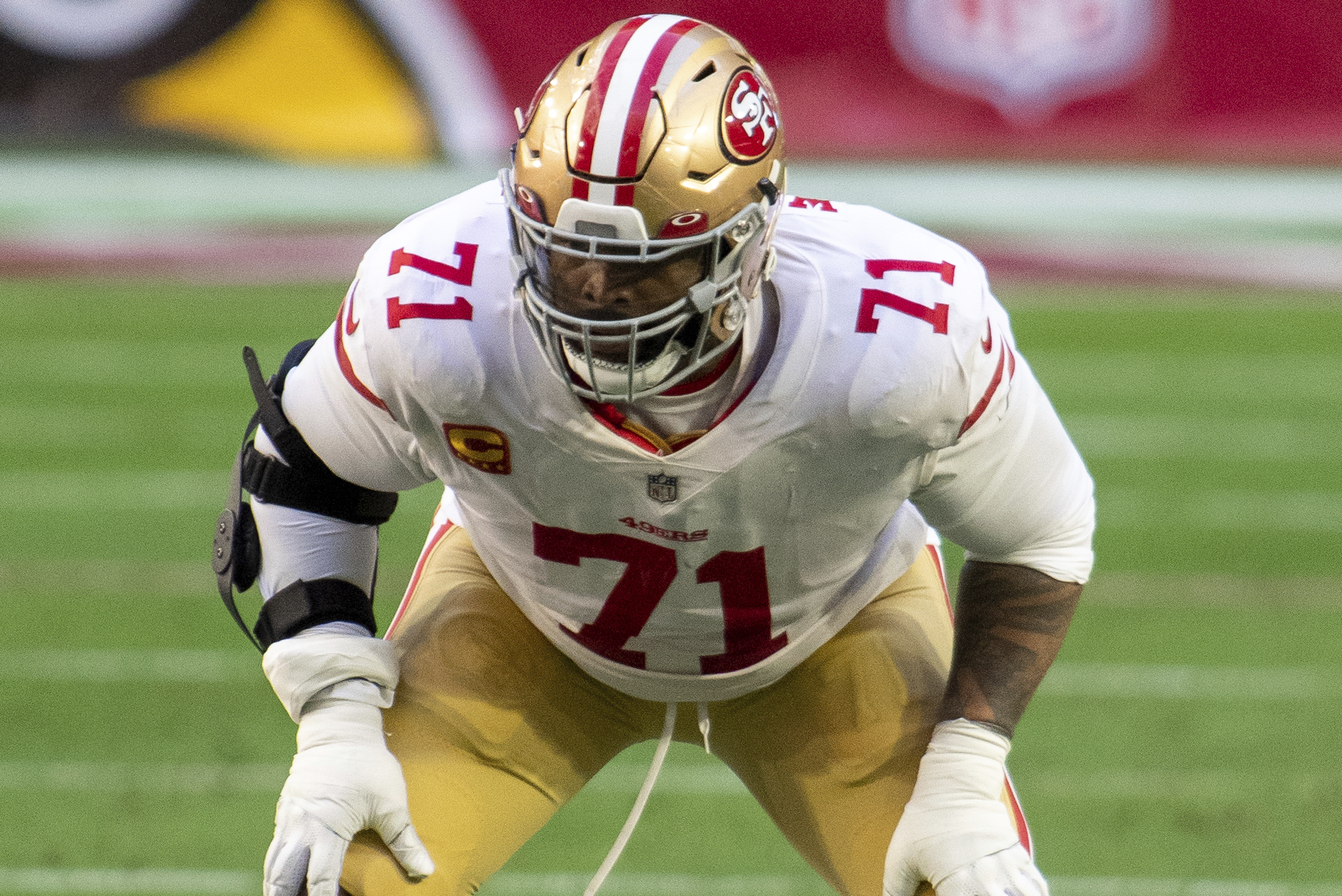 Jimmy Garoppolo has not been great:
Garoppolo has not been a good quarterback so far this year. There is a reason why they drafted Trey Lance this year in the draft. So far this year Garoppolo has 1,106 yards, 6 touchdowns, 4 interceptions. I wouldn't necessarily say those are very wowing stats because 6 touchdown passes and we're 8 weeks into the season so that's not even an average of 1 touchdown pass a game. The only type of pass play Garoppolo has been good at is play-action that can work because the run game is so good. He can make the fake to the running back and just go back for play action which is one of the few things he is good at. But other than the play-action passing Garoppolo has been terrible he has been making over-throw after the overthrow of what I have seen and has been missing receivers badly. His deep ball has not been consistent I think he has had some good deep ball throws this year because if you're going to run play action with him over and over your going to get a deep ball reception at some point because play action is all about deep ball throws. Garoppolo is doing exactly what he did last season just being flat-out inconsistent and there are a lot of positions that players get very inconsistent. But the last position I want to be inconsistent is the quarterback and Garoppolo has been doing a lot of that. This guy mostly does pocket passing and if he doesn't role out or run ever if we can get pressure on him I know we can force him to make bad throws because there last game against the Colts I saw some really bad throws by him.
Injuries:
Khalil Mack:
We are missing our biggest superstar in this game and you all know him, Khalil Mack. He has been having an insane year he is looking like his old 2018 self and should for sure be in the defensive player of the year conversation. But it's really hard not to see him play in this game with his foot injury. Not seeing him rushing the quarterback won't be easy to watch because with the stacked offensive line the 49ers have we need our duo of Khalil Mack and Robert Quinn. If Mack was playing in this game he would be lined up on Trent Williams and if he is clamped down we always have Quinn on the other side. But now Quinn will most likely be matched up on Trent Williams. If I had concerns about Mack being locked up by Trent then I will have concerns about Quinn being locked up too. So if Quinn is slowed down our duo won't be there it would be up to our other linemen to step up and rush those guys are really good they make this offensive line scary too but I don't know if I trust them to step up if they have too because this offensive line can contain them. It hurts not to have Mack shared with Quinn in here because it's impossible for this duo to have an off night. It's possible for one of them to have an off night but not both of them because if Mack gets locked up then I feel like Quinn will be on fire that day. Since we have both of these studs rushing they're not going to leave both those guys in isolation so one of them is doubled and the other will go off. So Mack being our best player is tough having him out when it's a win we really need we can't afford to lose this one. It's the perfect game for Mack and Quinn well not for the offensive line matchups because any players going against the 49ers line is not a good matchup because there so good all across. The good matchup I was talking about was Garoppolo if these two type of guys get in the face of a type of guy like Garoppolo he doesn't like that. All he does is just pocket pass get in his face and I promise you he doesn't get away. Even if he gets the ball away before you get to Garopollo just by getting in his face will force him to make a stupid or bad throw that's the type of quarterback he is. 
George Kittle:
George Kittle is out in this one you were probably wondering why I didn't mention him in the 49ers offensive list to start the article. You would be confused why I wouldn't because most of you would say he is the best offensive weapon on their team and I didn't mention him because he is hurt. Now that is huge for the Bears I never will celebrate an injury in a sport but I'm saying that increases our chances a lot. He is the best tight end in football some of you will say Kelce but I'm taking Kittle all day he is the most all-around tight end you for sure can't argue with that. He is the best blocking tight end and can receive at one of the high levels for tight ends. I would actually take a good amount of tight ends over him in receiving but he is still up there for the best receiving tight end. The great blocking he has adding the routes he can run makes him deadly and the best tight end in football. Him being out makes Roquan Smith's job a lot easier on Sunday not having to cover Kittle Roquan Smith is great at coverage he usually guards tight ends he won't have to worry about Kittle. Same with the blocking the run might not work as well without Kittle's blocking and adding to that not having Raheem Mostert. I have already said it and I'll say it again it's huge he's out of this game not only is he the best tight end in football he is up there as the best player in the NFL is for sure up there. Once this guy gets the ball in the open field he is impossible to stop either he has the ball or doesn't. If he is running a route to midfield and that route has an open hole he will go through that hole and make it hard as possible to stop and bring down.
Keys to victory:
Run the ball:
Yup that's the title run the ball it's not anything crazy for a tactic to win but this is so obvious that we need to run the football. We are out right now without our starting running back David Montgomery and our speedster running back Tarik Cohen. With our running being short-handed it is still the best part of our offense right now it's insane. The offensive line is just horrible and the run is doing great still. Even with being short-handed and having a bad line added to that our run is moving yards consistently even against the best run defenses. Just last week when we were playing the Bucs the team that has the best run defense in football our rookie stud Khalil Herbert ran on them for 100 yards and I think had an average of 4.8 yards per carry. If that guy keeps doing what he's doing it's going to make this run game scary because imagine how scary will be with him and Montgomery with Cohen in it as well. Going into this season I don't ever recall hearing his name being said that much or being hyped. He reminds me of Jordan Howard in 2016 I'm pretty sure how starting running back Jeremy Langford got hurt and rookie Jordan Howard came in a couple of games into the season just like Herbert did. They both went in there a couple of games later into the season as rookie's and shocked everyone by carrying the run game. Herbert has a future he might be able to last longer than Howard whenever we are having bad games the only positive that comes out is Herbert had such a good game. He will always create the positive out of a game even in bad games he shows up he ran for pretty much 100 yards two games in a row having 97 yards against the Packers where he had his first NFL touchdown and 100 something yards on the Bucs. So that's basically back-to-back 100 yard games and one of the games being against the best run defense. The offensive line hasn't been blocking for Fields and the passing game isn't working because of that so I don't see why there would be any reason why you wouldn't run the ball on Sunday it's the only thing that works and we have a guy who has a future so just run the ball. The game plan is as simple as that run, run, run I trust Herbert.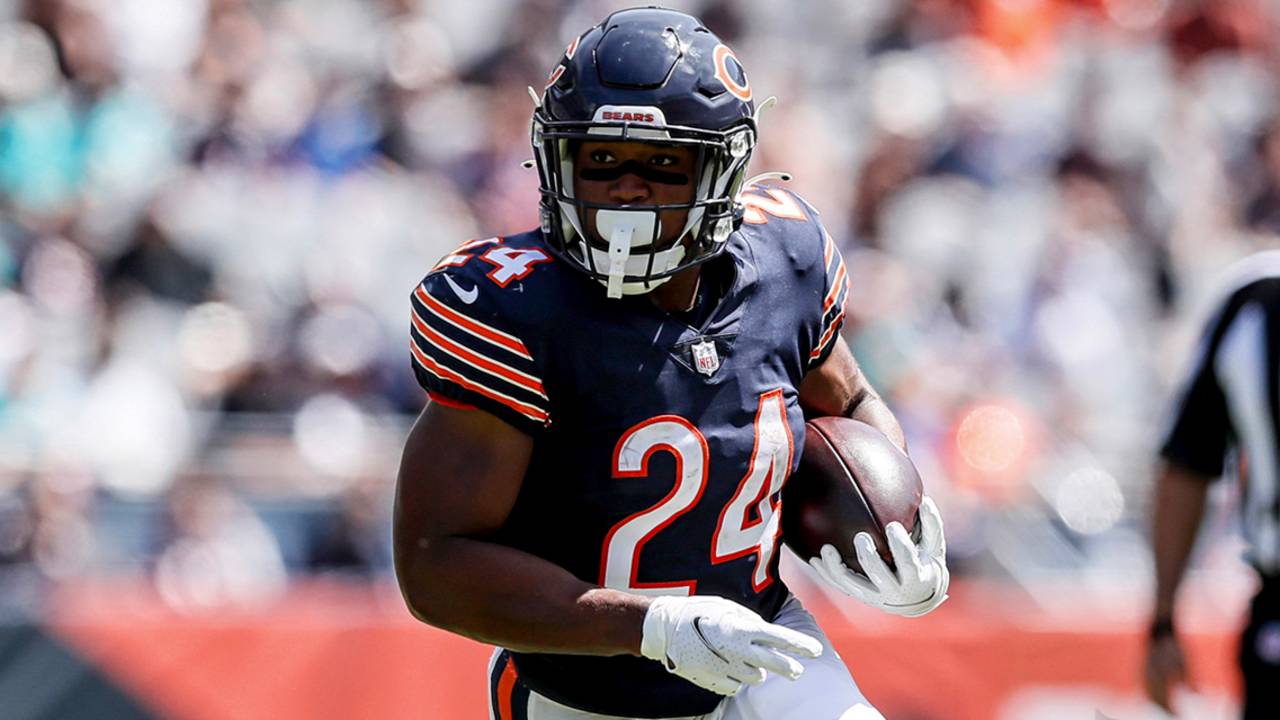 Take advantage of Garopollo's mistakes:
I promise Garopollo will have mistakes on Sunday. He always does he never makes the throw when he needs to, he always makes a dumb throw he shouldn't do, and he always panics when pressure comes in. I know I was saying the pressure might be hard to get because of the 49ers offensive line but I think on Garopollo we can find a way to get pressure. It doesn't have to be anything crazy just any type of pressure on Garopollo will get him to do something stupid. I have seen him do it before and seen him do it a lot. But I'm not going to say how to make him have mistakes because I know he will have mistakes but I'm saying we need to feast on the turnovers he makes. Every time this guy throws an interception we need to score off of that because the 49ers are a good team I might not seem like it because of their record but they're a hard-ball club. So if they're grinding the ball out all game running and playing hard defense if they make turnovers you have to score on those turnovers. Those turnovers are most likely going to give you a good field position so I want points out of them and most of them to be touchdowns because that is going to build up the lead and I don't know if their teams playstyle is the type of team to come back from a big lead. But I highly doubt there will be a big lead in this game because this game is going to be low-scoring. If Garopollo doesn't make mistakes I will be surprised in fact if he doesn't have a game on Sunday where he doesn't throw any interceptions we probably won't win because that would be a day where Garopollo plays well. In my opinion, I don't think he is a good quarterback but if he has a game where he is on he is going to be going off so you never know with him.
Run more play action with Fields:
Justin Fields is a rookie and he needs help from the offensive line to give him time and they just can't do it. He needs the coaches to call certain plays for him since he's a rookie and the line sucks. If the line sucks you have to call certain plays for him to make some offense when no one can block. But Matt Nagy can't figure that out I want them to run a certain playstyle on Sunday and that is play-action. I know Nagy won't do this but this is what the Bears should do on Sunday. Most rookie quarterbacks are getting play-action role outes, play-action bootlegs, and get stuff that splits the field in half for them to make them feel comfortable out there but Nagy and Pace just won't do it. Rookie quarterbacks Mac Jones and Trevor Lawrence both have double the amount of play-action passing that Justin Fields has. That is just terrible so in this game, I want more play-action for Justin Fields. This line won't block the play-action can get him moving and the pocket passing is just going to get him sacked so the only choice here is play-action. Justin Fields has a passer rating of 97.6 on play-action better than any other type of pass he makes. So why not stick with the stuff that's actually working I'm not saying play-action passes every time but do it a lot but it doesn't matter because Nagy won't do it. But if Nagy does end up doing this the passing can look more comfortable for Fields. 
Score prediction:
I have everything finished for this recap the final thing left is my score prediction. My score prediction for this is going to be super low scoring that's what most people are saying for this game. I don't think either of these teams will score more than 25 points low scoring games can be very fun everyone just likes the big play games like how the Chiefs play. But I actually find low-scoring games entertaining so this is a good one for me to predict. In this game, I am going to have the San Francisco 49ers come into Soldier Field and lose to the Bears at a score of 20-15. Let me know your thoughts on my score prediction and let me know if you agree with my takes and like always bear down!!