Chicago Bears football is finally back! This Sunday is coming closer and closer. This Sunday it will be the Chicago Bears vs the San Francisco 49ers. I could also say Justin Fields vs Trey lance which is the main caption of this game. That is what everyone is looking forward to in this game. The two youngsters with the same exact playstyle being in the same draft class going up against each other. Not only playing each other but playing each other in there first game of the season. Not only is it the first game of the season when these guys matchup it's the first game of Trey Lance is career. I have a lot of questions on how he will do in his first game and a lot of questions how he will do in his first year in football. But I will get more into that later. I have been looking foward to this game for a long time now and I'm also really exited to get back into my Chicago Bears articles that I love making for you guys. In this article I will continue exactly how I did it last year. I will go over the 49ers, a little bit of the Bears, how the Bears can win, and the score prediction.
Justin Fields vs Trey Lance:
I am so exited for this matchup. Two young stars who can really be something special in the future already facing off against each other in the early parts of there career. Earliest possible for Trey Lance of course it being his first game. There are some questions of how Trey's first game can go. Some might say he might be a little rattled it being his first game because he doesn't have much experience with him barely playing in college. This being his first game is one of the few things that give the Bears hope to win this game. 49ers obviously have the better team with them having one of the best rosters in football. But this being Trey's first game can totally change the tone of things. Him having very little experience going into his rookie year and going in on the very first game I wouldn't guarantee you that you will see perfection out him. I do think Trey is going to be a good quarterback and I think he will show positive flashes this season but I think you will see some struggle this season to. Trey this year will definitely have some flaws and he will without a doubt make some mistakes. He is a project he was sat out his whole rookie season for a reason and barely played in college he will not develop as fast as the other guys in his class. That doesn't mean he won't be as good as them at some point but in his starting years you will see him make some mistakes. There is no reason why he wouldn't make a mistake or two in his first career start especially if we can get into this guys face. I think we most definitely can because I would still count our defense as one of the better one's in football. I think if we can try to rattle this guy in his first game it would be huge. Someone who isn't rattled is Justin Fields. Let me get into this young stud because he's got some tention going into this game. The San Fransico 49ers past up on Justin Fields. I am positive he wants to stick it to these guys. I remember in the draft my prediction was the 49ers would pick Fields because he would be a good fit the 49ers. Instead they got Lance which isn't bad because he is the same exact playstyle as Justin. But between these two I think they are both the same exact player expect Fields is better. I want Justin to prove that to them on Sunday. Bears star receiver Darnell Mooney is confident he will. Darnell Mooney came out and said Justin will make the 49ers pay. He has also said Fields looks great and he will have a breakout season. I'm glad Mooney is confident in his quarterback because Fields and Mooney have a great young connection and I think they will only get better in the year to come. So there is a good amount of tension between these two young quarterbacks. 
The 49ers have a new offensive line:
The 49ers have a completely new offensive line this year. They have lost a good amount of there line like Tom Compton,there center Alex Mack and Lincoln Tomlinson. So they have 3 brand new guys on there offensive line. The guys that are replacing there spots don't even have much experience at starting so there offensive line set might take awile to get used to. Now this would be a huge disadvantage to Trey Lance. There coming onto the field with whole new system and with the defensive line we have I think we can for sure get the pass rush going. There is a lot of new and unknown for the 49ers offense. They got about a new guy on there offensive line in every spot other than left tackle where Trent Williams still remains. Then of course Trey Lance going into his first game while there not totally sure what can happen with there offensive line in yet. But there is one guy on this line that without a doubt knows what he is doing. I mentioned him earlier and I'll mention him again and that is Trent Williams. This guy is the size of a moose and my opinion is the best tackle in football. You can make conversation maybe that Tristan Wirfs is but I'm taking Trent. The left side is going to be clogged by Trent. When we played the 49ers last year we had no pressure coming from the left side because of Trent Williams. There for on the right side they have veteran Mike Mcglinchey who is a solid veteran. He isn't anywhere as good as Trent but is a veteran and knows what he is doing. Those are the only blocking peices that they have on there offensive line that actually know what there doing. So maybe the middle of the offensive line is where we can swallo them up. 
Trey Lance has great pieces around him:
The pieces around Lance are pretty stacked. Where should I start with what he can use. He has got the most versatile player in football Deebo Samuel who can pretty much do anything he wants. My man will turn a small little screen pass into a breakaway run with in a second he is a complete blur. Deebo can pretty much do anything you ask him to do. They got this guy in like every single different set and formation defenses never know what he is going to do with his ability. So of course there is him but there run game is really where it's at. They got Elijah Mitchell who I think will get a very good amount of touches this year. He is the type of guy that can grind it out all day long. There has been many reports that George Kittle has a serious groin injury but hasn't been ruled out for the game yet so I don't see why I wouldn't mention him with how important he is. Kittle is the best tight end in my opinion he can count on him for catch ability but his best aspect is his blocking. He is the best blocking tight end in football and that's why I give him the slight edge over Kelce. Kittle has great reception ability with blocking which is dirty work that doesn't make the highlights but is what will get the job done. I will never wish a injury on any player but it would be very helpful to us if Kittle was not avialable for this game. But the rushing attack is what I'm mainly worried about with this team they have proven they can eat you up with the run game and stick out and beat you. The 49ers offensive set is evolved around the run. They can win the type games where you have grind it out and wear down the other team. There run system can always work because like I said earlier they have the best left tackle in football Trent Williams. 
49ers defense is elite:
This 49ers defense is pretty good. I big part of that will go to there defensive line. They got there main pass rusher Nick Bosa who sensational. Don't sleep on there others like Eric Armstead,Drake Jackson and much more. There is a good amount of talent in this group that without a doubt can cause problems for this struggling Bears offensive line. Our offensive line is very similar to there offensive line situation like I was mentioning earlier. We have a lot of new young players apart of these offensive line that might not take it so well to this 49ers elite pass rush. This 49ers defense also has Fred Warner who you can easily argue is the best middle linebacker in football. This guy has been playing fantastic football the past few years. It makes sense because he can do so many things he has the ability to get to the quarterback,clog running lanes and can pretty much be all over the field.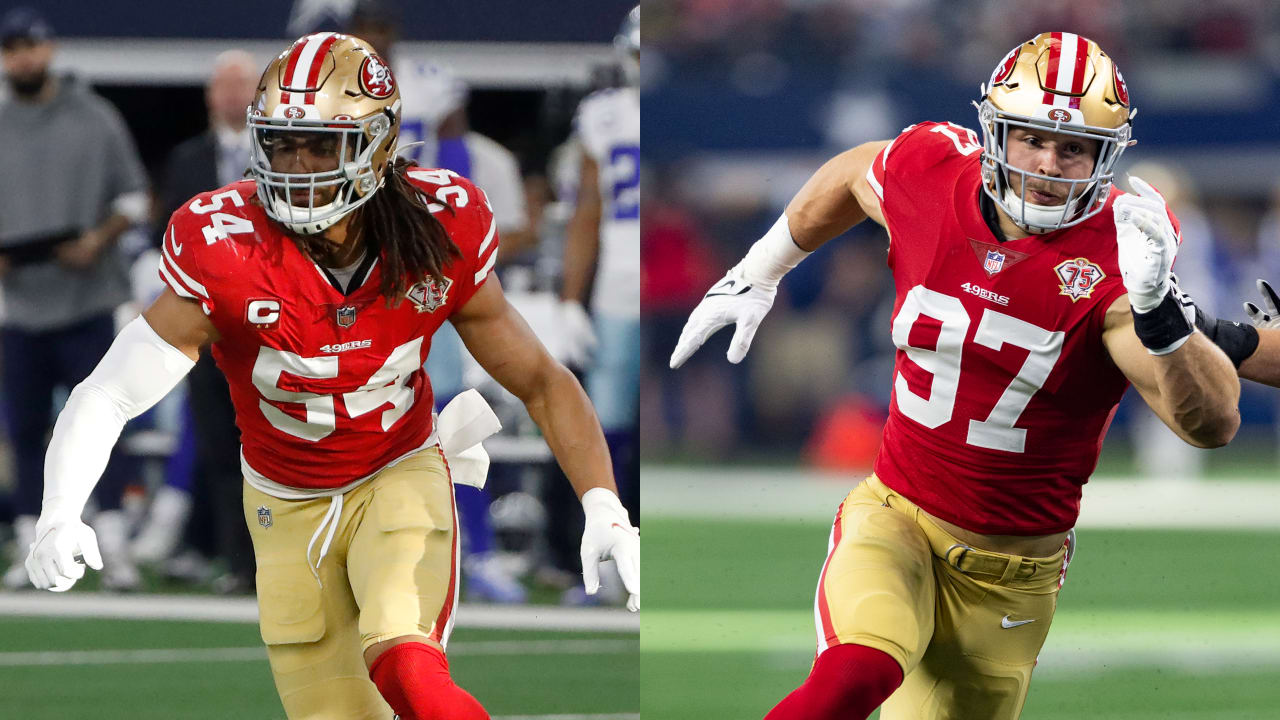 Bears Offense:
The Bears offense going into this season isn't looking to perfect. There is definitely some problems with this system. Of course we have Justin Fields who everyone says has been looking great so far and has made a lot of improvements from last season. I believe in these years to come Fields is only going to get better and I'm exited to see what he will do. So it's not Fields that I'm worried about it is the system around him where I have some concerns. First you have the offensive line who is arguably the worst in the league. Most of the guys on our offensive line have very little experience. Even with Fields great improvements and the new flashes he will show this year he definitely will have some pressure in his face this season. On most plays he's not going to be dropping back all casually. On most plays there is going to be pressure in his face as soon as the ball is snapped. I noticed in preseason Bears were rolling him out a lot and doing a lot of quick check down passes. If the offensive line is letting pressure come into Fields face as soon as the ball is snapped the only way to get things going is to roll him out which Fields is very comfortable with. To the receivers I'm not so positive if Fields has enough weapons to use. Of course he has Darnell Mooney who he has a great young connection with. The Bears are going to be throwing to Mooney a lot this season. But other than Mooney I really don't see any useful targets. We do have Cole Kmet who I definitely think will get more targets this season and this is a big year for him to prove himself. I think he would be great weapon to use in the red zone more. He only has two career touchdown receptions I think this season he can add to that. But the other wide receivers really aren't eye opening. They have added a few guys those people being Velus Jones Jr, Byron Pringle, Equanimeous St. Brown, N'Keal Harry. That whole entire wide receiver room behind Mooney really isn't special and I don't know how Justin Fields can survive with that.
There running backs on the other hand are pretty set. They have duo of David Montgomery and Khalil Herbert. I think this duo is going to only get better. I look at this duo in the future becoming very simualar to Nick Chubb and Kareem Hunt. Montgomery is great running back for the Bears. He plays smash mouth football and isn't afraid to run through people. Khalil Herbert is a very small fast running back who can be very shifty in the open field. I'm very confident in this run game and the Bears will definitely will put a good amount of use in the run game. But the offensive line might even get in the way of the run game. David Montgomery might have some struggles finding holes running up the gut.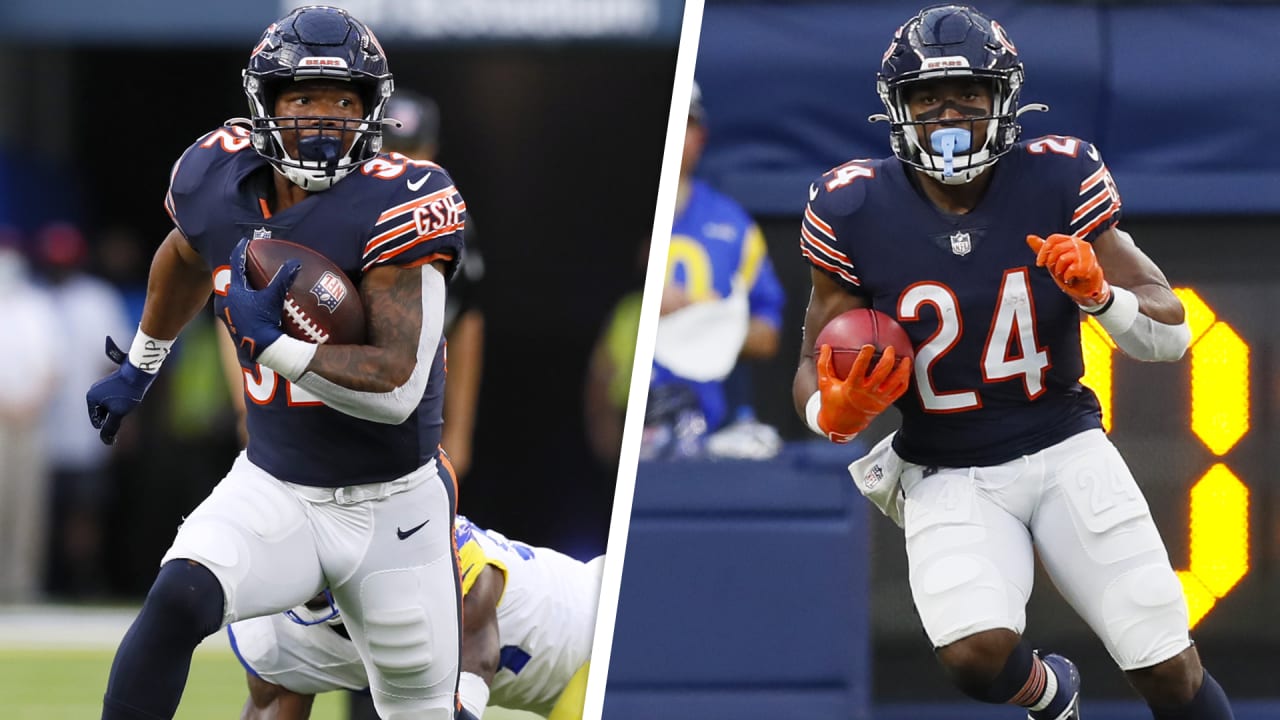 Keys to Bears victory:
Get into Trey Lance is face:
We need to get pressure on this 49ers offensive line. No one is really mentioning the weakness for the 49ers right now is there offensive line. Everyone is going to mention how bad the Bears offensive line is right now but not the 49ers. The 49ers in preseason obviously tried to get there offensive line group some reps together because there whole entire line is pretty new so they wanted to get them working together in preseason to creat chemistry. But if you watched them in preseason there offensive line work was pretty terrible. I know most things don't mean much in preseason but that does. That group that was being played in preseason will play this Sunday. In the preseason they did not look very sharp so don't see how this group would do any better on Sunday's matchup. I think this Bears defensive line can totally take advantage of this maybe expect a very big day out of Robert Quinn who will take advantage of this if no one else does. He broke the Bears single season sack record last year I want to see him continue his spectacular play against a weak offensive line on Sunday. This is definitely a way to get into Trey Lance is face and throw a low experienced quarterback off of his game. You would want to rattle a guy like this. There whole entire team seems to be stacked but if there quarterback isn't really there to contain things it won't matter. If Trey is getting consistent pressure in his face and has little experience while there offensive line doesn't know what there doing things can be confusing for him. I'm telling you the only way to change the tone of things in this game is to put the game in the hands of Trey Lance make him beat you. Don't let all the other star players they have beat you because you already know they can. Put the spot light on the low experienced quarterback and let him beat you. If he beats you then he does but make sure the pressure is on him not the other players. So if I were to make a long story short I would honestly just script all of this as ''Make Trey Lance beat you no one else''.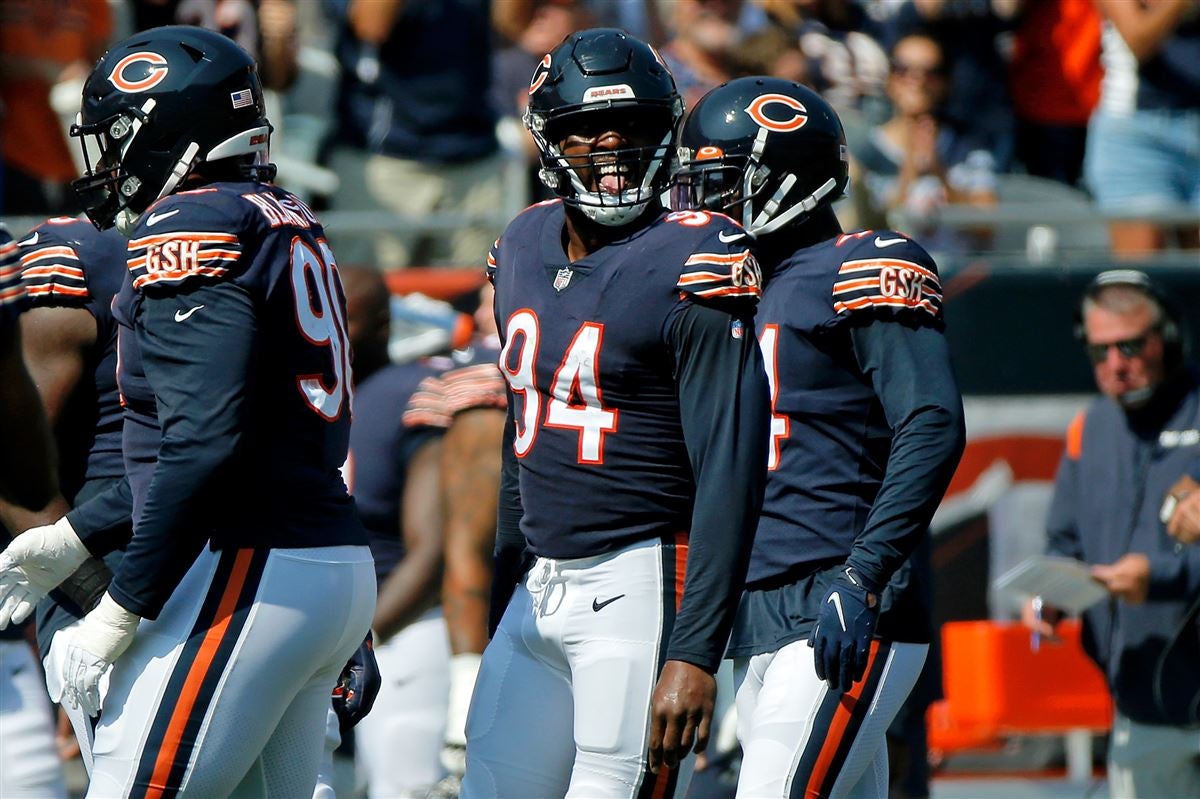 Get Fields out of the pocket:
Fields needs to get out of the pocket. This isn't the type of game where he can just sit back in the pocket and eat a baloney sandwich while looking for his main targets. I think every game the plan should be to role Justin Fields out. There are some games where you wouldn't need to do it as much but this is one of the games where you should do it more. Nick Bosa is coming after Justin on Sunday and he needs to be out of the pocket. The Bears whole entire scheme right now really doesn't have much experience. It's a whole coaching staff they won't really know how to handle pressure. The role out game needs to be key on Sunday. Not all plays need to be like that though. Get some playaction, boot leg and much more. They should continue the play calling that they did in preseason because the play calls they ran in preseason worked pretty darn well. I truly think Fields will have big improvements this year not like a totally breakout season but will show you he will only get better. He will get better even more if the play calling is used right for his ability because this young stud has a lot of different skill sets he can use. I'm looking foward to seeing his improvments this season and ready to see what he does on Sunday.
Score prediction:
It is score prediction time my favorite part! In this game I feel like most people are going to say 49ers because they have the all around better team. Most people will admit Justin Fields is better than Trey Lance but the 49ers have the better team so they will pick them. I do think Fields is better than Lance but that won't change much. Lance doesn't have to do much on Sunday. He has a great team around him and the team in his first game really won't have him do anything crazy. They will probably just have him throw a few quick passes to Deebo or Kittle and run a lot with Elijah Mitchell. So I don't see how Trey could throw away this game by lack of experience when they will just keep it simple. 49ers do have a better team and Trey can keep things together just as well as Fields can. So I do think it is fair so the winner of this game will be the 49ers. There is no way I am saying this is a blow out though. There are some people who will automatically think that just because there the better team. I think this will be a close game but the 49ers will win at a score of 25-17. Thank you so much for reading my article and let me know what your score prediction is.