The Bears are heading to Metlife stadium to take on the New York Giants. These teams are both very similar having the same record at 2-1. They both have a winning record but both teams haven't totally proven that there for real because it's early in the season. Their rosters are about the same where they are both struggling with their wide receiver group not really having a main threat to get the ball out to. The running game for these teams are set with the Giants having Saquan who is looking like his old self this season and the Bears having Montgomery who will really grind out games but unfortunately will not be playing in this one. The quarterbacks for these teams are really big question marks. That with Daniel Jones after all these struggling years is still their quarterback. It goes to Justin Fields as well who is still learning and hasn't looked very confident this season and had some very questionable throws last week against the Texans. So these teams both have the same struggles and that's what makes it interesting I think this game is about even and I'm expecting a close one. I don't see how the Giants have proven there any better of a football team than we are. So I think this is the game the Bears might be able to steal. So let me get into that I'm going to keep it like my usual I will go over the Giants, a little bit of the Bears, keys to victory, and the score prediction.
Giants:
Saquan looks like his old self:
Saquan Barkley this season has looked like the Saquan from his rookie season. This guy used to be the best running back but has put that out of discussion in the past few years with all the injuries he has had. He is the only thing on this offense that makes my eyes open. This is scary for our run defense because our defense against the run this year has not been good. Saquan already has 317 rushing yards and has averaged 6 yards per carry this season. So I don't see why he wouldn't continue what he has been doing and eat up this Bears defense. 
Lack of targets:
This Giants offense has no eye-opening targets. They just lost their main option, Sterling Shepard, on Monday night football due to an ACL injury. Shepard is a criminally underrated receiver in my book it hurts to lose him because he is the only guy you can really count on to be consistent in this group. I'm not really much of a fan of any of the other guys in their receiver core. They have Kenny Golladay who has been a ghost in the past couple of years. He hasn't been the receiver that he was in Detriot. He goes out onto the field and does absolutely nothing. He has had dropped passes and most games he doesn't even get the ball thrown his way. It doesn't even seem like this guy tries anymore ever since he got his big paycheck. He doesn't even have any care to get to the ball anymore and that's not the type of guy I want on my team. They have Darius Slayton who is honestly on and off and is out of the lineup a lot with a good amount of injuries.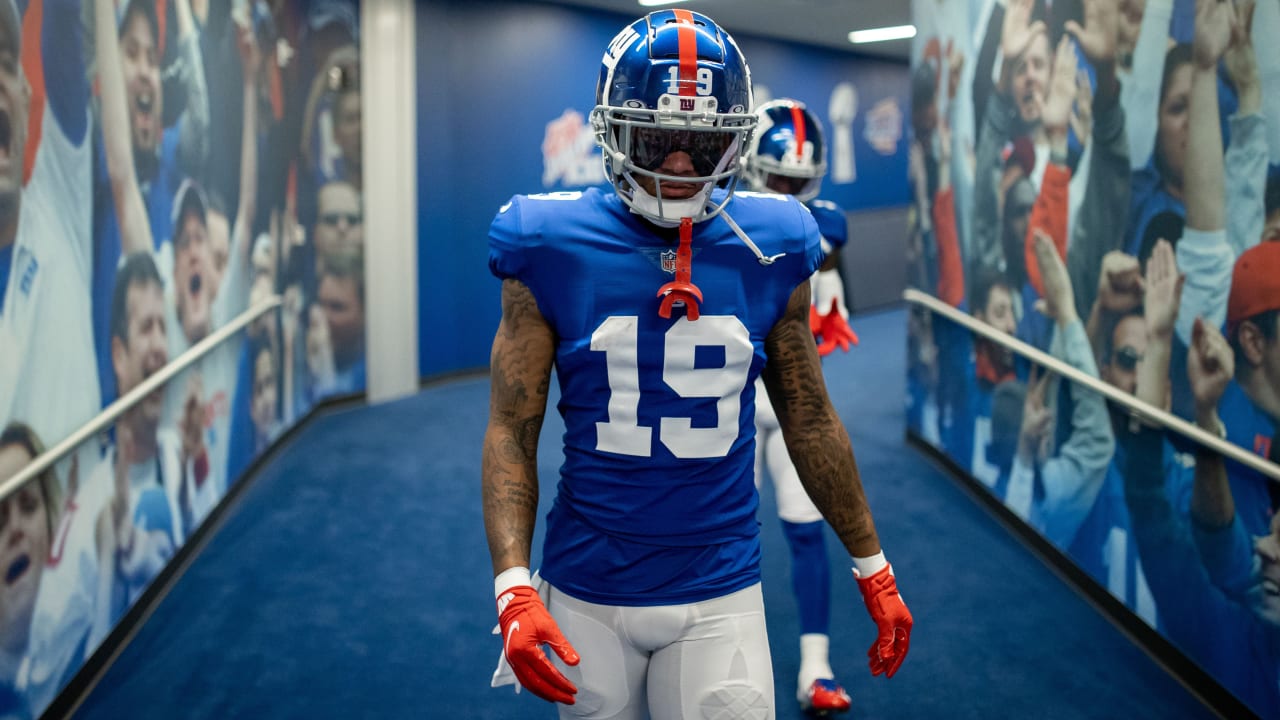 Young secondary:
This Giants secondary is very young. If your looking for a game for Justin Fields to ball out and have the game that boosts his confidence this could be the one. The Giants do have talent on this secondary but it's young. There two main guys Julian Love and Xavier Mckinney are both under the age of 25. They have corner Adoree Jackson who is about the only veteran corner. Every other corner beside him is under the age of 24 so expect maybe a mistake or two coming our way with this Giants secondary. The one big thing that can give us motivation to be aggressive to throw is the Giants do not have an interception yet this season. Fields definitely has made some questionable throws but their secondary really hasn't found a way to the ball.
Bears:
Eddie Jackson looks like his old self:
Eddie Jackson has been great this season. He looks the Eddie Jackson from 2018. These past two years people have been disappointed in him saying he is not the same as he used to be due to him being so miserable in open-field tackling and repeatedly being burned last year. I have seen him in the past avoid tackles in open-field him knowing that's what he lacks. But this year he has had everything down. He has been making great reeds on balls, securing tackles, and overall looks like he knows what he's doing more in coverage. The stats have proven he knows where to go with him having two interceptions and one forced fumble. It is great to see him back into form with all the shlock he has taken the past couple of years. With the attitude and grit, this guy plays with it seems like when someone like him is in his grove of when he knows what he is doing the whole defense clicks.
Bears haven't even tried to pass:
The Bears have had no exciting plays in the pass game this season. They haven't given Justin Fields much of a chance and when they have Fields hasn't made the best of it. His last game against the Texans was probably the worst I have ever seen the man play. Last game he did have some guys open downfield but didn't hit them right. He looked scared to throw on some of those plays and was very hesitant. I really don't expect that out of a guy like Fields he always seems very big on himself and don't want this to continue. I have faith he will get into his grove because I am a big believer he is the future of Chicago. But when I see him scared in the pocket and second-guessing on certain throws that gives me bad flashbacks of our old friend Mitchell Trubisky who struggled with that at times. 
Keys to victory:
Put the game in the hands of Daniel Jones:
I am not very big on Daniel Jones. I have no idea how this guy is still even their quarterback. I think they should totally move on but they haven't. I think if you want to put pressure on anyone it should be Jones. Make this guy beat you if anyone is going to make it be him. The Giants offensive targets are weak. Good quarterbacks can carry teams with bad targets and can put the game in their hands and work with what they got. But Daniel Jones doesn't have the ability for that and if you force him to make the plays I'm not confident if he will. In their last game on Monday night football, the Cowboys had 24 total pressures on the Giants which is beyond ridiculous. I am very confident that if the Cowboys can find that pressure we can. The pass rush for Chicago has been very productive and can definitely make life difficult for Jones who has already been sacked 13 times. He is a guy where you can definitely force the game onto him and get into his head. 
Attack Giants run defense:
Giants run defense is terrible. They had a hard time with the Cowboys last game and I think we can continue their struggles. We are repeatedly running the ball this season especially last game with Khalil Herbert popping off with 157 yards. I know Montgomery is out but Herbert can hold us off proving that last game, especially against a run defense like this. 
Score prediction:
This game will be a close one. I think these teams are about on the same level and I'm looking forward to it. In this one, I am going to have the Chicago Bears head on over to the great big city of New York walk into Metlife stadium, and beat the Giants 23-16. Let me know your prediction. Thanks for reading and I'll see you in the next one!