The Chicago Bears are hosting the Detriot Lions week 4 in Soldier Field. Two NFC North rivals going at it I know you might say oh Lions aren't really part of the NFC North rivalry's but I think they are we have had some pretty good games against them over the years. Actually, throughout the past couple of years, we have owned them. In our last 6 meetings against the Lions, we have beaten them 5 times. I know it seems like they wouldn't be good games because we have owned them in most of the games but in the games, we have beaten them they have been close games. When we swept them in 2019 the two scores were 20-13 and 24-20. I remember both those games came down to final drives with the Lions failing to convert on 4th down in both. Then in 2020, we split two games apiece we won the first one off a crazy comeback in the 4th quarter with Money Mitch at the end of that game turning into Patrick Mahomes. But our last meeting with them in 2020 was a heartbreaker we lost 34-30. Most Bears fans remember that game we should have won we had control of the whole entire game but came short. But just saying those to prove these to teams have had some battles throughout the last 3-4 years. Now I am going to go into my preview of the game I am going to go through teams players, offense, defense, and preview everything then get into my keys to Bears victory and like always my score prediction.
Lions offense preview:
TJ Hockenson is a monster:
Hockenson is an absolute beast he is definitely their best player and is a top 5 tight end. This guy is all over the place on the field. Some tight ends are known for their blocking or being a deep threat and maybe a huge red-zone target. But with Hockenson he is a threat everywhere on the field you can find him in the red zone, the middle of the field anywhere you want him. Of course, the Lions will try to hit him anywhere because he is like the only offensive weapon they have so they throw to him a lot but even with that he has what a lot of tight ends don't have. He has the ability to be open anywhere on the field red zone, the middle of the field you name it that is because any route he is given to him or any play he will master it. I know he isn't as good as Kittle, Kelce, or Waller but he has the ability to be a threat anywhere. His size makes him a complete moose I think his size is what makes him hard to guard anywhere on the field he is 6 foot 5 and 250 pounds. That is huge imagine just seeing a guy like that running at you full speed in the middle of the field is just scary. Hockenson will be in the middle of the field a lot so Roquan Smith has a huge job tomorrow to cover him I trust Roquan he has been a stud super underrated got snubbed from the NFL top 100 he might make mistakes against Hockenson of course but I trust him.
D'andre Swift:
Swift is a pretty good young underrated running back. A second-year stud who is going to get a lot of handoffs this year due to their great offensive line. It makes sense why he has made good plays this year and will get lots of handoffs because they have a good offensive line with no good offense targets to pass to. This could be a rough year for the Lions but whenever there is a rough year there is always some young guy on the team that can show potential. I know Swift had that big drop last year against the Bears but he has gotten a lot better he might actually be the second-best rookie running back from last year behind James Robinson. Swift looks fast I think he can catch and run and there is no doubt in my mind he won't get handoffs tomorrow. Swift just about two weeks ago on Monday night football had this super cool hurdle over cornerback Kevin King he caught an out pass on the left side of the field and had one on one with Kevin King. King went low for the tackle and Swift got a hurdle over him it was sick.
                       D'andre Swift hurdle over Kevin King:
Their offensive line is the only good part of their offense:
The Lions' offense really isn't good I know I was saying Hockenson is a beast which he is and Swift has a great future but those two guys really aren't enough. I know I was saying I really like Swift which I do but Hockenson is the only offensive target on their team that I'm worried about I'm not losing too much sleep over Swift. But about their targets being weak the main thing of their offense is their line most people will ignore the line because it's just blocking but the offensive line is the best part of their team. On this line, they have some mean dominant guys they drafted this one really good guy from Oregon Peni Sewell. Sewell is running left tackle for them and he has been doing fantastic he hasn't allowed an entire sack yet this season he is only a rookie and he will only get better in the years to come. This guy is for sure one of their best players maybe their best player you just don't hear about him because all he does is block he doesn't make the highlights on sports center but he does the dirty work that gets the job done.
It sucks the offensive linemen go out there give it their all and get no credit because people don't like blocking. The Lions have other guys to their offensive line. Their line is a bashing and very hard-hitting line they protect Goff very well. I am just saying offensive linemen should get more credit blocking is a lot more important than people think.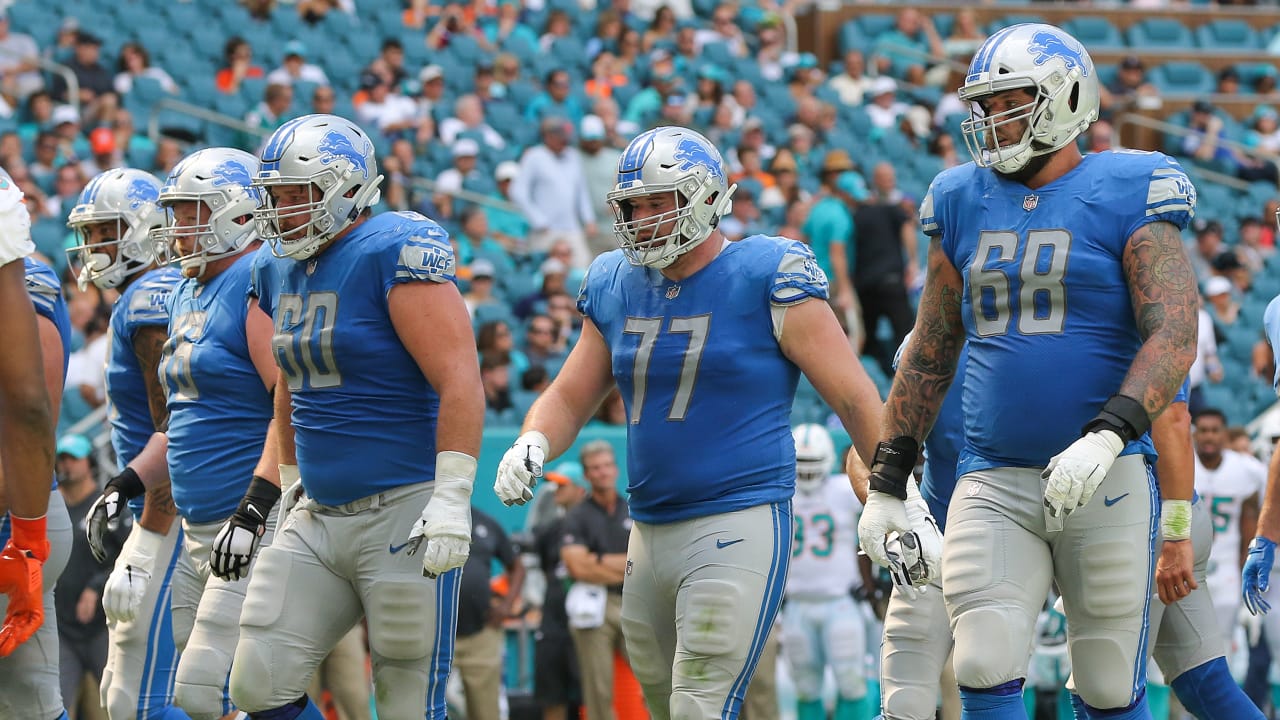 The Lions defense is trash:
Enough with Lion's offense let's get into their defense. Usually, when I talk about certain teams' offensive or defensives I'll mention players but I really don't have many players to name from their defense. Their defense is literally a bunch of nobodies I can barely name their players I truly think our offense can torch their secondary I saw some of their secondary players on the roster and when I saw the names I was like who are these people? Literally, just a bunch of scrubs, if there were to be any team we can possibly have our offense bounce back against it, would be the Lions. It seems like throughout the Lions time they have always had terrible defenses I don't know why that is but when I saw the roster of their defense and heard from so many fans that their defense is terrible I wasn't surprised I was actually expecting to hear that their defense is bad there always terrible. It's mostly their cornerbacks and safety's who are the unknowns of their defense they have some good players on the defensive line. I'm pretty sure they have former Bear Nick Williams who is actually pretty good.
Now it's time to get into my keys to Bears victory there is always something that your team can do to win a game even if you're playing a trash team like the Lions. But I wouldn't say this game will be an easy win I think the Lions are capable of beating us so we got to have a game plan and I've got my keys to Bears victory right here. 
Pressure Jared Goff:
I know some of you guys might like to make fun of Jared Goff and say he is trash but if you actually give him time in the pocket he can actually hit receivers. I am worried if we give him time which we just might because of their great offensive line Goff will hit Hockenson in the middle of the field. I trust our middle linebacker coverage because Roquan Smith has speed but you never know with Hockenson. I really want pressure on Goff because Goff has has a terrible career against the Bears. In 2018 Jared Goff's only good year we destroyed this guy we were sacking him had pressure in his face all day he was one of the best offensive players in 2018 and we destroyed him.
                                  Bears sacking Goff in 2018:
We also destroyed the Rams that night to but the next two years after that Jared Goff did beat us two years in a row. But in those games, he did nothing the Rams defense just destroyed us. And Goff would just hand the ball off to Gurley and Goff threw like no touchdowns. I know the win column looks like he owns us but he doesn't the team carries him and he has had a terrible career against the Bears. He is a pretty boy quarterback who sits in the pocket all day with all the time in the world but when pressure actually comes in and he has to work he doesn't do so well and the Bears are good at doing that to him if we can get into his face I promise you he will struggle.
Have Justin Fields use his legs:
Justin Fields needs to be moving out of the pocket I know the Lions don't have a good offensive line but he should be rolling out anyways. I bet you that Fields will not feel comfortable if he is sitting in the pocket all day like last time don't just roll him out set up some QB draws to keep the Lions defense guessing. Even if there is no pressure still role him out anyways I know stupid Matt Nagy might just be like oh let's keep him in the pocket since there is no pressure but no keep him moving that's what you should have done with Trubisky don't make the same mistake again. Last game it seems like Matt Nagy still thought Dalton was our starter because he was using the playbook and play calls that you would use if Dalton was in there because he was making Fields sit in the pocket all day. But I know I am big on having Fields role out but keep him in the pocket some plays because then the Lions don't know what you're going to do there going to be like is he running play-action, is he rolling out we don't know and confusing a terrible defense of the Lions that will be great. They will also be confused about what he will do because he is a rookie and they have seen no film on him and don't know what he can do.
Stay away from flags especially in the red zone:
Stay away from those stupid mistakes we always do. The Flags and stupid mistakes we put on ourselves against the Bengals almost cost us that game we had control of that whole game against the Bengals and almost lost. That happens sometimes in games you can outplay the other team but you do more stupid things you are not supposed to be doing you will lose even controlling the whole game. I want barely any flags in this game mostly in the red zone if you saw our last game our offense is trash and we never get to the red zone. So when we do get to the red zone we got to take advantage of it because we rarely get there. So when we are in the red zone I don't want to see any stupid mistakes like we always do I want no taunting flags, no turnovers, and no dumb play calls. I don't want any of that when we have a chance to score. This is a big shout-out to the offensive line don't mess it up when we have a chance to score I have seen those guys go offside a lot I don't want to see any of that.
Score prediction:
My score prediction for this game took a lot of thought both these teams are rivals so it will be hard-fought. Some people might think this is an easy win just because it's the Lions but I don't think so this team plays hard they are better than their record they have played good teams including the 49ers, Packers, and the Ravens. I am giving the Lions a chance in this one if they beat us I wouldn't be surprised but In this week 4 matchup, I am taking the Chicago Bears in Soldier Field to win at a score of 22-17. Thank you for reading and let me know your prediction on this and tell me if you agree with my takes and like always bear down!!!