Bears vs Packers!! The best rivalry in football not just in football some people say the best rivalry in all of sports and I might actually agree. Both teams are about 100 years old and were like the first two teams inducted into the NFL so these teams are classic. Not just for the NFL two of the most historic sports teams ever being around for so long and having all these legendary moments from their history. I know a lot of people say it's not much of a rivalry because it seems like the Packers are always destroying the Bears but that's only in the past 10 years. I hate it when people only look at this rivalry from just the recent moments people don't look into the whole 100-year franchise of these teams battling it out. Yes,100 years of playing each other that might be the longest ever people think this rivalry isn't even because in the last 10 years the Packers own the Bears but in all of history, this rivalry is about even besides the past years where Packers win every time the Bears and Packers are always competitive. These two teams hate each other they have been pushing and shoving for as long as forever in fact these teams throughout their history have had some pretty dirty plays on each other when these teams face off there is no mercy these guys are bashing their heads against each other hitting each other like it's the last time they're ever going to play football. The hits between these teams are super hard these days but were even harder back in the start of football. In these days of football, they have a helmet-to-helmet contact rule to prevent concussions I really hate the rule but I'm not going to get myself started on that. The rule is where you can't lean your helmet into the other plays helmet there is much more to the contact rule but it's too long. So if any players do that these days they will get flagged for it but back at the start of football there was no helmet to helmet rule that's how you were supposed to hit players hitting leading with your helmet and knocking the other guy out and risking his life was a normal hit back then that was normalized. I wasn't overeating earlier the hits back then could have killed these guys but football was so intense back then that's how you were supposed to hit and if you didn't your probably considered soft.
Danny Trevathan hard hit on Adams in 2017:  [ classic Bears Packers hit ]
So that is to show this Bears vs Packers rivalry has had serious hits over the NFL franchise there has been a lot of them and they will continue these teams hate each other all through their franchise and so do the fans. But enough about the long history between these two teams let me get into the pregame recap of this week 6 matchup. First I will go over the Packers offense, the missing players in this game, what the Bears need to do to win, and my predictions.
Packers offense:
Davante Adams is the best receiver right now:
Davante Adams is the best receiver in the NFL for sure. As much as I want to say it's Hopkins but no right now Adams is the best and he has been balling out. He is such a crisp route runner the best route runner in the game of football no questions asked. Adams this season has 579 yards, 2 touchdowns on only 42 receptions, and this only being in 5 games. Adams is the number one guy the Packers go to everyone knows that and they still can't stop him this just shows how good of a connection him and Rodgers have they are for sure the best quarterback wide receiver duo in football. I do have some memories of Adams making some good touchdown catches against the Bears so we need to watch out for this guy I have been a little scared about our secondary defense after losing Kyle Fuller but Jaylon Johnson has stepped up like crazy to fill that role but even though he has I'm still nervous were playing against Aaron Rodgers who his whole entire career has been torching our secondary and has owned our team. We have had Fuller for most of the years playing Rodgers and he still torches us when we have him in there so if he's not in there I'm scared for what Rodgers will do. I don't know if I trust Jaylon Johnson in this situation I know he has been a stud this year but he is going against the best receiver in football and he might not even have fair coverage on Adams Jaylon Johnson runs outside corner and Adams runs the slot. So he might not even be able to cover him and if he does because we might not have a choice I don't know if I trust Johnson in the slot where I never see him guard receivers. Adams is impossible to stop we need to slow this guy down every team every week has the same game plan Adams is their only target and to win you have to slow him down and he still destroys defenses he will be a tough task. If Johnson won't guard him on slot it will probably be Duke Shelly he has been good this year but I don't know if he would be a good matchup against Adams.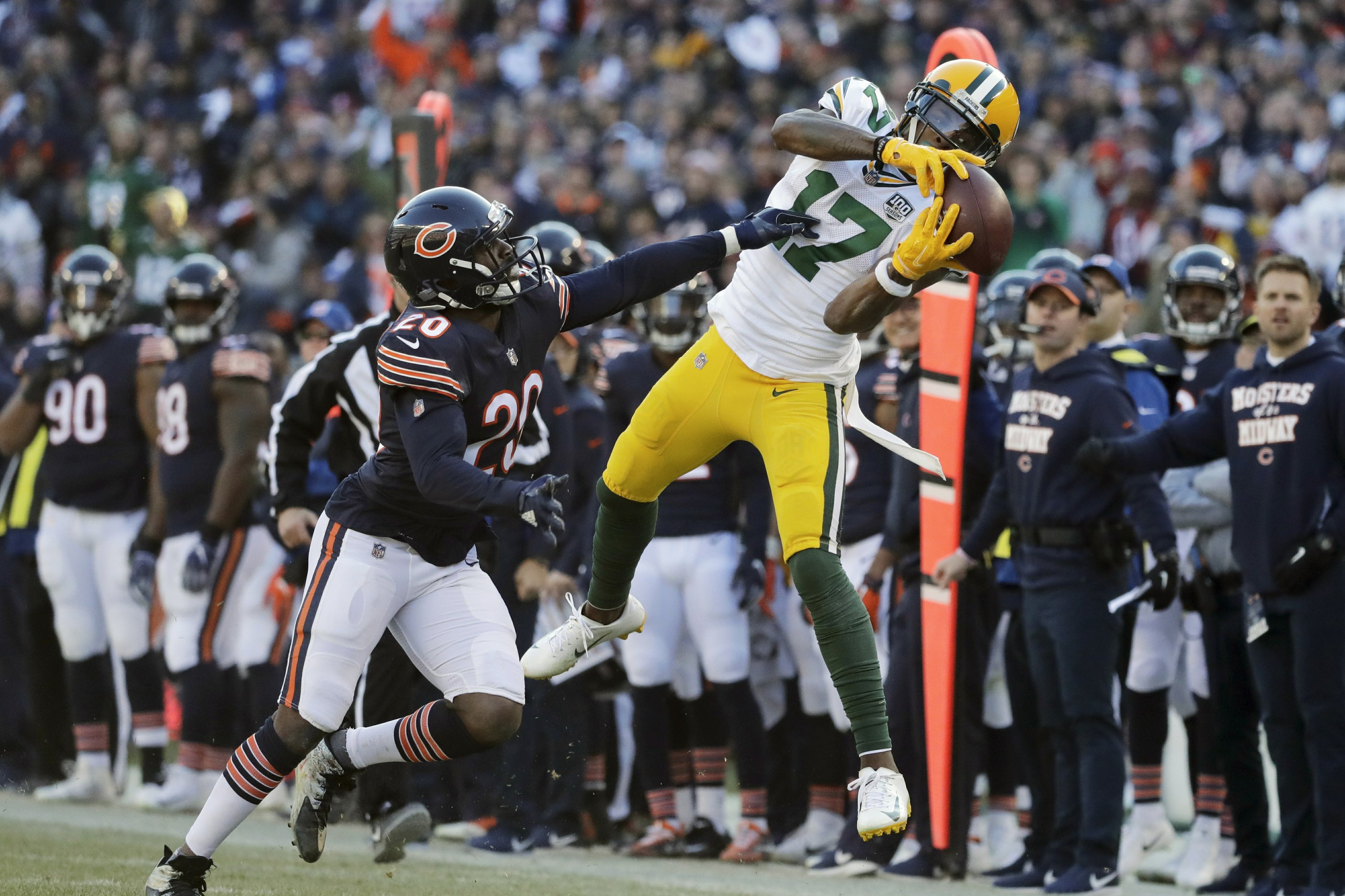 Randall Cobb owns this team:
Randall Cobb is a Packers legend when it comes down to their receivers he is also a legend at breaking Bears fan's hearts. He is a small, speedy deep threat receiver that has been in the NFL for so long he has been with the Packers pretty much his whole career he has been around just as long as Rodgers he has been around since the Jay Cutler days of Chicago. He and Rodgers have been a great duo in the past not so much now because I'll admit Randall Cobb is washed it seems like Rodgers is always hitting Cobb when Rodgers can extend plays whenever Rodgers avoids sacks in the pocket Cobb always uses his speed downfield to extend plays to have Rodgers give him the ball. When Cobb signed back with the Packers right before the season started I got a little nervous because when I heard that news all of the memories started flooding back to when he has broken my heart. One was when it was the NFC North title game in 2013 and whoever won got to go to the playoffs and whoever lost is heading home. It was 28-27 with the Bears leading and Packers are at mid-field with like 40 seconds left on 4th and 8 they had to make a play. The ball is snapped Bears send a blitz Rodgers escaped rolled out and floats the ball to Randall Cobb who is wide open downfield for a touchdown off-blown coverage.
                    Randall Cobb 4th and 8 blown coverage:
The other one he had where he broke my heart was 2018 it was our first game of the season and we went off and blew out the Packers in the first half and then in the second half the Packers came roaring back and on the Packers final drive Rodgers hits Cobb on about a 7-yard pass the play not even meant to go big or anything Cobb makes a spin around one defender and goes all the away downfield and not one Bears player caught him and he went in. The Bears had time to go down the field but they failed and Cobb break my heart again. But Cobb I am not too worried about him because he isn't who he used to be but he has a history of destroying us he is no stranger to Soldier Field I am not counting him out as a factor Rodgers can make anyone look good.
             Randall Cobb game winning td run:  [ 2018, week 1]
Aaron Jones a great catch and run back:
Aaron Jones is for sure a top 8 running back one of the best in the game he can run up the middle can do pitch plays and the scariest part of his game is his catch and run. He might be the best catch and run running back in the NFL well Dalvin Cook and Alvin Kamara exist so no but behind those guys, he is the best. Linebackers have struggled to keep up with this guy when he roles out but with the linebackers we have, I think we can contain him on that we have middle linebacker duo, Roquan Smith and Danny Trevathan. If we're talking about the linebackers struggling to tackle Jones we might show him different this game. Roquan Smith top 2 middle linebacker one of the best isolation tacklers in football. He is also great at coverage so coverage on Jones swing passes can be locked up by Roquan. His isolation tackles can really stop the outside runs or pass to Jones. You for sure want to keep your eyes on Jones in the red zone that's where they hand it off to him the most I'm pretty sure a couple of weeks ago on Monday night football he dropped 4 TD's in one game against the Detriot Lions. So red zone coverage on the Packers will be hard they have the Rodgers to Adams duo and the handoffs to Jones they always do in the red zone and don't forget about Robert Tonyan tight ends are always useful in the red zone and he is one of the best so we got to watch out for this offense.
Both superstar defenders Jaire Alexander and Zadarius Smith are out:
These two players being out are huge for the Chicago Bears. I will never celebrate over a player getting injured even if it's one of my most hated players but all I am saying here is I am happy there out to improve the Bears chances. Like seriously having these two guys out is a lot bigger than people think. In this game in order to win the Chicago Bears have to have a good airstrike down the field because we are missing our 3 starting running backs. David Montgomery, Damien Williams, and Tarik Cohen. We have Khalil Herbert but he might not be enough to get the job done. So I really don't want Fields checking the ball down much this game I'm confident he won't because I saw a stat where Justin Fields is throwing the deepest balls out of any quarterback I'm glad the guy has the confidence to air it out. His best deep ball game was against the Lions and that is because the Lions secondary is just terrible and, to be honest other than Jaire Alexander this packer secondary is just terrible their second-best corner is Kevin King and every Packer fan hates him for what he did against the Bucs in the NFC Championship. So having Alexander out this secondary is basically like playing the Lions again and it's a perfect injury it sets the deep balls up perfectly for Fields and Fields will have plenty of time to throw the deep balls without Zadarius Smith rushing.
Bears running backs are banged up:
It sucks the Bears backs are out because in this type of game I would want to grind the clock out with smash-mouth running back David Montgomery and torch the Packer defense with Damien Williams on swing passes. That would make the game plan perfect if they were in grind the clock out with Montgomery and when the Packers expect it to be a run every time that's when you take advantage of Jaire not being in the game and go deep you can have the passing and the running. So the run game might be a struggle in this Green Bay game. Having Montgomery out is going to be tough Damien Williams is also out with Covid so Khalil Herbert will be our main guy.
Keys to Bears victory:
Do not let Rodgers turn a bad play into a big one:
Whenever we play Rodgers this guy just destroys us I'm pretty sure he has a record of 20-5 against the Bears. Yes, you guys all say it helps our win chances since were at Soldier Field but I am going, to be honest, Rodgers owns Soldier Field he has no problem going into a game at this stadium. What Rodgers always does to the Bears is pressure will come in he will avoid like 3 sacks and turn a play that is supposed to be like a 5-yard loss but then shifts around in the pocket and turns the play into a 40-yard pass. He does it every time I don't know how he does it a linemen will have his hands right on him or be right in front of him and he will move at the last second then start running around and hit someone deep. When Rodgers is moving around in the pocket for a long time and he avoids the pressure that is giving receivers time downfield to start running loose. When the pressure is in on Rodgers the routes will be finished and it will be a busted play and receivers start running wherever they want and Rodgers is good at filling out of the pocket hitting someone after avoiding pressure. Rodgers always does this he always breaks sacks against the Bears every time well he does it against everyone but mostly the Bears. This man is almost 40 years old I really think it should come down to a point where we can actually stop his dominance over us and actually take advantage of him in the pocket but him getting older and older every year he still does the same stuff to us every year. So Rodgers always makes plays that are going nowhere into something big and he has been doing this every time he plays us and there is a reason he always beats us. So to all my keys to Bears victory, this is probably my biggest one.
Let Justin Fields throw with no mercy:
Justin Fields franchise guy the future going up against Rodgers the past this game is young against the old and future against the past because Rodgers is one of the most all-time legendary quarterbacks and some people are saying Fields will go down as a bears best franchise quarterback. This game is the biggest of Fields career going against our rivals as a rookie playing Rodgers with this most likely being his last game at Soldier Field. In this game I want Fields throwing the ball like never before the coverage is just terrible in the first place and having Jaire Alexander out makes it even worse. So I want him throwing it and not just to get to the red zone I want him especially throwing it in the red zone. The Packers red zone defense is probably the worst red zone defense in football. So if the passing game is working to get to the red zone continue that in the red zone. This is the game where Robinson can get the most touches after not getting too many touches this season. A lot of times our quarterbacks have struggled against the Packers Jay Cutler threw none stop interceptions against this team. The last time we had a good deep ball thrower was Cutler and he always threw interceptions to the Packers but Fields isn't like Cutler he isn't dumb with his deep ball throws he knows how to use it and has weak coverages in this game. Then if Fields were to have a big passing game and win this what a confidence booster that would be Chicago would go nuts.
Now time to get into my final part of the article my predictions there are many different opinions you can make on this game I have seen so many people's opinions on this week 6 matchup so here are mine. 
My player predictions:
Jimmy Graham makes a red zone TD grab:
Jimmy Graham is a former Packer and they are going to get him the ball for some revenge on his old team I really don't think the Packers are good at defending tight ends either so he might be the go-to guy and because he is a veteran too. I know Graham has been quiet this year but I feel like this could be his bounce-back game. Jimmy Graham is a super deadly weapon as a red-zone target that's where the Bears threw to him the most last season. So to add to that the Packers are the worst red zone defense in football they are terrible in coverage there Graham should take advantage of that and destroy his former team.
Allen Robinson puts on his best game of the season:
Allen Robinson to me is a top 7 receiver I know he hasn't done much this year and I prefer last year's version of him to this year's version of him. But this will be his game where he goes off whenever top corners guard him he is quiet whenever he plays vs Jalen Ramsey he does nothing. Jaire Alexander is close to Ramsey's skill level but he isn't playing whenever Robinson plays against weak secondary's he is the complete opposite of being guarded by good the best corners he goes off on bad secondary's. All the throws tomorrow will be aggressive so I say Robinson wins offensive MVP of the game and plays his best game of the season.
Score Prediction:
This score prediction is a tricky one I have seen a decent amount of Bears fans say we will win and even the people who don't think we are going to win have us losing by a close score. I think most people agree that Chicago might not win but they can be very competitive in this game. But with all of that, I am going to have the Green Bay Packers come into Soldier Field and win at a score of 27-17. I'm not going to be biased I think the Packers will win but it's going to be a hard-fought game bragging rights are on the line here I have been making jokes about the Packers all week because of this game if we lose non stop Packer fans will be coming onto my tik tok and make every joke in the book. In the past, I have had friends at school who are Packer fans if the Bears lose to Green Bay going to school the next day will not be fun I will hear everything about the game. But let me know your thoughts and who you got winning this one and if you agree with my takes and like always bear down!!