The Chicago Bears are heading down to the party city of Las Vegas one of the most ghetto, gambling and party cities out there makes sense why the Raiders play there. This matchup is a good one both teams are about evenly matched with the Raiders probably being a little bit better. The last time these two teams played was in 2019 with the game being played in London, this one was a heartbreaker for the Bears losing at a score of 24-21 it was so upsetting because we were the better team than the Raiders that year I think that's a game we should have won. But the Bears every year always seem to lose to a team they're not supposed to lose to so it makes sense they lost. We did have Chase Daniel in as our quarterback that game the so offense looked totally stalled most of the game we had zero points at halftime and the Raiders had the ball the whole game because we weren't moving the chains and they were. It seems like after that loss to the Raiders in 2019 we didn't really recover. It still haunts me to this day I remember crying on the floor of my room after that game when Chase Daniel overthrew a receiver by like 20 yards to end the game on our final drive when trailing by 3. A lot of you guys might not know what I'm talking about but if you are a Bears fan you know what I'm talking about. That throw was garbage like who was Chase Daniel throwing to his imaginary friend? Like I don't know what happened on that play maybe Chase had a miscommunication with the receiver or the receiver ran the wrong route but all I know is I'm going to blame that throw on Chase Daniel because he might have overthrown it by like 30 yards and even if the receiver had the wrong route the way he overthrew it was so bad I don't even want to talk about it anymore. But enough about the game in 2019 this game is different we don't have garbage Chase Daniel in we have our franchise guy Justin Fields starting making his second career start in the NFL and I'm excited for this one because any game Justin Fields is starting I'm excited. The Bears team has changed a lot since that last game in London and so have the Raiders so let me now get into my previews. I will review the Raiders players, my keys to Bears victory and my score prediction let's get into it.
The Raiders Offense are a bunch of speedsters:
Darren Waller:
Darren Waller is one of the best tight ends in the game and is impossible to guard. He isn't as good as Kittle or Kelce but he might receive the ball better than both of those guys I would say Kittle and Kelce are better because in all-around tight end skills there better but with speed and deep threat possession they don't have that as Waller does. Waller is the fastest tight end in football he is just as fast as a receiver imagine trying to guard a guy like him he has the size of a tight end then adding the speed of a receiver. It's basically guarding a receiver but except he is 10 times bigger. Usually, the deepest route a tight end will go is like 20 yards but I see him run deep balls with no problem it's crazy to see someone his size deep down the field going for a pass. This guy is like the Raiders' whole entire offense when I watch Raiders games they are constantly throwing this guy the ball and I don't blame them for that. With this guy's speed, it opens up so much more offense for the other Raiders receivers who are also speedster's their whole entire offense is a bunch of deep threats. Because if you send Darren Waller deep there so distracted from him with safety's filling over Henry Ruggs and Hunter Renfrow. Renfrow isn't much of a deep threat but you get the point no matter where Darren Waller is going there set on him because the defense knows the Raiders give it to him every time and when they pass to him over and over they expect it's going to him but then out of a shocking move they will go to another deep threat as Henry Ruggs forgetting they have all those other guys. I am a fan of Darren Waller I love his story so much how he got to the NFL from struggling with drug addiction him going from a drug addict to an NFL star is just a crazy story and people should know his story. 
Henry Ruggs:
Ruggs is my favorite receiver from last year's draft class and last year's draft class was stacked he for sure isn't the best from that class but he is going to develop very well in the coming years and he has even improved this year than he did last year. I have said before this guy will be impossible to guard if he sets a more all-around receiver game and stops relying on his speed and can establish route running, hands, and leap ability to his game he will be impossible to guard because he has an all-around game added to his speed because adding those stuff to his speed cornerbacks don't know what he is going to do because route running to his speed will make it harder to know where he is going and when he is deep downfield from his speed he can make contested catches even if they shut down his speed. His all-around receivers skills have already gotten better from last year and like I have said before will get better in years to come and at one point will have it all mastered. He is the perfect Raiders receiver the Raiders have a history of always having fast receivers no matter who is the receiver draft class and no matter how good a receiver is in a draft class they will always draft the fastest guy Raiders franchise has always done that. Even if the fastest guy in the class isn't the best in the class they will take him anyway because that's just the way they like to run their offense and have always felt comfortable making that their system. That is one of the reasons why I really like watching the Raiders the whole team is a bunch of speedster receivers who are nothing but deep threats and their whole offense goes around going deep because their receivers can't do anything else. I don't think that's how you win football but that's how their franchise always wants it to be. But having speed on the offense will create highlights and is fun and that's why I enjoy their team so much. But to the part of the Raiders always picking fast guys he will for sure succeed because he is a perfect Raiders receiver just a super-fast guy and nothing else they will know what to do with him and he will know what to do with himself fitting with there speedster offense I think our main focus tomorrow will be Darren Waller and that will open it up for Ruggs there whole offense is Waller we will be so focused on him that Ruggs might spring off against us. Roquan Smith will most likely be guarding Waller that's a tough task he did a pretty good job last week shutting down TJ Hockenson. Roquan Smith is one of the best coverage linebackers in football I trust him with the matchup but with Waller's speed, it will be different guarding him than Hockenson so if we totally shut down Waller having Roquan on him they might go to Ruggs as the second option don't forget about this guy he is a stud.
Josh Jacobs isn't as good:
Jacobs when he is at his best and isn't injured is probably a top 10 running back. But right now no he is not he has been battling injury and was so injured was questionable in their last game against the Chargers I don't think he did much because he was hurt. To add to Jacobs's injury the Raider's offensive line is trash this year their offensive line used to be really good the last time we played them I think their line was solid. But Jacobs this game might not be a factor first off he is not playing the same adding an injury to that and not having a good offensive line either. The last time we played the Raiders Josh Jacobs destroyed us. He owned us that game if it wasn't for him that game we probably would have won. But I'm glad he won't be much of a factor in this game I don't want to say that after what he did to us last time because if that happens again I'm going to be upset but I highly doubt he will go off. If we can shut down their pass game that will be great because if we can shut down Derek Carr who has been playing great this year and force the runoff an injured running back with a bad line that will be great forcing them to run will make us win. Even if we don't force them to run just shutting down Derek Carr's passing will make things better with how good he has been playing. But last time Jacobs did pretty amazing against us he had one TD that was a crucial part of the game where there was 2 minutes left and they were at the 1 yards line and handed it off to Jacobs and instead of bashing threw everyone like a lot of running backs would he jumped over the whole defensive line which I got to say was very impressive and ended up being the game winner.
                        Josh Jacobs leap over the defensive line: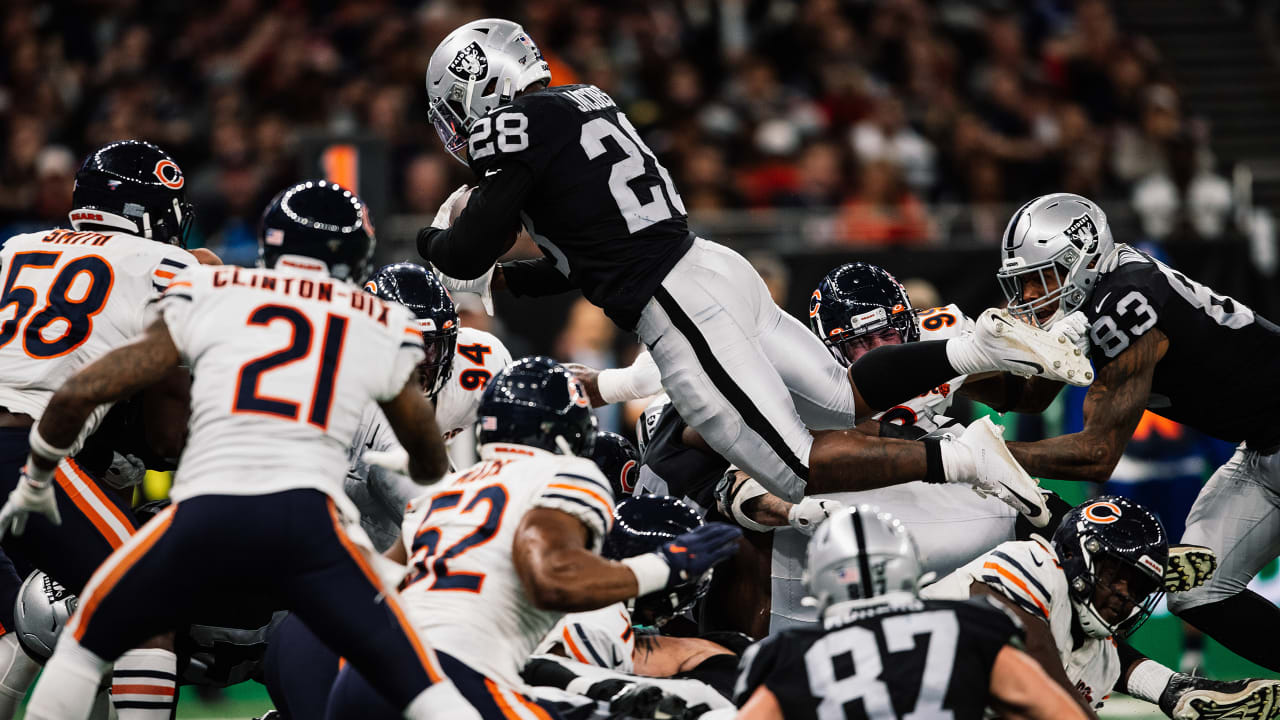 Raiders defensive line is stacked:
Their line is stacked. They have Maxx Crosby who is a beast it scares me what they might do to this Bears offensive line we have proven we can't block on good defensive lines that have superstar players. This guy this season only has 2 sacks but has a total of 30 pressures he gets in the face of quarterbacks and if he gets in the face of a young quarterback like Justin Fields that can make him panic and even if he doesn't sack him it doesn't matter just getting in the face of Fields and make him move around as he did against the Browns that can stop our pass offense. Just because he isn't getting sacks doesn't mean the team isn't his pressure is probably leading to other players to get sacks on the stats not having that many sacks it doesn't make him look too good but he is doing the dirty work. They also have Carl Nassib who can bring in pressure this team is one of the lowest in stats for sending in blitzes they rarely blitz and still get pressure on the quarterback all the time. So if they are getting pressure on other teams who have way better offensive lines than we do imagine how many they will get on us. With the offensive line we have they will probably send in more blitzes than usual on us there will for sure be pressure in the game. 
Now time to get into my keys for Bears victory there are always things you can do to beat a time no matter who you're playing there is always something you can do. There will for sure be things will have to do to win because we are the underdogs in this one so let's get into the keys.
Send in blitzes:
Our defensive line duo of Khalil Mack and Robert Quinn has been on fire. Khalil Mack is looking like he did in 2018 with his first year with us. First off this is Mack's former team the Raiders he was with them for most of his career and the last time we played the Raiders it was in London so the fans he was playing in front of weren't even Raider fans they weren't even the real ones so he didn't even have playing his former team feeling because the real feeling and atmosphere of playing his former fans weren't even in America. When we played the Raiders in 2019 Khalil Mack didn't really do much on his revenge team they did a good job at shutting him down all he did that game I think was recover a fumble that he didn't even make the strip on. So last time him having a quiet outing on his former team it will be even better this time. It's more of a revenge game this year first off we want revenge off the tough loss, Mack wants to beat his former team, and because of how bad he played against him last time.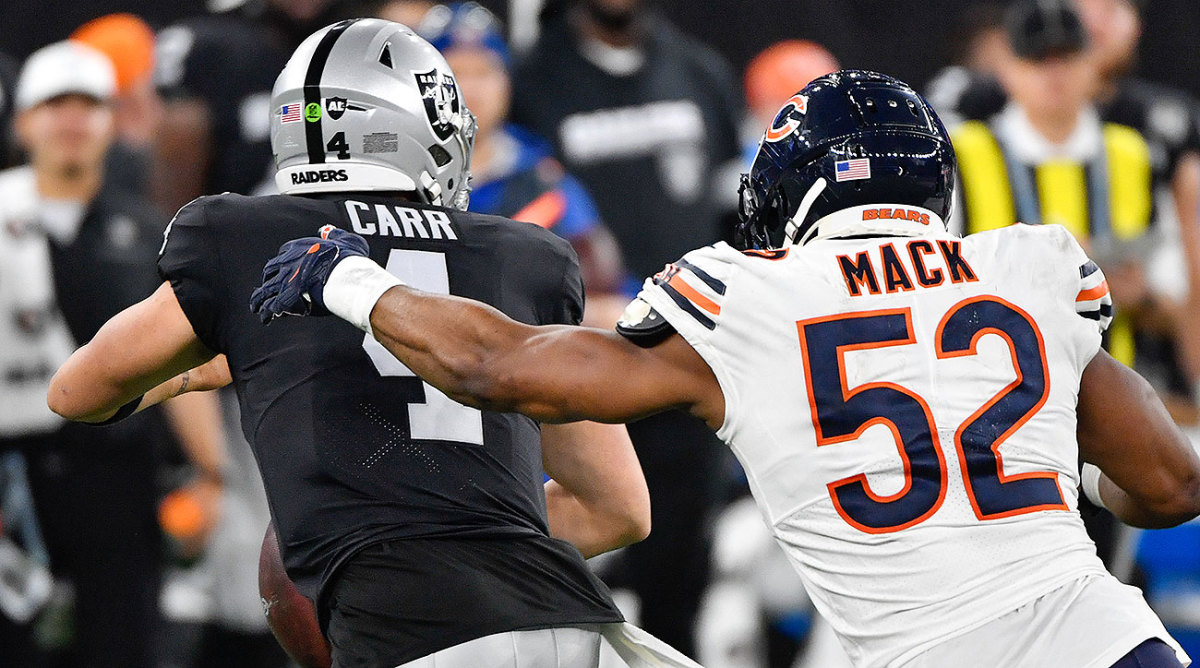 This time he is playing in front of real Raiders fans in their new really cool stadium maybe the best stadium in the NFL and there going to be louder than ever Mack will be motivated to shut them up and shove it in their faces. With Mack already having a breakout season and him playing well recently he can go off on the Raiders especially with their weak offensive line. That is exactly why I want the Bears to send in some Blitzes against the Raiders. The Raiders have improved their defense a lot and it isn't as bad but they haven't improved their offensive line it has gotten worse there line used to be so good. They went from having their defense be their worst problem to being good then their offensive line being one of the best parts of their team to it being their worst. So Robert Quinn and Khalil Mack should have a good day on Sunday I want the Bears coaches to be sending in all types of blitzes on Sunday and type of blitz possible Quinn and Mack will go off if they do that. Getting pressure on Carr will be great to shut down the great passing he has had I really don't know if he has had much pressure this season but if you give him some on Sunday his passing won't be the same.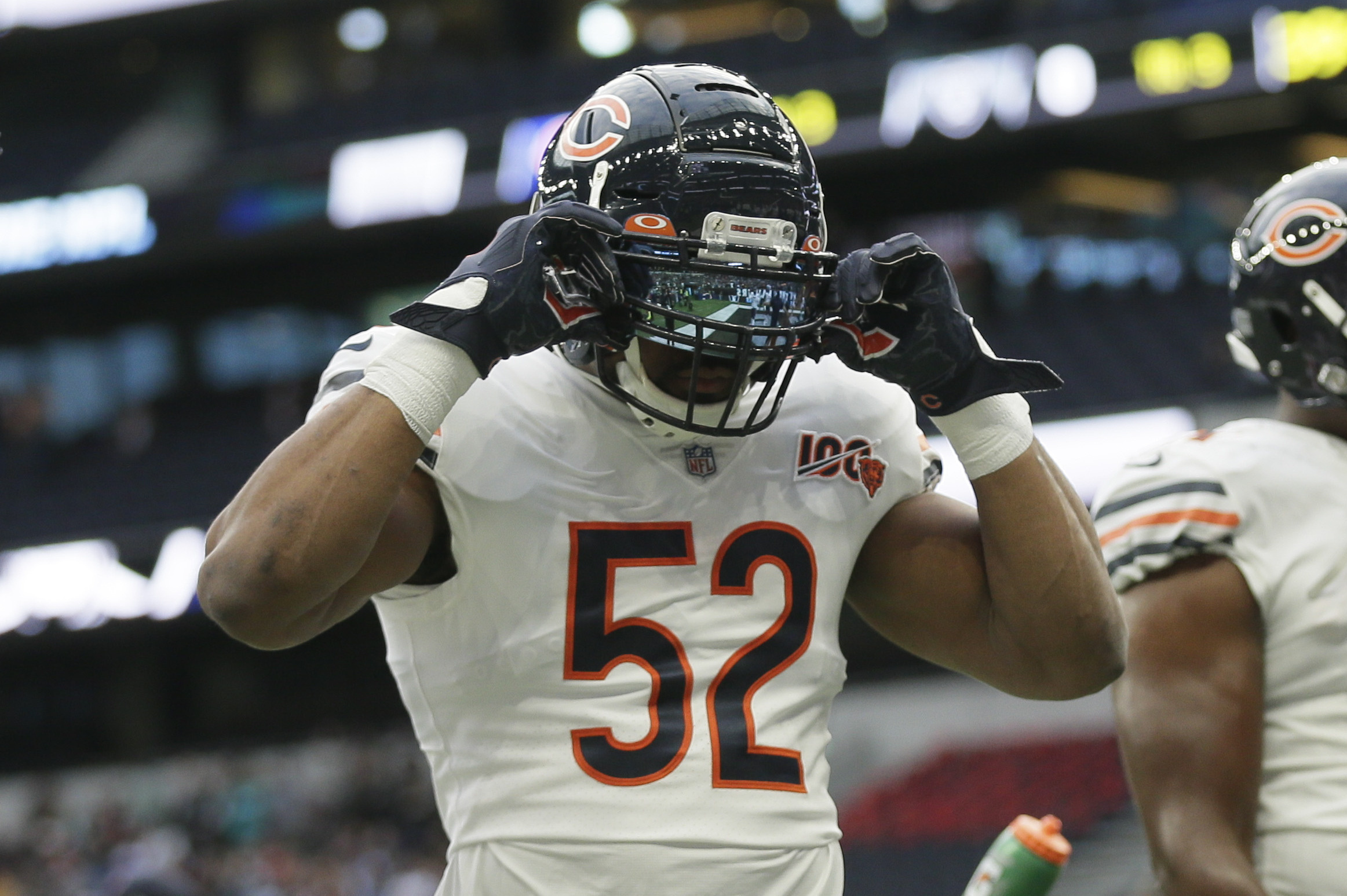 Don't let the Raiders get to a big lead:
We do not want to try to play come from behind on a team like the Raiders. We don't want to do that on any team that has a stacked offense I say this because the way the Raiders defense is formed were not going to get a comeback going very fast. Because with the Raiders sending in blitzes most of Justin Fields' throws will be check-down passes. I know in the last game Fields was throwing none stop deep balls but that was against the trash Lions it's not going to be like that every game most games it's not going to be like that it was just because we're playing the Lions. I have noticed whenever we have played teams with stacked defensive lines when they have pressure on us they force short throws. Like the secondary will move back and pressure will come in and we will only have 5 yards routes and that is not going to get us back in the game. When we were playing the Rams when pressure floods in like it will on Sunday we quickly just checked it down it might get us a touchdown doing that over and over but that will take time off the clock and taking time off the clock when your trying to comeback won't work. Then with the Raiders' offense being really good when they get the ball back from the long drive they might move the chains a bit and drain more time. So in this game, I don't think we should let the Raiders get ahead too much.
Allen Robinson jump ball TD catch:
Before I get into the score prediction I want to shout out a play that I still love to this day that happened the last time we played the Raiders. This was an Allen Robinson jump-ball TD catch this might actually be my favorite Robinson catch. We were down 14-17 at the end of the 3rd quarter and we were just completing our comeback being down 17-0 earlier. Were at the 20 yards line close for a score the ball is snapped Chase Daniel looks around a little but is mostly looking at his right Allen Robinson is running a fade and he has the size advantage on the corner which is why the ball was thrown for one one one jump ball off a fade route. Robinson leaps up and uses his size advantage and catches it for a touchdown off a perfect throw ball from Chase Daniel. Daniel threw the ball only where Robinson can get it and Robinson afterward turns around and chucks the ball in the crowd who was roaring. A legendary moment in my book just the look of the touchdown was amazing just wanted to flashback to my favorite play of what happened last time we played the Raiders.
                                              Robinson TD catch: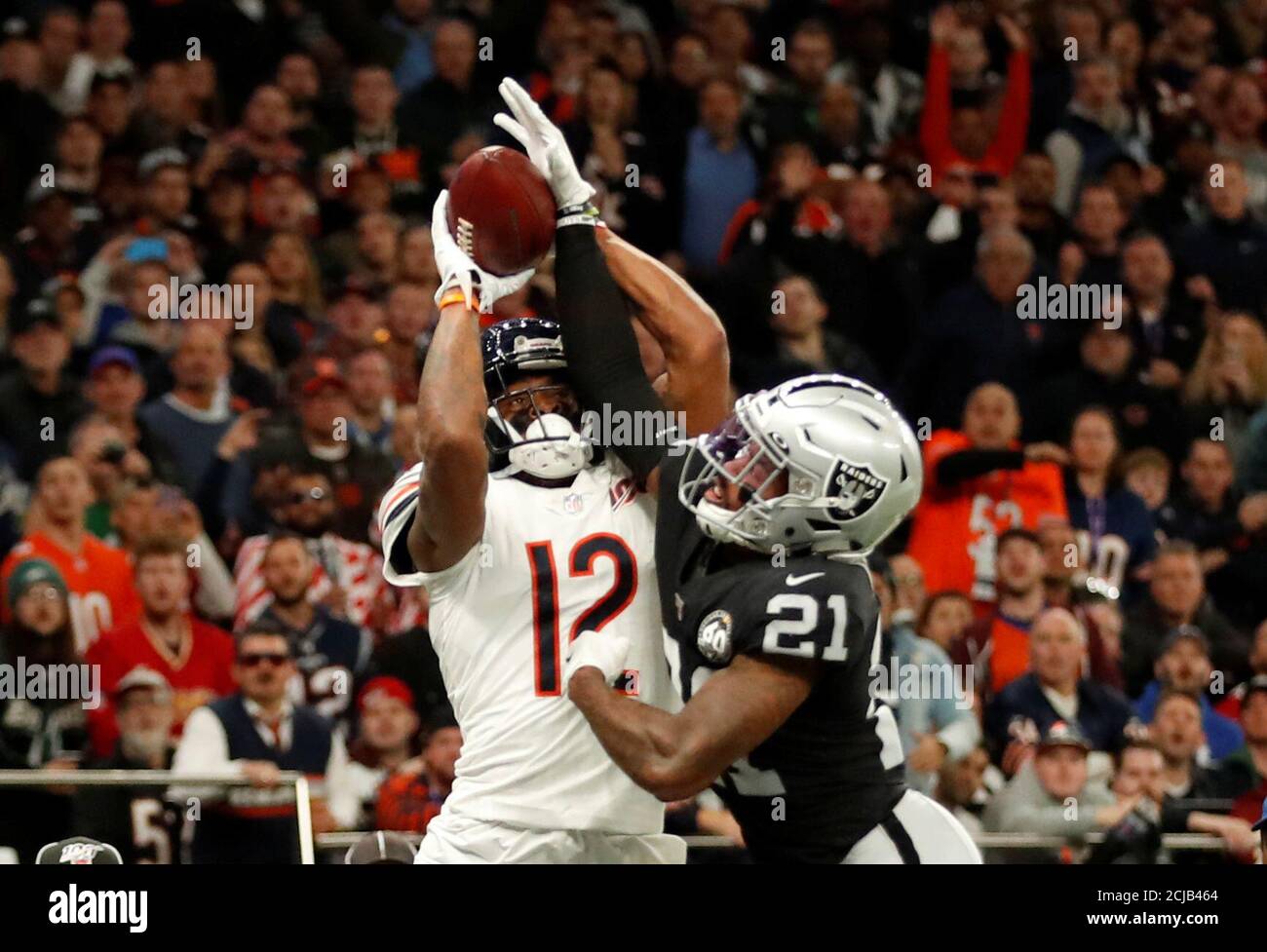 Score Prediction:
My score prediction I put a good amount of thought into this. This will be a good game I think this is the most interesting matchup on Sunday, not the best game but the most interesting these two teams are hard to compare it's hard to say who will win but I have got my team who I think will win. I have the Chicago Bears in week 5 of the NFL season and head into Las Vegas and lose at a score of 25-17. I'm going, to be honest, If I don't think my team is going to win I'll admit it I just don't think we will win I said Jacobs will play bad but we don't even have David Montgomery so our run game will be just as bad and like always bear down!!