What a win and an ending that was for the Chicago Bears! Two sensational grabs by Bears offensive weapons Jimmy Graham and Damiere Byrd! They were both grabs that were highly contested by two defenders and both times the Bears came down with it. It started off with the Bears down 17-24 and Nick Foles threw a prayer up to Jimmy Graham where he had two Seahawk defenders contesting the ball. With Jimmy Graham being the really good red zone tight end he is he boxed out on one of the defenders to get some space made a good timing jump and came down with it! That made it 23-24 but it wasn't over the Bears made a nails decision and went for two with only about a minute left in the game so it was basically going for the win instead of tying the game. Some people might disagree when teams go for two but I loved the call we played to win and went aggressive mode and it worked out. The Bears line up to go for two the ball is snapped and Nick Foles roles out to his right at the start of the play I got a little nervous because I'm not totally confident on Nick Foles rolling out so I thought it was another one of Nagy's bad play calls but I was wrong. When Foles was rolling out he threw a pass that was right on the Money! This pass was to an unknown Chicago Bears offensive weapon and that was Damiere Byrd. Him running a route to the back of the end zone he gets a really well-placed ball right to his hands from Nick Foles. This ball was thrown to a spot only to where Byrd could get it. Byrd caught it but that was the easy part while falling down he had to get both feet in while two Seahawk defenders were trying to push him out of bounce. While getting pushed out of bounce with very little room in the edge of the end zone he got his second knee down for the score! While he was falling down he was holding onto the ball with one hand and if that ball slipped out of his hand while falling down I don't think they would have rolled it a possession so that catch was just something else! Your telling me game on the line you got two huge guys pushing you out of bounce and you find a way to get both your feet down in bounce while holding onto the ball with one hand while falling down this is nothing but sensational. I don't care if Byrd never catches a ball again in his career or ends up being trash for the rest of his NFL days the catch will always be legendary and no one can take that away from him. It's really hard to make the catches Graham and Byrd made it's catches you don't see often but both of those guys made those catches on back-to-back plays to win the game when plays don't make plays like that all season long. It's not only those catches and the ending to the game that was great all game we played great. This was such a great team win we played together very well I know for a lot of the game the Bears were trailing but I think overall we played a much better game than the Seahawks did. Our offense was moving the chains much more consistently we had by far more possession time and I think total yards. This was probably the best overall team outing of the season it wasn't some ugly win I know the win came down to a final catch but overall the game was clean for us so our team performance really couldn't have done better. 
Veteran Nick Foles got the job done:
Going into this game everyone was very bummed out from the pregame news that Nick Foles was going to be our starting quarterback in this game. There were lots of people saying we are going to lose because our 3rd stringer is starting and I'll admit I was one of those people but he did a very solid job. He played a game exactly how a backup quarterback should play he played a very clean game with barely any poor decisions, kept everything under control, and had some decent stats to stay in the game and in overall just got the job done even if his highlights or stats aren't totally wowing. When your a backup your stats and highlights don't have to be wowing backup quarterbacks aren't picked up and meant to be like that. Front offices pick up players like Foles to be in a backup situation because they know he isn't a meant-to-be starter with big highlights he just comes in when your in desperate need of a solid quarterback like we were he came in and got the job done. Foles stats in this one were 250 passing yards, 1 touchdown, and 0 interceptions! He didn't have a crazy amount of touchdown passes not a crazy amount of passing yards off deep balls but he didn't have to have it be like that. All he needed to do was play clean and conservative while keeping it away from the Russell Wilson and the Seahawks offense and that's exactly what he did and we won. I'm happy with how Nick Foles played he might have just set himself a backup spot for next year and if that is his role next season that is no problem with me. Justin Fields next year will most likely have his breakout year off of Matt Nagy and the play callers most likely being fired and him having a bit more experience. So he will be the starter next year of course and Nick Foles to be behind him if he is out for a few games. Dalton is under a 1-year contract with us and I don't think we will resign him after this year and what I saw from Foles on Sunday he played a better game than any other game Dalton has played this year. Foles isn't what he used to be of course but I still think he has juice to keep him going but on the other hand with Dalton he is older than Foles and is washed with not much left and Foles actually having better backup potential left. A lot of people even say Foles is the best backup of all time I would actually agree his whole career he has been doing it and he has always been good at it. I don't think he is the type of guy who is going to ride you the full season but he's a good veteran to have if you need someone to come in for a couple of games make some throws and get your time by for a little bit. He can be a great veteran to have behind Fields and teach him the game. Foles isn't as washed as Dalton is, Foles has always been the better backup, the Bears probably won't resign Dalton next year so I think without a doubt next year the duo should be Fields and Foles.
Robert Quinn Gets his 17th sack of the season:
Quinn this year has been amazing! He has been selected to the pro bowl which he really deserves if he didn't make it then he would have been the biggest snub out of everyone. Not only is it the pro bowl I really wanted him to get into I want him to get the come-back player of the year award. I really can't think of many guys who have improved more from last year to this year than Quinn. Last year I'm pretty sure he only he had 2 lousy sacks and this year he has 17 which is sensational. That's a sack difference of 15 his sack total quickness and movement has changed way more than any other player in the league. There are many defensive linemen who are faster and more explosive than he is but even the guys who are better than him haven't changed their playstyle faster within a year than he has. He just looks so much better out there this year just the way he rushes to the quarterback looks so much different than last year. Not only does he have more sacks than last year his QB pressure has been great the QB pressure just really isn't something people pay attention to because it's not really much of a stat and people only pay attention to the sacks but the QB pressure is great too. I know he might not make the sack on the pressure but just being able to get into the face of the quarterback affects things a lot and him at least getting in the quarterback's face proves his quickness and pass rush has improved so much from last year to give him comeback player of the year award. Quinn is also doing all of this without Khalil Mack his edge-rushing duo Mack is out for the season. Mack being out for the season is a bummer because these guys when they were in there together were elite. They were one of the most dominant defensive duos in the NFL maybe one of the best duos in all of the NFL. But Mack being out of course would bring down the pressures but Quinn didn't slow down with Mack going out he just continued what he was doing. Usually if one of the edge rush duos goes out that would make Quinn slow down because they don't have to focus on two superstars only one. But Quinn even with no Mack in there and all the offenses do is just focus on Quinn they still can't stop him. They can just only focus on Quinn because they know the other Bears defensive linemen aren't elite enough to step up so it's basically one guy in the defensive plan. He is the whole entire thing there going over in the film room, pretty much the only guy the quarterback is looking out for with the pass rush when the ball is about to be snapped and with all of that Quinn is still playing the best he has ever played before. Double teams no problem he gets to the quarterback no matter what with the way this guy is balling out. He just needs one more sack and he will break Bears legend Richard Dents single-season sack record. He was part of the best defense of all time the 1985 Bears. If you're going to break a record of a player from that defense that is insane because everyone on that 85 roster was a hard-hitting monster most of that being Richard Dent and Quinn is going to break his record I can't wait to see him do it.
                          Bears legend Richard Dent:
Montgomery and Herbert are bound to be an elite duo:
David Montgomery and Khalil Herbert are such a good duo. They have played pretty well this season and on Sunday's game, both had a good game each. These guys each had a rushing touchdown where David Montgomery's touchdown came off of an impressive 80-yard offensive drive. We were like half a yard away from the end zone and Montgomery piled his way in which he is really good at. Herbert had his touchdown a little later in the game which was about a 20-yard touchdown run with perfect blocking by the Bears line. The best part of the blocking was from Larry Borom who made a huge block on the outside and Herbert after that block made a huge cut and bursted off and showed his speed with no one touching him and walked into the end zone. He really showed his burst and speed on that play I got to say both of these running backs are making me excited about the future. Montgomery is a top 10 running back who is our main guy with the handoffs and Herbert who is only a rookie showing future potential he can be one of the top running back two's in this league. I think in the future he is going to be one of the best backup running backs in football maybe even the best. I'm not too big on Ryan Pace but this was a great draft pick by him. Herbert was a 6th round draft pick that is a steal for a 6th rounder I guess Pace saw something in him and what he saw he was right. I think these guys are similar to the running back duo of Nick Chubb and Kareem Hunt. Chubb is the big power runner and is impossible to bring down with an arm tackle and Hunt is a great pass catcher who has decent speed. That duo is just like ours Montgomery being the grind-out guy and Herbert being a smaller fast guy. I see Montgomery and Herbert even being better than that Browns duo someday a lot of people say the Chubb and Hunt duo is the best running back duo in football and we have potential with that so I'm so excited for our running back group. These guys balled out on Sunday and they will ball out even more next season!
Rookie Thomas Graham Jr might be someone to sign next season:
We have had a lot of problems with this cornerback group this season. We have only had one good corner all year and that is Jaylon Johnson other than that it's pretty weak. Added to only having one good corner lately we have been missing a lot of corners due to covid protocols so our whole secondary is practice squad guys and they're pretty trash. But one guy who we have called upon the practice squad who looks slightly decent is Thomas Graham Jr. He is on bit of the smaller side but he is a very feisty slot corner who has had a pretty good amount of pass breakups what I've seen. Whenever he is in the play with the corner he always gets his hands in there and plays physical when the ball is coming his way. Yes, he has had a good amount of flaws so don't take totally serious when he has his crummy mistakes because he is a rookie who got called up mid-season and has only played 2 games. Early in this game, he got beat by star receiver DK Metcalf and that really wasn't his fault Thomas Graham when it comes to corners he is on the smaller side so I really don't know what he was doing on Metcalf. On that play he was guarding Metcalf there was no safety on his side in the formation and no one filled over when he got burned. I didn't even see anyone behind Thomas Graham when the ball was snapped no one was even filled over to that side of the field on that and with a player like Metcalf, someones got to be there. So I wouldn't really say that play was his fault there was no safety help and a guy like Thomas has no business guarding Metcalf on isolation. Our cornerback group actually locked down Metcalf even with having a bunch of practice squad guys in. Other than that 40-yard touchdown Metcalf only had one catch. That catch went for no yards so we held one of the NFL's superstar receivers to only two receptions. Other than that Metcalf situation Thomas Graham played a pretty good game he had a couple of slip-ups obviously but he's a rookie joining mid-season so give him a break. I think with the physical play this guy has he should maybe have a shot at being cornerback 2 next year. Maybe he can have a future he is coming out of Oregan he was a stud there maybe he can continue that as a cornerback 2 next season. Thomas mostly balled out in the second half when we needed it he had one pass break up with 3 tackles and flashed how physical he is. That's my favorite part about his game the heart that he plays with! Thomas Graham can be good I have trust in him don't freak out if he makes some flaws I can tell watching him out there he has got some flaws and looks a little bit out of it but he will be fine.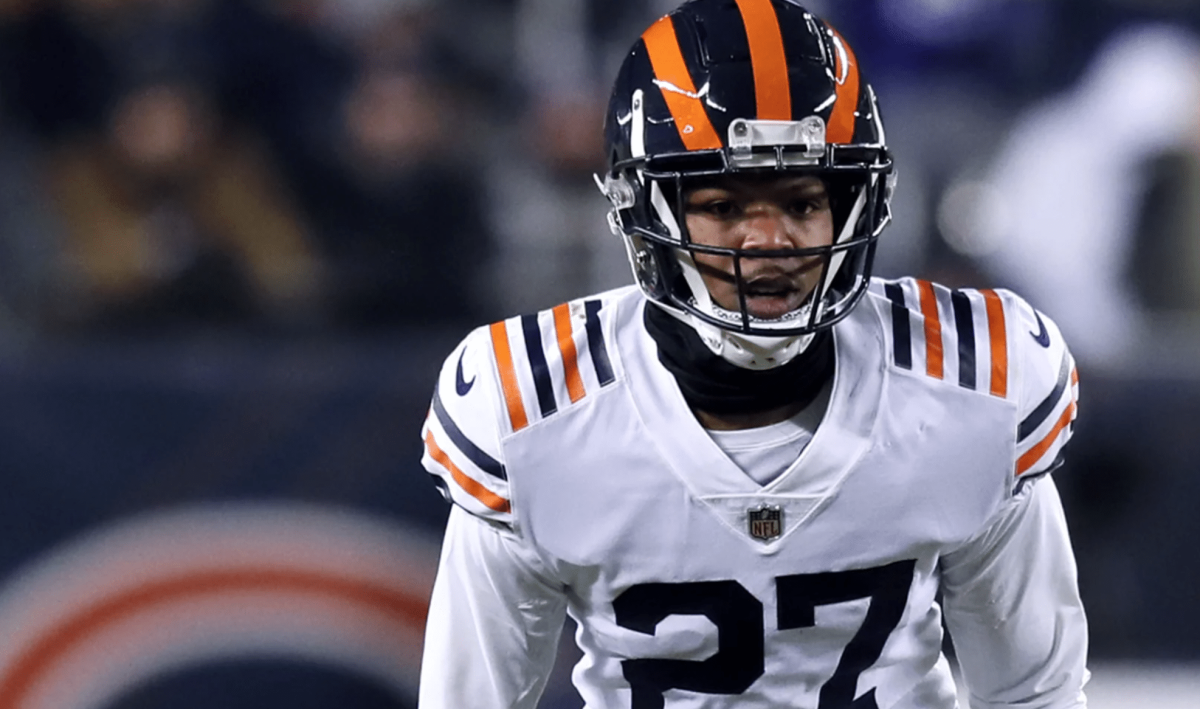 That is my Chicago Bears recap! There was mostly good stuff to go over off of this sense it was such a good upset win! Let me know if you agree with my takes and make sure to check out my next article in a few days on my Bears vs Giants prediction. I love making these articles so no matter how bad this Bears team is doing I will always be coming out with these articles so stay updated to my Bears vs Giants in a few days. I know we are out of playoff contention but that is a game we can totally win thank you for reading and Bear down!!!