What a win for the Chicago Bears! Our win today over the Detriot Lions makes us 6-1 against the Lions in our last 7 meetings against them. We own those guys the team looked great today mostly the defense. But usually, when we win I just shout out the defense for doing everything in the win but today was a team win because our offense looked great! I know we only had 24 points but 24 points on offense is actually a lot to the Bears. But we actually could have had a lot more than 24. But other than what we put on the scoreboard the run and the passing game today looked so good. Justin Fields deep balls today looked amazing they were so fun to watch most of his deep balls were to Darnell Mooney and he balled out today! The run game looked good David Montgomery was looking like his usual self breaking tackles and getting like 5 yards per carry and the Lions defensive line didn't handle him too well until he got hurt which I hope isn't anything serious. Now I am going to recap what my thoughts were on this game what we did wrong or what we did right and talk about the players.
We did exactly what I wanted to do to Jared Goff:
In my previous article, it was my Bears Vs Lions prediction. In that article, I went through what we needed to do to win the game. My main key to victory was to pressure Jared Goff because he has a history of not doing good when he has pressure in his face against the Bears defense. He also has a history of not doing good when any defense has pressure in his face. Goff plays terribly when playing Chicago so I'm glad our defensive line got to him I wanted them to pressure him and that's exactly what they did. I knew he would struggle having pressure and I said in the previous article if we pressure him I promise he will do bad and he did we had many sacks on him and two strip-sacks. One being stripped by Robert Quinn and being picked up by Khalil Mack then the other Goff being stripped and him being lucky picking it right back up and running with it if he wasn't lucky getting five yards off the strip we would have had two turnovers off-strip sacks on Goff and a couple of sacks.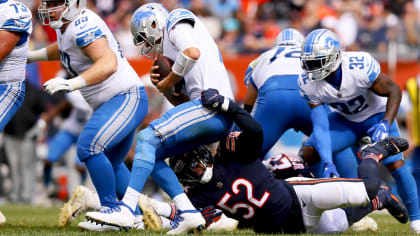 We shut down TJ Hockenson:
Superstar tight end TJ Hockenson did nothing on us today. He is a top 5 tight end one of the best in the game and we totally shut him down. It's not that whenever he was thrown to it was deflected or incomplete he barely got any passes thrown to him. When I say we shut him down you probably think that when the ball is thrown to him our defenders were preventing the catch but no we shut him down so bad he couldn't get open or get passed to he was just so quiet today. Our boys in the middle did good on him mostly Roquan Smith. It's not like he did absolutely nothing at all he had a couple of receptions I saw a few good receptions I can remember but TJ didn't do anything that almost made them win or anything that people will remember. Not was it only the coverage that shut him down I think it was the defensive line pressuring Goff prevented the ball from going to Hockenson once the pressure is on Goff he couldn't hit Hockenson and had a lot of dump-off passes to D'andre Swift. 
Darnell Mooney went off:
Mooney today was the offensive MVP I thought it would be David Montgomery but him leaving early gave it to Mooney. To be honest, even if Montgomery stayed in there and continued to do what he was doing I still might give it to Mooney with how good he played. Mooney had 5 receptions for 135 yards. You might say 5 receptions isn't a lot but on those 5 receptions he had, they were all deep balls that's what got him the big yards on the stat sheet. I don't think all of them were actually deep balls 2 of his receptions were like 5-yard receptions on curl routes. So that just makes his 3 other receptions even bigger receptions to add 135 yards. I can remember each deep ball Mooney had one being an over-the-shoulder catch next to the sideline from a perfectly thrown ball from Justin Fields. The other one being thrown by Justin Fields from the 10-yard line hitting Mooney around mid-field with two guys on him and after the catch almost breaking tackles from both of those defenders. But the other deep catch that he had was his first deep catch and this one is my favorite which is why I am saving it for last. It was on the first drive of the game and Mooney started from the right side of the field and ran a route all the away across the field to the left. On this route, he was wide open but the ball placement was terrible so he leaped out his whole entire body and tried catching it with both hands and could only grab it with one hand and came down with it one-handed! It was insane I remember just sitting on my couch screaming about the catch that for sure is my favorite Darnell Mooney catch it's going to be hard for him to make another catch that will impress me more than that one but I know in the future he will have a lot of good catches to come. Like this catch was just fantastic his whole entire body is stretched out in mid-air and reaches his arm high as he can and comes down with it hitting the ground hard it was like an Odell Beckham Jr one hander!
                        Darnell Mooney one-handed grab:
The red zone defense was clutch:
I know on the scoreboard it looks like the Lions did nothing on offense today only with 14 points but their offense did better than the scoreboard and their offense wasn't that bad. The reason why they had such low points was because they won't 0-3 when they were at the 10-yard line. I'm not saying in the red zone further back but 10 yards away from the in zone and failed to convert each time that is embarrassing for the Lions that just shows the difference between the good teams and the bad teams. Good teams would find a way to get in the in zone when they have to but the Lions made stupid mistakes every time they got there. The first time they made the 10 yard line Jared Goff wasn't even ready for the snap and was calling a play and the center snapped it and the ball bounces off Jared Goff right into a bears defensive linemen's hands for a turnover. The other one was they were at the 10 and on 3 plays only got to the 5-yard line. So that made it 4th down and the Lions decide to go for it and running back D'Andre Swift is wide open Goff sees that and makes the pass but bears defensive player Alec Ogletree leaps up and deflects it and goes out of bounce to prevent a touchdown. A play like that is huge just that prevented a touchdown and that touchdown could have made the game a lot more interesting it's crazy just a deflection off a defensive player's fingers can change the impact of a game so much. So the other red zone stop we had was this time it was 3rd down and Robert Quinn who is having a breakout season this year strip-sacks Goff and is picked up by Khalil Mack. The Lions offense looked good going down the field but when they got to the point where they had to put it in they failed badly. It's all because of this Chicago Bears defense that stopped them from scoring those red-zone stops were huge it's not that they didn't do anything on these red-zone stops the bears made the plays they had to that prevented the Lions from scoring. That is what good defenses do in our red zone stops we had two turnovers and one pass deflection to stop them from scoring that's what won us the game not only was it in the red zone they were all 10 yards away from scoring and when you have your backs against the wall like that 3 times and prevent them from scoring each time is clutch.
The offensive line actually gave Fields time:
This offensive line actually looked good today I knew they would look better than they would last week but I didn't know they would look that much better. I really didn't see the offensive line do anything today that pissed me off I knew they would do better because the Lions defensive line is a lot worse than our last week's matchup with the Browns. Not did they only do better they gave Fields a lot of time I saw Fields sitting in the pocket for a couple of seconds not even needing to move some plays I was suprised to see that. It just shows what Fields can do if he has time he was throwing deep ball's all day and the run game was moving before Montgomery got hurt. So if the line actually does his job things can actually work if we have Fields hitting his deep balls with our receiver duo Allen Robinson and Darnell Mooney and have Montgomery's smash-mouth running added to that this offense can be deadly all the offensive line has to do is do there job. It shows today Justin Fields is ready because today he was put in the right situation. I saw a guy on youtube say Fields isn't ready and is inexperienced because of his bad showing against the Browns. He was ready when playing the Browns the line was only giving him 0.78 seconds to throw it just made it look like he wasn't ready because the offensive line screwed him over and wasn't in the right situation. But today the offensive line was doing their job and when he was actually in the right situation look at what happened he went off. That guy on youtube is a total clown today Fields proved he should start the rest of the season and he is ready and can go off if the offensive line can block. What I saw today should scare NFL fans if there playing us if their team has no pass rush because if you give Fields the right system in this game he will be deadly.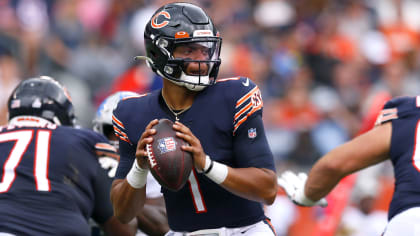 That is my Chicago Bears week 4 recap. I had a lot of fun making this recap a lot of the stuff in here was great to talk about because it was mostly positive things for once. Thank you so much for reading and let me know your thoughts and bear down!!