The Chicago Bears went into Las Vegas yesterday and pulled an upset! Pretty much everyone I saw on social media make predictions for that game all said Raiders are winning I didn't see any people saying Bears would win. I knew we had a chance against this team but I really didn't think we were going to win the Bears and Raiders are hard teams to compare with team comparisons there both different. But our defense got the job done yesterday like usual everyone was overreacting so much after our bad defensive showing against the Rams in our first game. Ever since that game, our defense has looked just how it has always looked this season we look like a top 5 defense and we might have the best defensive line in football. I am obsessed with the duo of Khalil Mack and Robert Quinn. It's scary having both of those guys on the same line. We shut down everything we needed to shut down on the Raiders Jacobs didn't look fully healthy and we slowed him down, we did great at containing Carr's passing, and their best player Waller really did nothing. I am happy about pulling the upset win because even though we were underdogs I think this was an underdog game we had the best chance at winning because in our next 5 games we are going to be underdogs with who we got on the list. So it is really good that we took advantage of the game we have a chance at winning. So now I am recapping the game I am going to recap what we did right that won us the game and recap some of my favorite plays from the game.
Khalil Mack looks like his 2018 self:
Mack has been a monster this season I have said in my previous article's he is playing like him 2018 self but saying he isn't as good from 2018. But no Mack this season has been just as good as 2018 Robert Quinn bouncing back this season from his bad season last year is opening holes for Mack because offensive lines have to worry about both of those guys. Mack in 2019 and 2020 of course was good because he is one of the best players in the NFL but a lot of people say those two years were disappointing. Which I can actually agree on but 2018 Mack was insane the Bears traded for him a couple of days before the first game and only being registered on the team just for a few days on his first game of the season just walks into our rival team's stadium the Green Bay Packers and just goes off with a strip-sack, an interception he did everything you name it. He showed us he is here to ball out after that Packers game he continued to do that he looked like that most games so it's hard to beat the 2018 season from Mack but the horrifying thing is playing just as good right now than in 2018. He might even be doing better and when Mack is doing well the team is doing well it seems like whenever he is having success the team jells together in 2018 the Bears already had good defensive players and when Mack came to the team he seemed to bring the whole defense together and made the whole team 10 times better having him in the system. That seems like what he is doing this year him being the best player and heart and soul of Chicago when the guy everyone loves goes off everyone and the team will jell together and try even harder it makes since to how Quinn has been going off and how we just held the Las Vegas Raiders to 9 points the defense is looking scary mostly Mack I'm glad what I'm seeing I hope we keep it up. My favorite was when Mack would trash talk Carr when he would sack him because I heard those guys off the field are best friends so it would always be great to sack your best friend and beat him.
                                                 Mack sacking Carr: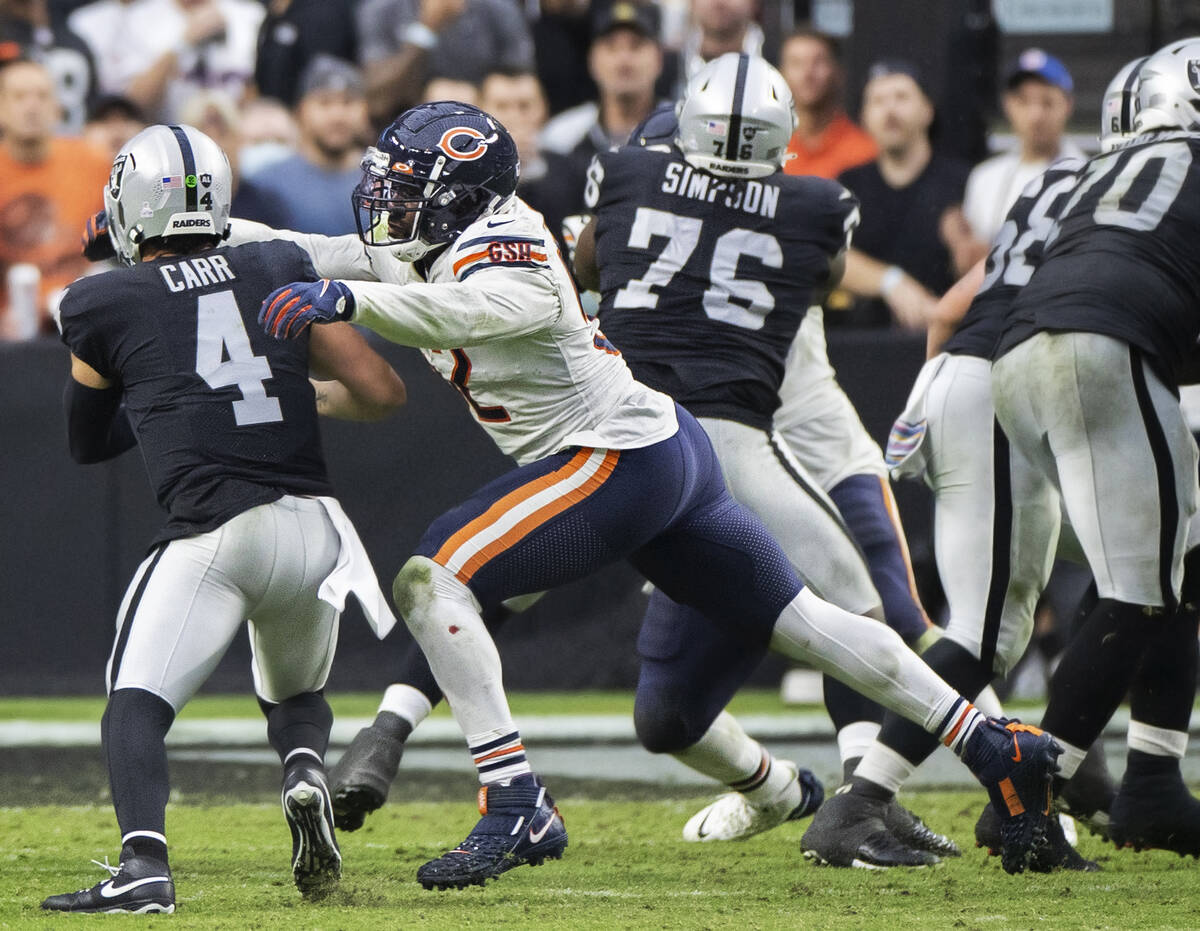 Mack trash-talking Carr: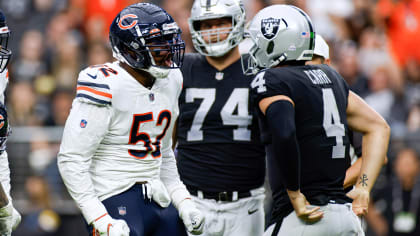 Justin Fields first NFL touchdown pass:
First of all hats of to Justin Fields, I know he didn't play totally amazing or did anything that made us secure the win because the defense did. But Fields this game was taking a lot of shots it seems like the Raiders players were trying to hurt him all game he took a shot in the 1st quarter I think when he was running for a first down and had one guy in the middle to beat the guy ran up to Fields and rammed him pretty low and Fields was limping a bit after that. Then later Fields had some pressure in the pocket and when he got hit I saw on the replay he turned his leg pretty bad and had to take him out for a bit and have Andy Dalton come in. But even if Fields didn't leave the game at all he was taking hits wherever he was going. He is a tough kid seems like most quarterbacks would let that get in their head but with the confidence he has he didn't get In his head he stayed in there and got a win. But the best part was when Fields threw his first career touchdown pass we were at about the 3-yard line Fields rolled out to his right and on a pretty well covered Jesper Horsted Fields threw it with pretty good ball placement to his left shoulder and Horsted caught it and pushed the ball against his shoulder for a bit to keep control with a cornerback draped on him a little bit. He had the size advantage on the corner even though the corner was on it well all Fields had to do was throw a decent-placed ball and Horsted would get it and he did. Fields did exactly that while rolling out to score his first-ever touchdown pass in the NFL there will be a lot more of those to come this man is a stud our franchise guy.
                    Jesper Horsted TD catch from Fields: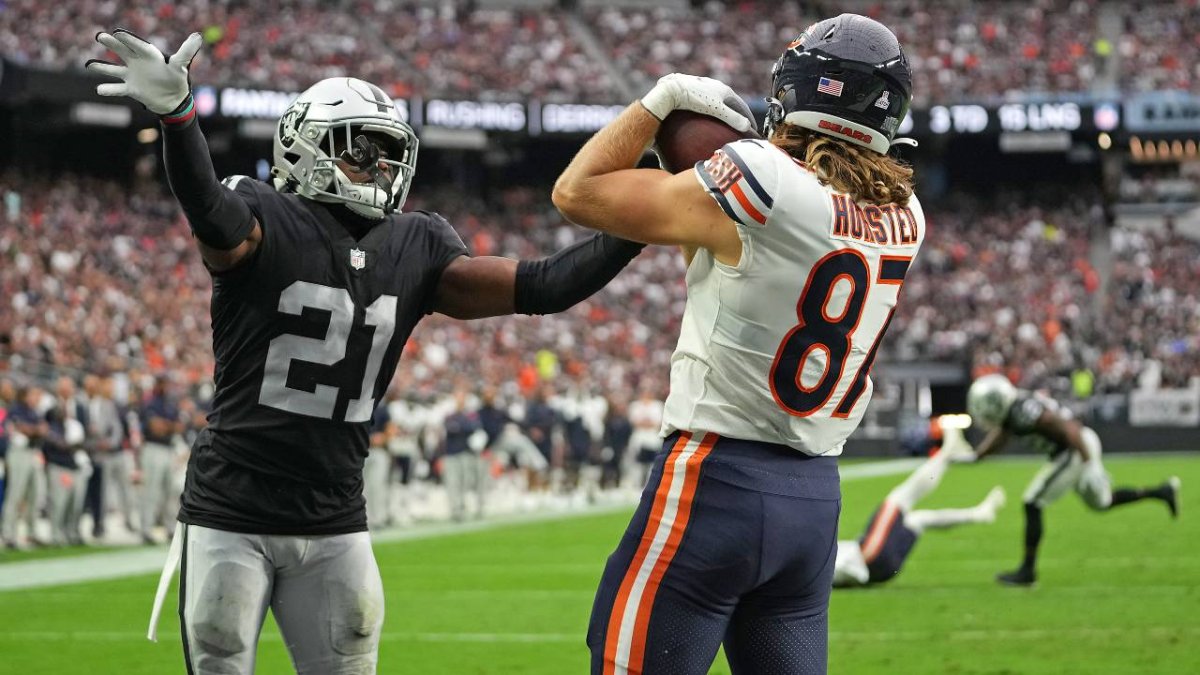 Our run game might be more deadly than people think:
David Montgomery is a complete stud he is for sure a top 10 running back I used to think he wasn't but I think he is after what Iv'e been seeing. He is just like our former running back Jordan Howard he can bash through the line to get that 4th and 1 play and can make that bashing 1-yard touchdown he can play smash-mouth football. That is what the Chicago Bears offense has been known for having a smashing running back who can get a couple of yards per run and burn out the clock and make the other defense tired. I said David Montgomery is just like Jordan Howard because of his bashing through the line and being a hard runner but what he has that Jordan Howard doesn't is he can run routes and get dumped off some swing passes he has the smash mouth and the receiving skills I love Jordan Howard a lot one of my favorite all-time Bears. But Howard can run routes and catch passes for a big play. So that is maybe the reason why we got rid of Howard to get Montgomery who can do everything. Montgomery is better than Howard and he has made our run game unstoppable even with how trash our offensive line is I have seen stats where a lot of Montgomery's yards are off-breaking tackles he has so many yards in YAC. Which is yards after contact it makes since that would happen because our line is trash and whenever I watch him on TV he always seems to take multiple hits each play and he always seems to break at least 1 tackle per play that is a complete stud he is basically a guaranteed like 3 yards because he always breaks the first guy that comes at him and his the strength to keep pushing when guys are on him. But Montgomery is out for like 5 weeks that really hurts. But people thought our run game was done for when Montgomery got hurt but no we proved that wrong yesterday. Damien Williams yesterday did pretty good he seems pretty fast and shifty like Tarik Cohen is. He had a super nice spin move on a Raiders defender that turned into a touchdown he got the ball ran left spun around the guy and went in. Then Khalil Herbert was taking a lot of handoffs he didn't make any highlight play like Williams did but he was getting consistent yards on consistent carries. The run didn't seem stalled like I thought it would Williams is shifty and can go in the open field and make some moves and Herbert can grind out yards. Yes, these guys are nowhere close to Montgomery but they can get the job done until Montgomery comes back. I think when Montgomery comes back our run game will be even more deadly yes because Montgomery is our best back but now that we see Williams has some speed in an open field we can use that. We can use Monty to play smash-mouth and Damien Willaims as our Tarik Cohen type of guy since he is out. I was glad when we picked Williams from the Chiefs I knew what he can do with his moves and speed I'm still obsessed with the spin move he had. So I'm saying that losing Montgomery might not be as bad because we have backups that are solid and Montgomery can form well with Williams when Monty comes back I'm not too worried about our run game like I was before when I heard Monty was out.
That is my Bears recap these were all positive things nothing that really made me mad this game. I wouldn't say that we played perfectly but I think there is nothing bad to recap this team played great I think that we can be very competitive against the Packers next week. Thanks for reading and let me know your thoughts and bear down!!