The Chicago Bears have themselves a tough week 7 matchup facing the defending super bowl champs the Tampa Bay Bucs. To be honest this is the toughest matchup you can possibly have there pretty much the best team in the league and our matchups with them are as worst as they can be. Our secondary is terrible and in their receiver core they have 3 receivers that are at a wide receiver 1 skill level there wide receiver 3 is good enough to be a wide receiver 1 on any other team but isn't because their receiver core is so stacked. We only have like one good secondary player and that is Jaylon Johnson and their receivers matched up with our safety's and corners is as bad as it gets. Their run defense is like the best in the NFL and 3 of our starting running backs are out the most painful one that we're missing is David Montgomery's top 10 running back complete stud one of the heart and soles of the team. So with them being a lockdown run defense even if we had our starters in they would slow us down and with them being hurt it's going to be even worse how they shut down our run game. It really sucks that out of all the times our 3 starting running backs could be out that's when we're playing the best run defense came at the worst time. Actually though maybe not all 3 Damien Williams could be playing but got put on the Covid reserve list I have heard he might play but most likely not. Were playing the super bowl team with missing players and having terrible matchup situations probably the worst matchups you can have. But a Bears game is a Bears game no matter the game situation I'm always excited for the games on the weekends waiting for Sunday even during the week I'm thinking about it even back in the days when we would have 3 win seasons I always look forward to games even though I know we're going to lose. But in these games where it looks like your team most likely won't win, you can always recap the players, injuries, and how you can win there is always something. So that's what I'm getting into the pregame recap It's my favorite I like pregame recap more than postgame recap because you don't know what's going to happen and most of it is predictions. So in my pregame articles, I mostly talk about the other team so I am going to get into the Bucs offense, a flashback play the last time we played the Bucs, keys to Bears victory and my predictions let's start.
Bucs offense:
Mike Evans is the best red-zone receiver:
Mike Evans is my favorite player in the NFL he a little bit recently became my favorite player. I just love his game he is one of the best jump-ball receivers, he is so good at using his size on corners and has 1,000-yard season after 1,000 season every year he owns the stats on yards and the best part about his game is his red-zone ability. The red zone is where he is unstoppable and where he gets the most targets usually when you're in the red zone you want to hit someone with good size and that's what he has he is one of the bigger receivers in the NFL and is 6 foot 5. He is always catching balls in the red zone off of jump ball catches on one-on-one coverages he is deadly at that. Whenever there close to the score and they have Evans on a one-on-one coverage they always loft it up there for him for a fifty-fifty ball and he always comes down with it. Most corners can't guard that the ball is usually off perfect ball placement by veteran QB Tom Brady and Evans using his size with his jump ball ability makes it impossible to guard for corners. Evans and Brady are one of the best quarterback wide receiver duos in the game. I feel like Evans is going to be a problem on Sunday our secondary is terrible and he is going to take advantage of that and the Bucs are deadly in the red zone they never fail in that position they have veteran Tom Brady he knows how to get the ball in there. This Bucs team never runs the ball they always pass with them always passing against other teams with better secondary's than us there definitely going to torch us even worse and them knowing our secondary is weak they will pass even more which is going to get Evans and their receiver core lots of receptions. If they're going to none stop pass and mostly do it in the red zone and Evans being deadly on that part of the field playing a trash secondary he will get a TD grab tomorrow without a question. We got to watch out for this guy he is one of the best receivers in the game he is for sure a top 10 receiver it's ridiculous when people say he isn't he is hated on so much and people say he is overrated. Even if he is doesn't matter Sunday's game is perfect for his playstyle he is pretty much the main offensive target we need to shut down.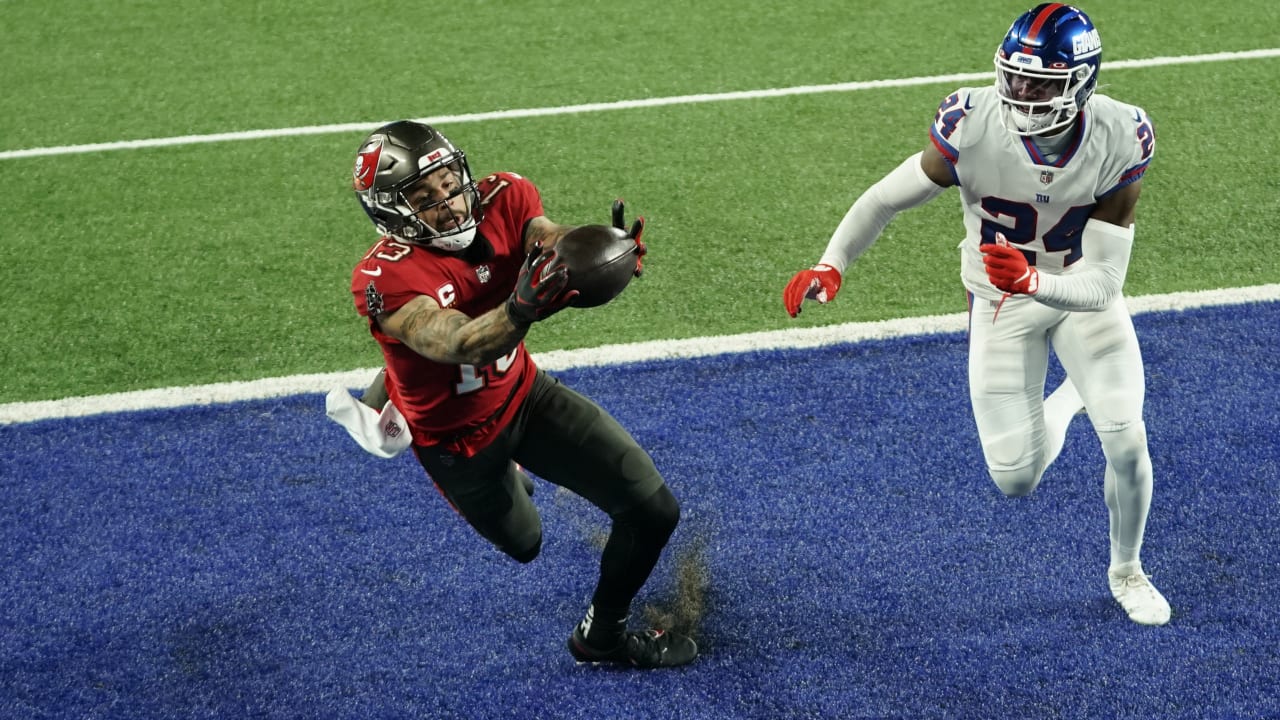 Their receiver trio is unstoppable:
The Bucs have a receiver trio of Mike Evans, Chris Godwin, and Antonio Brown. Just deadly top 10 receiver of Mike Evans, Chris Godwin one of the most complete pass catchers in football great in the slot position, and right now the best route runner in football Antonio Brown. In overall Davante Adam's route running is the best but right now Brown's route running is off the charts and is the best in the NFL at it. He for sure isn't what he used to be but his route running hasn't changed. In Brown's prime, he was amazing with his feet and he still is he has insane speed with outstanding route running, and route running added to speed makes you impossible to guard. I know Brown isn't what he used to be but he is still super good I would probably still rank him in my top 20 list for wide receivers. I have seen people get emotional when Brown does well because it reminds them of his old self when he was on the Steelers. But there are also a good amount of people out there who ignore it when Brown does well because of the time he turned into a whacko. Since he isn't what he used to be no one includes him in the top wide receiver list he isn't one of the superstars but he is average or above-average people just ignore that because they only want to think of the prime Antonio Brown in games don't sleep on him I still look at him as an offensive threat. He might have gone crazy and his head may not work but his feet do his route running is just beautiful to watch. I can for sure see him blowing a big game on us don't forget about him just because Evans and Godwin are better. With Godwin he is great too he is the slot receiver Jaylon Johnson will most likely be guarding him being the slot corner I don't know how we're going to guard Evans and Godwin Jaylon Johnson is the only good corner we have and he has to guard both those guys first off Godwin will most likely win the matchup in the slot and then if Johnson has to guard Evans he will struggle even more because he will have to move out of the slot and guard where he usually doesn't guard. Mike Evans can run slot receiver as well but if Evans moves to slot he will have two receivers to guard off of the slot and he can't do that this receiver core is going to destroy us.
Their offensive line might be the best in the NFL:
Their offensive line is probably the best in the NFL if not top 2 or top 3. From the left tackle to the right tackle all the way across their line it is stacked with amazing blockers. There best offensive linemen is Tristan Wirfs I'm guessing Bears fans remember him if not let me remind you. Last season when we played the Bucs on national Television Mack blew past him twice for 2 sacks and on one play I think Tristan might have been shoving Mack a little bit after the play was dead and Mack grabbed the 340-pound linemen by his arm and flipped his whole entire body over! Yup pretty insane the play didn't do anything to the game because the play was dead but Mack doing that is just sensational to do something like that to a 340-pound pro athlete just pulls his arm and does a full flip through the air. But now that I reminded you guys about the play you know who I am talking about. But a scary thing about Tristan Wirfs that I had heard is he hasn't allowed a single sack since that game. Like sheeze I'm pretty sure that game happened in like week 6 in 2020 so this guy is a star. This guy should get the credit he deserves but doesn't because he is an offensive lineman. People only notice the bad plays that you have mostly when you are a superstar player you can block a guy perfectly every game allow no sacks and get rocked by a defensive linemen on just one play and that's all people remember you for because offensive linemen isn't a big highlight position they do dirty work so whenever they do good no one will notice but when they do bad they will. That's exactly what happened to Wirfs he is a sensational offensive lineman one of the best in the game locks up the best defensive linemen in the game and gets flipped by Khalil Mack and that's the only thing he is remembered for I see him get clowned for that all the time on social media and everyone thinks he's a bum just because of what Mack did to him but people don't know the real him other than Mack destroying him that one night he is an amazing blocker he has super quick feet and gives Brady all the time in the world. As a Bears fan, I should clown him about the whole flip play but I'm not because he deserves credit and I got to say I actually really like the guy probably one of my favorite offensive linemen usually linemen aren't my favorite players but with him, I actually like his play. This whole offensive line is outstanding everyone on their offensive line is on Wirfs skill level. No one even takes a look at this offensive line because they're so distracted by having the goat Tom Brady at quarterback and their deadly receiver trio. So with all the flashy stuff they have on offense people don't look at their line also because no one cares about blocking so it's not noticed their line might be the best part about their offense, to be honest. It's because Brady is old he can't scramble very well and with him being that old and slow and him still playing like a top 5 quarterback shows how good there protecting him. If it wasn't for the offensive line they wouldn't even be able to hit their receiver trio everyone loves this offensive line is deadly I hope Mack and Quinn can find a way to get pressure.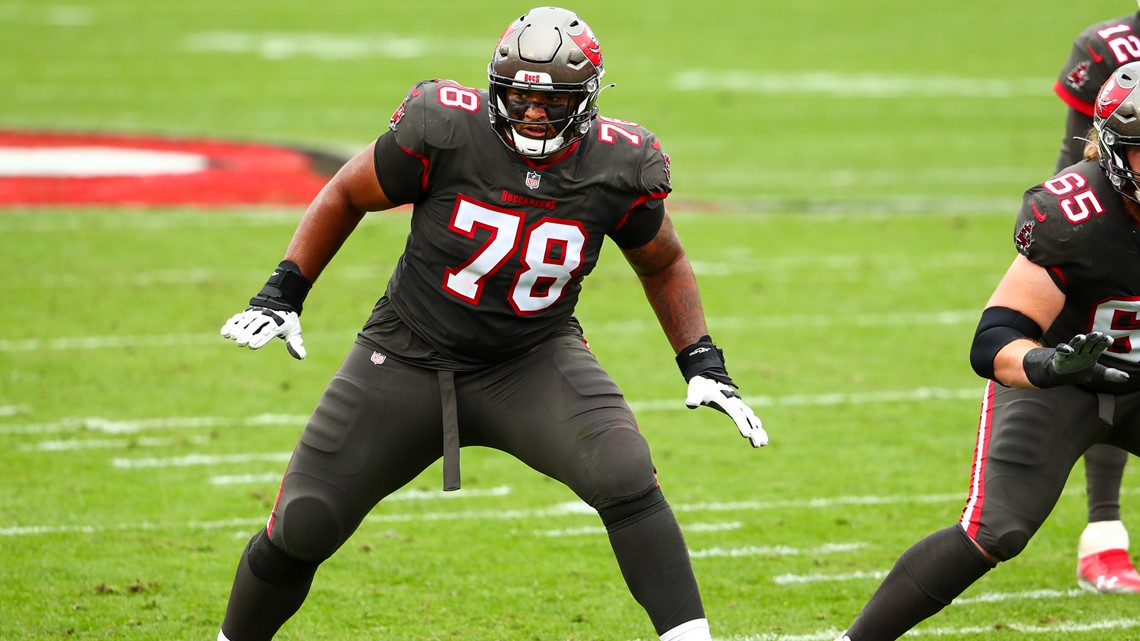 The last time we played Tampa Jimmy Graham hauls in a one-handed TD Grab:
The last time we played Tampa was last season on national television and the Bears made a lot of highlight plays in this game. Some of the plays were including Kyle Fuller making a huge hit on a Bucs player which totally swung the momentum in Last year's game. Another one is Mack making Tristan Wirfs do a flip by just pulling his arm. There was plenty of more but one play that was the most exciting was an offensive play. Jimmy Graham made that play by hauling in an amazing one-handed catch in the corner of the in zone. It was amazing there were 41 seconds left in the 2nd quarter and was 1st and 10 in the red zone. We were about 15 yards away from a score with Jimmy Graham being our favorite red-zone target that's who we went to on the very first play on the 1st and 10 pass play. Nick Foles being our quarterback that game takes the snap and drops back he sees Jimmy Graham with one on one coverage going for the touchdown we love Jimmy Graham with one on one coverage he wins every time. With Graham having the size advantage Foles throws a pretty hardball not a high floating ball like a lot of quarterbacks do on a one-on-one matchup throw. The ball is kinda thrown like a line drive and was pretty good ball placement it was a hard catch for Graham to make the only way for him to catch was holding it against his body and one handing it because he had no room with corner all over him. The ball is coming right at him and with the Bucs player pushing against him, he still hauls it in one-handed against his body to get us a score right before halftime just amazing that was my favorite play of that game up there with Kyle Fuller's big hit.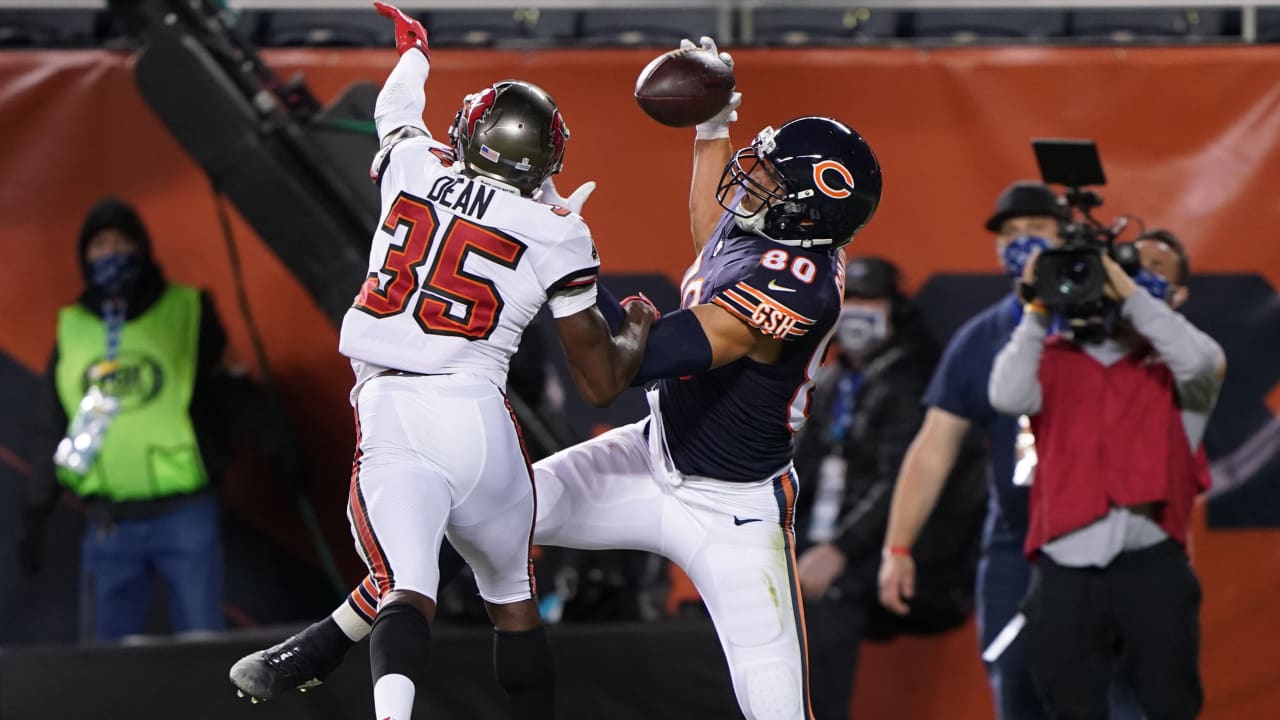 Now it's time to get into the most important part of the article the keys to victory. With us most likely never to win a game like this it's good to have our keys to victory against the super bowl champs!
Don't play conservatively with Justin Fields:
I said this earlier in the article but I'll say it again the Bucs run defense is complete lockdown. We are missing our 3 starting running backs and our best one that really hurts David Montgomery all we really have is Khalil Herbert. Herbert last week had a great game against the Packers he was our whole entire offense if it wasn't for him I don't know what would happen. But on Sunday the Bucs are going to slow down Herbert and that is probably their game plan. They know we haven't had Fields fully have a breakout throwing game other than that Lions game. They know Fields is a rookie and he is playing against Brady the biggest quarterback age gap playing each other in NFL history. 22 years old against 44 years old so they are going to try to put the game in the hands of Fields. They know we only have one running back and if they shut him down that will force us to throw and forcing us to throw might not work and even if they aren't shutting down the run we should still be aggressive on our passing anyways. It has shown in the games in the past where Fields throws aggressively we can shine and in this game, I feel like most of the game we will be playing from behind and we're not going to have the ball much so we need scores and big plays. There is no way we are going to be able to run like 20-25 times on their defense they have a good defensive line and a very elite middle linebacker duo Devin White and Lavonte David these guys are huge and they get to the scrimmage fast there going to clog up lanes and make no room we will be forced to throw. So with passing being our only option in this game don't be conservative with your only offensive plays if passing is the only thing you can do make the most of it go deep Fields is ready for those passes send shots to Darnell Mooney get Allen Robinson involved with the offense for once this season the passing needs to be aggressive. If it doesn't work then it doesn't work. I would much rather lose passing aggressively than lose passing conservatively because passing is the only option here and this can be the game where Fields has his first game where the game is fully in his hands. I'm just saying if passing is the only option here with them shutting down the run make the passing count. 
Get pressure on Tom Brady:
The only way to beat Tom Brady is to get pressure on him. Especially at this point in his career even in his prime days getting pressure in his face bothers him he is slow like you guys know so when pressure comes in he struggles. If he was struggling with pressure in his prime he will for sure struggle with pressure even more at the age of 44. Even with him being the greatest player in football history that doesn't mean a certain defensive situation won't make him struggle. If you get in his face on Sunday he won't be able to hit their deadly receiver trio as good he won't just be sitting back there all day long. Last year when we played the Bucs we started off the game down 14-0 and it looked like a Brady blow out but then we got some pressure in his face and the final score ended up being 20-19. It's crazy how the pressure on him changed their scoring that fast there isn't much to say about this just hope that elite duo Khalil Mack and Robert Quinn go off just get in his face and that gives us a chance.
Force at least two interceptions on Tom Brady:
Yes, you read that right force two interceptions on Brady. Pretty much impossible to do that he never makes mistakes and I don't know how we will force two picks on him in one game when he has only thrown 3 all season long. Two picks will be more than half the ones he has to throw all season long it's not going to happen. But if this does end up happening we have a chance because the chances of this happening are super low like really low so if we can get so lucky that Brady throws two picks against us then I think we can be lucky enough to win the game. In this situation, all attention is going to middle linebackers and corners. You can not make mistakes here if you have the chance to pick Brady you better make it happen on that play because you might not ever see that chance again. So if you read a play you go after it and say the ball is thrown right to you for an easy pick and you drop it you're dropping the game right out of your hands because I'm telling you if you mess up any chance of getting a turnover we will lose. If a ball bounces off the hands of a receiver middle linebackers get to that and pick it. That's how much of underdogs we are any little mistake that affects us of getting a turnover we are going to lose. Not much to say here either because I know Brady won't do anything stupid on Sunday and all I'm trying to say is don't blow a chance on getting a turnover. Brady never makes mistakes if you ever play good enough to make him do a couple of turnovers you can for sure win.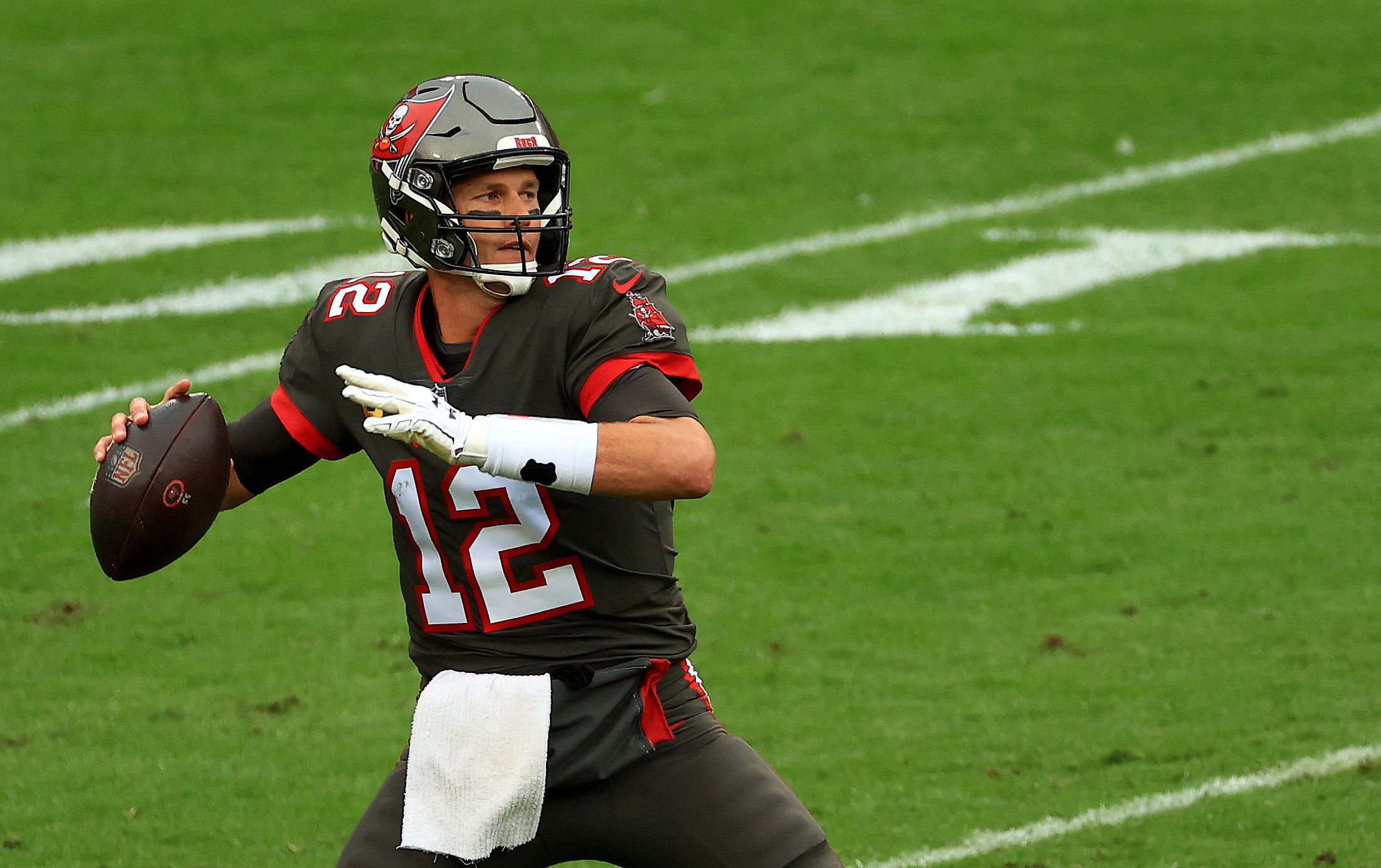 Score prediction:
I think I have pretty much made it obvious who I think is winning this game. I never really said who's winning but I made it clear who think is going to win. The winner of this week's 7 matchup is the Tampa Bay Bucs. Pretty obvious choice everyone probably has the Bucs in this game it's the biggest age gap between two quarterbacks playing each other in history and were playing the goat of football. The matchups say the Bucs are going to win, the roster says the Bucs will win everything favors them. But the score I have the Bucs winning at a score of 30-13. Yup a blowout in my score prediction I usually don't pick blowouts that much on my score picks in my articles but this time I am. It would really take a lot for us to walk into the defending champs stadium and play the goat of football while having it be the youngest to oldest gap of quarterbacks playing each other in history and all the matchups they have on us and roster advantages they have for us to win. If they win I'm going to go crazy it would be the upset of the year no question. Let me know your thoughts on this game tell me if you agree and like always bear down!!