The Bears Vs Packers rivalry is the most classic rivalry in football and one of the most classic in all of sports. It is the best rivalry in football it goes for 100 years these too NFC North teams have been hitting each other for as long as it can be now. That is why it is called the black and blue division Bears and Packers are too of the oldest NFL teams they were up there for being the first NFL teams invented so these teams have been doing this since day one. The games through out the 100 years of these teams fighting are always a show maybe not so much in the last 10 years but overall Bears Vs Packers is always great. So I love when these teams have games because there are so much history to it and that is what I am talking about in this article the best Bears Vs Packers games let's start it.
                          Bears Vs Packers:
Aaron Rodgers mid game comeback : 2018, week 1
Bears and Packers week 1 of the 2018 NFL season faced off on opening day of football for most teams and the first Sunday night football matchup of the year. It was perfect NFL's first Sunday night game was the best Rivalry being played to make it even better it was both teams first games exiting way to open things and boy oh boy it was exiting. In the first half of this game it was all Bears I mean all bears they were blowing the Packers out in that first half which know one was expecting too. This game was Khalil Mack's first game with Chicago and he put on a show and went off getting a strip sack intercepting a screen pass and sacks too. First half was so dominate for Chicago because QB Aaron Rodgers in first half went out with injury so they had to bring in backup Deshone Kizer. But after that first half for the Bears things weren't the same Aaron Rodgers came back in the second half and went off even with a hurt knee he torched the Bears. On a late drive for the Packers in the 4th quarter down by 6 they needed a score and Rodgers snapped the ball and soon to look like a interception Bears corner back Kyle Fuller drops the game ending interception and the next play Rodgers throws a Touchdown pass to Randall Cobb who ran a long way. Bears did have a final drive after that to score but couldn't convert. Me being a Bears fan watching that was hard to watch pain nothing but pain. But that was a typical Bear Packer game big play after big play and it was crazy.
 Khalil Mack interception :2018 week 1
Kyle Fuller crucial dropped interception: 2018 week 1
Bears secure the 2018 Division on Green Bay: 2018 week 15
This Bear Packer game was also played in 2018 both crazy games in 1 year. This game was being played in Soldier Field this time and the Bears were one win away from winning the division and they needed this game. I remember in this game Khalil Mack beast mode was still on from the last time he played the Packers he had couple sacks on Rodgers in this game. There is one sack he had on Rodgers that game that is a photo that is always around showing Mack owns Rodgers. I don't know what it is but I always see that photo around from that 2018 week 15 game. 
                Mack sack on Rodgers 2018:
Back to the game the Bears controlled this whole game and had the ball for most of it and that is what won them the game. But there was a small part of that game around beginning of the 3rd quarter and start of the 4th where they got a bit sloppy and a lot of fumbles came in but they cleaned that up. But while all that sloppy stuff was going on I was getting a bit worried because the game got tied and was concerned Packers would take over the one play that got the Packers to get in range to tie the game         14 to 14 at a point was when Rodgers threw a perfect placed ball on the corner of the side line to Davante Adams who was well guarded with no room by Prince Amukamara and still caught it! But other than those concerns Bears owned the rest of it they got the ball back Trubisky threw a TD to his tight end Trey Burton to give Chicago 21-14 lead. Then to later thanks to a big punt return by Tarik Cohen Bears got in good range got stopped and went for the field goal and contained 24-14 lead. Then after that it was all garbage time Packers went to the red zone and my favorite part Rodgers threw a pick to Eddie Jackson to seal the Division for Chicago. Not only did they beat there rival to secure the division they also eliminated the Packers from playoff contention that was a good day to be a Bears fan what a game!
Davante Adams sideline catch over Amukamara: 2018 week 15
Eddie Jackson running back interception: 2018 week 15
4th and 8 play: 2013, week 17
This game is another game Bears fan want to forget another Aaron Rodgers game breaking a teams heart. This was the final game of the regular season and both teams seasons were on the line who ever won went to the playoffs who didn't win went home. This was a very fun game to watch and good plays I mean good. At the start of this game the Bears did something crazy on the Packers first to drives of the game they picked off Rodgers back to back you never really see Rodgers make mistakes like that. After those interceptions though Rodgers had a very weird touchdown pass he got strip sacked and his receiver picked the ball of the ground off a fumble for a touchdown. But later where the game tightens up Bears are down 20-14 and it's 3rd and 4 in the 3rd quarter needing a play. But then QB Jay Cutler moves around a bit in the pocket steps up and rockets the ball to a wide open Alshon Jeffery that leads Chicago to the 1 yard line and then on the next play to score a touchdown. Matt Forte was the one who scored the Touchdown he went off that game with 3 TD's.
         One of Matt Forte's 3 touchdowns: 2013 week 17
Just after that the Bears got the ball back and and scored a TD to give them a comforting 28-20 lead. But that touchdown was cool it was by Brandon Marshall and it was one of my favorite Brandon Marshall touchdowns to it was 3 yards away from the in zone and Cutler snapped the ball lofted it to Marshall who adjusted to his route and did a spin to get to the ball with a great diving catch for a touchdown. But later Packers didn't give up and went on for a TD to make it 28-27. Bears got the ball back off of the Packers score and didn't convert Bears punted the ball to Green Bay and this is where it got bad. Packers down by one had one last drive at it and on this drive they had 3 times where it was 4th down and they converted on all of them. But the play that breaks me to this day Packers down by one 4th and 8 season on the line with about 50 seconds left Rodgers snaps it Bears bring in a pressure on a blitz he escapes and throws it deep down field to a wide open Randall Cobb catches it in zone game over. Bears did have about 40 seconds to go down the field but couldn't convert this game his heart breaker.
               Aaron Rodgers 4th and 8 deep ball to Cobb: 2013 week 17
Bears Packers face off in the NFC Championship: 2010
Bears and Packers a whole decade ago in 2010 played in the NFC Championship game. This was bit of a lower scoring outing but what a NFC North battle though. At the beginning of this game Aaron Rodgers was hot he was hitting every pass you can imagine and Packers in the first quarter went up 14-0 fast. and it gets worse bears have the ball towards the end of the 2nd quarter and Cutler gets sacked and have to punt it back to Rodgers. But something crazy happened what it looked like to be Packers would score before the end of the half Aaron Rodgers throws a horrible pass to his receiver that goes right at his feet. The ball bounces off the guys foot and lands right in the Bears linebacker Lance Briggs hands for the pick. 
                                 Lance Briggs insane linebacker:
But even with Chicago's Interception They can't convert to score. Chicago started with the ball in the 3rd quarter but didn't do anything with it by Jay Cutler throwing a horrible 3rd down throw to make it 4th down to hand the ball back to Rodgers. Just as the Packers got the ball back they marched down to the 10 yard line and it looked like they were gonna go in for a score to make it 21-0. But to switch some momentum Rodgers threw a quick pass to the left side of the field and out of know where Brian Urlacher intercepted it and ran back about 30 yards before being stopped.
        Aaron Rodgers tackling Urlacher after getting picked off from him: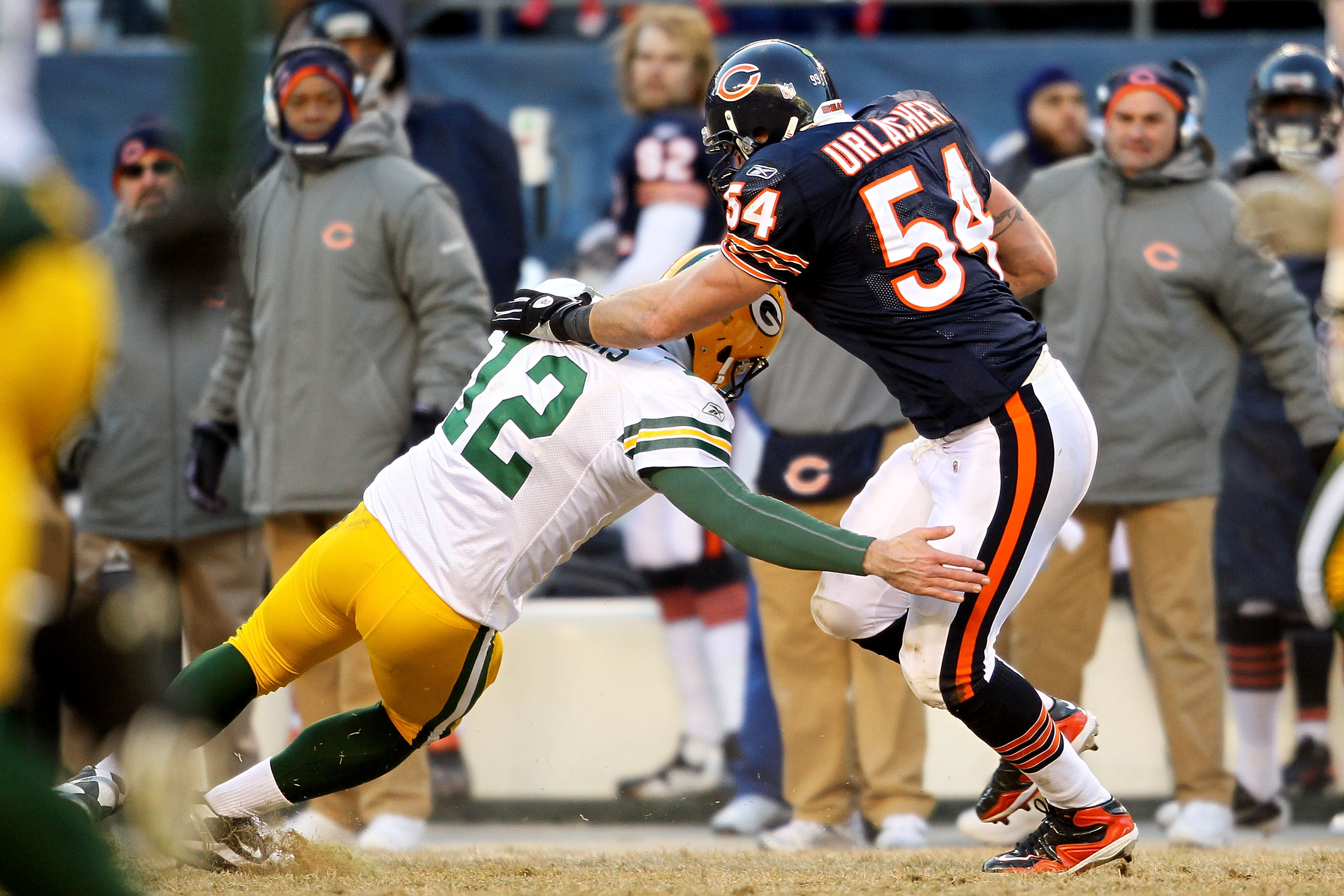 But after this interception it was time for the Bears offense and who came onto the field as QB wasn't starter Jay Cutler it was backup QB because Jay Cutler had a slight injury that kept him from playing in my opinion he quit on us and gave up. So the backup came in and did horrible and was super rusty and threw like 4 incompletions in a row. So him being so garbage they brought in there 3rd string guy Caleb Hanie with about 30 secs left in the 3rd.
             Caleb Hanie backup QB:
But when this guy came in he actually played decent. On his first drive in he threw a dot to receiver Jonny Knox to get Bears to the 1 yard line to later punch it in for there first score off a run. After that score Bears took over a lil bit they Stopped Green Bay and got the ball back. But In till something bad happens Hanie threw a interception to a d linemen and he went in to make it 21-7 that was so crucial.
     Packers d linemen pick 6:
But after that 3rd stringer Hanie wouldn't give up he marched down the field and towards the end of the drive he threw a perfect pass between to Packer defenders for a TD pass. It was a great catch to by Earl Bennett who caught the TD pass. 
          Hanie and Earl Bennett:
That would make the score 21-14. Crazy Bears later stop Packers on a 3rd and 12 to get one final drive at it Hanie made multiple clutch throws on this including some 4th down ones too. but on the last 4th down play very close to the in zone Hanie threw a pick to end it Bears came so close they almost beat Green Bay and Rodgers with there 3rd stringer maybe if cutler didn't quit on us we might have had a chance. But tough loss and this one was a awesome Bear Packer game.
That is my article on the best Bears Vs Packers games! All these games are classic Bear Packer games and amazing I really enjoyed making this article please let me know what your thoughts are these games. There a lot of other games out there I can mention to. That just shows how great this rivalry is. Thanks for reading and let me know your thoughts.