Football is back my friends! Man oh man am I exited! The first NFL game of the 2022 season is kicking off at SoFi Stadium. Where the defending super bowl champs Los Angeles Rams will be hosting a stacked Buffalo Bills team. This a perfect matchup the NFL couldn't have picked a better matchup for the opening game of football. You have the defending champs going up against the main favorite to win the super bowl this season the Buffalo Bills. Most NFL fans have the Bills as there super bowl winner and I am one of those fans. I have a lot of confidence with this Bills team and truly think it's there year. This Thursday night game could totally be a super bowl preview. I will for sure expect a good amount of scoring in this game and some fun highlights. I live and breath for football every single day I'm counting down how closer and closer we are getting to these opening game matchup everyone is looking forward to. So enough about my excitement I'm going to talk more about the format of this game. I have some great game preview that I am going to go over with this opening matchup and if you have read my past articles you already know I will have my score prediction as well. 
Stefon Diggs vs Jalen Ramsey:
This is a great player vs player matchup in overall. But to have this matchup on opening night makes it even more exiting. You got Stefon Diggs arguably the best route runner in football going up against in my opinion without a doubt the best corner in the game Jalen Ramsey. Ramsey one of the most legendary trash talkers of today's football and I love it. There are always guys who will talk it up and people won't like it because most guys that do talk don't back it up but Ramsey sure does. This man knows how to get under the skin of superstar receivers and knows how to contain these pro bowl wide out's he guards. Ramsey is always guarding the best receiver from every team he plays against and Ramsey loves the competition of getting to guard the best offensive threat from the other team. My man never backs down he is a very physical corner, is always at every ball, and never backs down.
Yes Ramsey is the definition of lockdown but enough about him Stefon Diggs for sure deserves some love here. Diggs is so fun to watch his route running is just so beautiful to look at on replay's his ability of it is perfect. His stutter moves can trick corners with in a heart beat. Josh Allen and Stefon Diggs have a sensational connection. The year before Diggs came to the Bills Josh Allen wasn't necessarily the most perfect quarterback. He had very questionable ball placement, some poor decision makings, and really didn't know how to use the big arm that he has. But the year Diggs came to the team Josh Allen's ability in every aspect changed. He was making right reads, wasn't making bad throws, and was hitting Diggs left and right. I'm not saying Allen's game changed all because of Diggs. But Diggs ability on the field changed some aspects. I think Josh Allen and Stefon Diggs might be the best quarterback to receiver duo in football right now. They might even have the best connection out of any duo they always seem to be on the same page. Diggs is definitely in the top 5 receiver conversation and looking forward to seeing him play against one of the more aggressive corners Jalen Ramsey.
This matchup will be entertaining and you can argue either way on who will win. But in this matchup I am going to take Jalen Ramsey to put a stop to some of Diggs explosive touches. I'm not saying Ramsey will fully shut him out when guarding superstar receivers the goal isn't to completely take them out of the game because that is almost impossible to do with superstar offensive players. You go into the game just to slow them down a bit even if you have a physical corner on a star receiver they will always get there touches and beat you at some point. You just have to try to take them out of the game a bit where the offense might not know what to do since there pretty boy receiver isn't just playing pitch and catch with there quarterback. Ramsey won't fully shut down Diggs on Thursday but he will know how to contain him enough where he won't just break away with all these big receptions.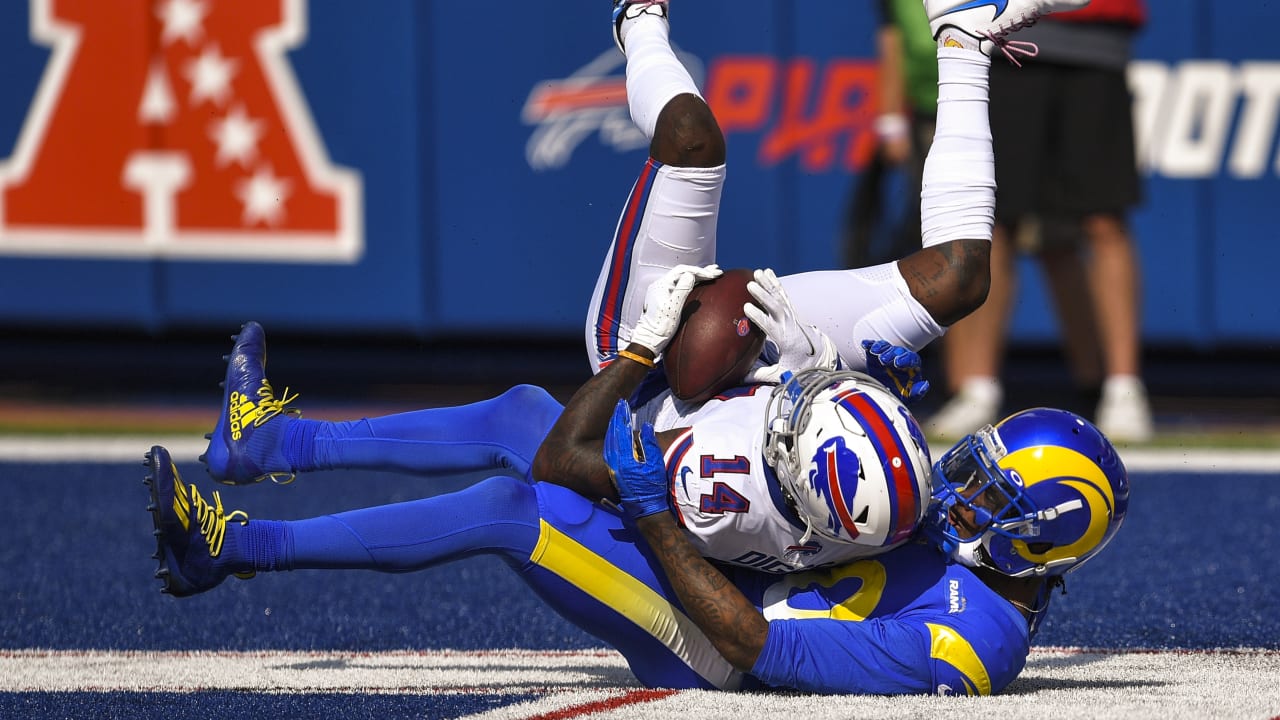 Cooper Kupp has a hard matchup against the secondary:
Cooper Kupp last season was sensational. I mean where would you even want me to start this guy had the best wide receiver season of all time putting numbers up of 145 rec, 1,947 yds, and 16 touchdowns. This guy was all over the field last season. He was catching passes from every spot of the field last year all of them being wide open. You would think with the stats he has he would be making all these contested catches which he can do but that's not really the case with him. This man whenever he catches the ball is always wide open i'm talking by like 10 yards. I don't know how he does it with the amount of targets he gets the whole entire gameplan in the film room all week is to figure out how to stop him and fill over extra players on a coverage so he won't get open and he still does. All teams do is try to figure out a way to stop him and he will still get all these wide open receptions where there won't be anyone with in touching distance of him. There are a lot of things that will always be guaranteed in life like taxes,bills,payments and on thing that will always be guaranteed is Cooper Kupp will be open.
But on Thursday he does have a touch matchup. He is going up against the Bills secondary the best in football last year they were the hardest to go up against. The Bills were rated first in pass defense, yards per attempt, and in completion percentage. It looks like you really got to work to complete a pass against the Bills corners. But Cooper Kupp caught a break Tre'davious White will not be healthy for this game. That is a bummer because that would have been a fun matchup to watch as well. With White out Dane Jackson will be taking his spot. Dane Jackson isn't on the same level as White but when he was last season he did pretty solid. He had 6 starts last season and had a 70.2 rate and a 50.0 cmp%. I think he might be able to hang around with Kupp for a bit but he is for sure out matched playing against a guy who just beat Calvin Johnson's 2014 receiver season. Kupp has a hard matchup against the Bills secondary but like I said earlier know matter the focus these defenses put on Kupp he will always be open. I will admit I think Kupp will decrease this season to the slightest because it would be hard to have back to back seasons the way he just did. The Rams also added Allen Robinson to there team who people forget is still a star receiver and might take some of Kupp's touches. I do think Kupp will have himself a night against the Bills but he does have something to work for.
The passing in this game will be very fun:
These two teams might be the best passing teams in football. They both have stacked offenses for it and both of there quarterbacks just came off of great seasons. Both of these teams aren't scared to drop back or go into play action. Stafford last year had all of the weapons in the world. Of course having Cooper Kupp and having a mid year signing to Odell Beckham last season to bring some speed to there super bowl roster. Stafford has the best wide receiver duo in football Cooper Kupp and Allen Robinson those guys are both top 10. As side kick to those to stars they have Van Jefferson who is pretty solid. To the Bills they of course have deadly duo of Josh Allen and Diggs like I was mentioning earlier. Bills as well have a criminally underrated wide receiver Gabriel Davis who is a sidekick to Diggs. Gabriel Davis has always had a skill set to him that know one really knew about until he had the game of his life against the Chiefs in the playoffs last year where he had 4 touchdowns. Gabriel obviously had a game of a lifetime and will probably never have a game like that again but I think this guy is a really good receiver next to Diggs.
Be expecting to see some points on Thursday I expect there to be some passing highlights in this one. Josh Allen is about the best deep ball thrower in the game when he is on his game he is most definitely on. I have him winning MVP this season and to get into MVP rhythm I think he will have a very good amount of air strikes going for him on Thursday night. Same goes to Matt Stafford you can always count on him. A great veteran who is one of the better pocket passers who isn't afraid to go into play action most definitely when you have Kupp and Robinson. So if your a fan that likes passing and really likes flashy deep ball highlights I'm telling you Thursday's football game is made for you.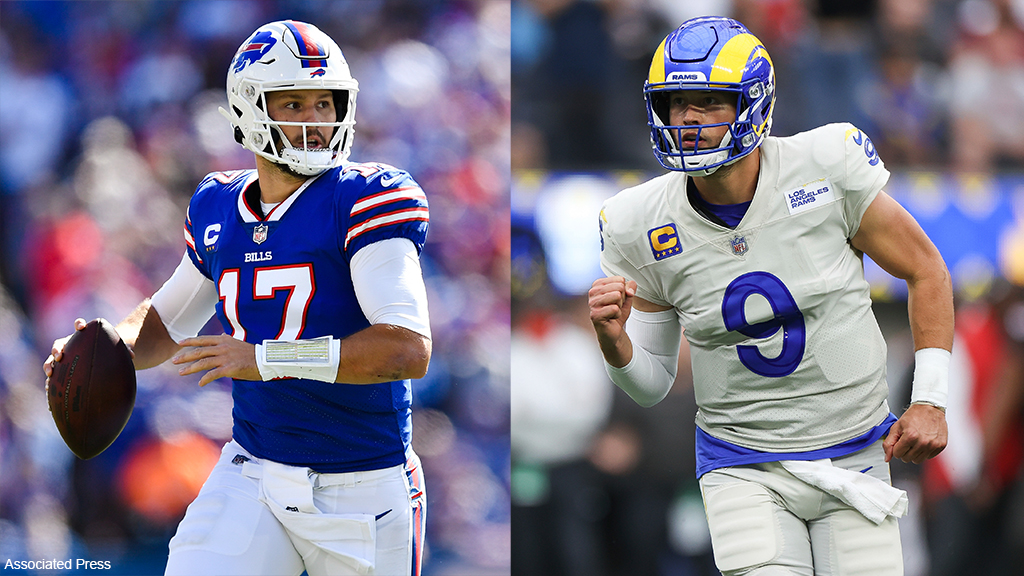 Score prediction:
Here we are to the score prediction my favorite part. I have said it like a million times in my articles it's my favorite part and I'll literally remind you it's my favorite part of the article everytime because I love the debate of who can win and all the disagreements people have. With score predictions people always got a little different opinion and I feel like most of my score picks are usually on the dot. But with my score prediction for the opening night of the 2022 NFL season I have this seasons MVP Josh Allen and the Bills go into SoFi Stadium to win a close high scoring game at a score of 30-27. Thank you so much for reading my article and let me know your thoughts. Tell me what you liked and even tell me what you disagreed with I have fun with debating. Let me know what your score prediction is as well I would love to see your guys is opinion.