Henry Ruggs is wide receiver one for the Raiders. This guy is my favorite rookie receiver from that 2020 class. One is because of his speed watching a flashy fast receiver is always fun and Raiders always have fast receivers so he fits perfect with them. Ruggs went to college at Alabama one of the most stacked football colleges maybe even the most stacked. They always seem to be the best team always playing in the national championship and offensive line is always stacked and huge. But Henry Ruggs at college made his receiver core noticed at Alabama Henry Ruggs made them have on of the most stacked college receiver cores. They had duo of Henry Ruggs, Jerry Jeudy and then Jaylen Waddle all of those guys are in the NFL right now. So that basically means there Alabama receiver core was basically a NFL receiver core. Know wonder why those guys in college destroyed everyone those guys in college that helped quarterback Mac Jones a lot giving him wide open passes to them by like 20 yards. And Henry Ruggs was a big part of that and I think if Henry Ruggs can keep developing through the NFL he can destroy like that again and here are some of the reasons why I think he will be very good in a couple of years. And what he can do to improve to be a top receiver for years to come to develop himself which needs to happen.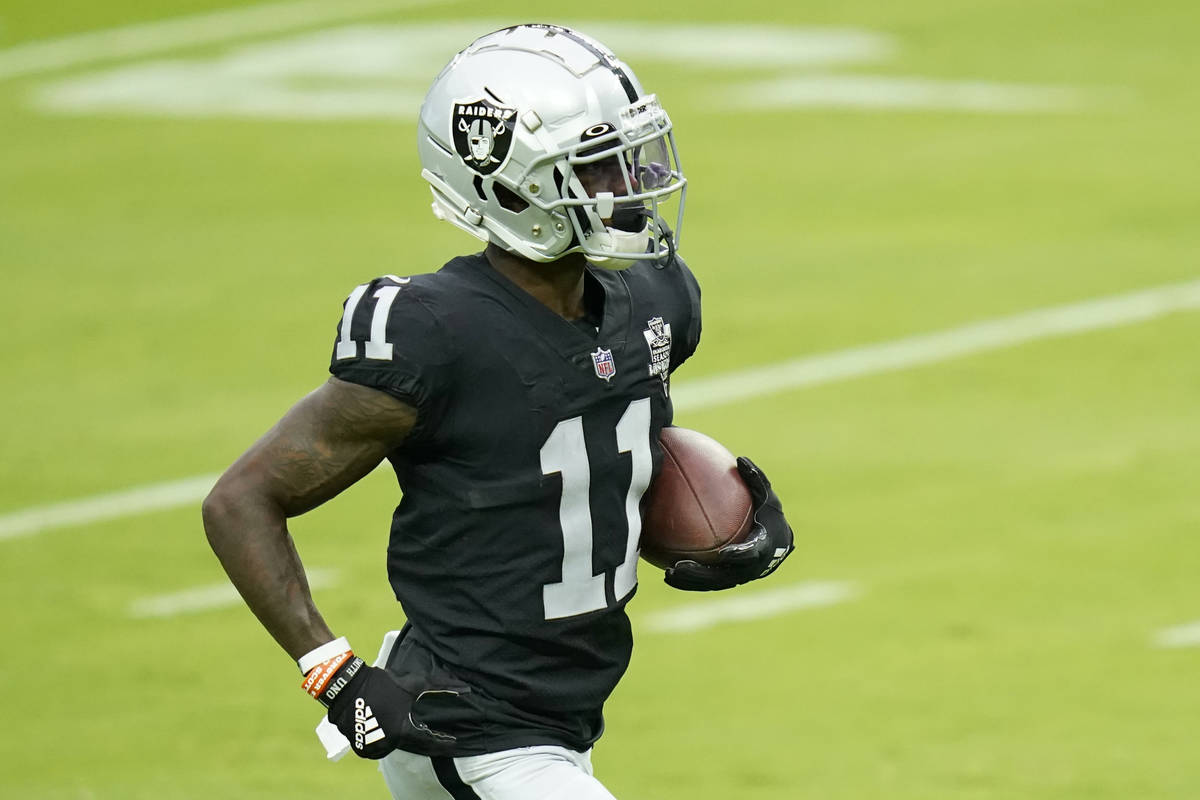 He needs to stop relying on his speed:
Yes Ruggs is the fastest receiver from his draft class and not just from his class he is one of the fastest in the game. He is up there in speed with Tyreek Hill he is so fast people give Hill the nickname of Cheetah I bet most people would say Hill is the fastest receiver but that may not be totally true. If you compare Hill and Ruggs speed times in the NFL draft combine Ruggs had a faster time. I am not saying he is faster just because of the combine but he has the potential to be just as fast as Hill on any play who is one of the fastest receivers in the game. But yes Ruggs is so fast but that is really the only thing he can do he needs to stop just relying on his speed. He has got to get a more all round receiver game. What he needs to do is get better route running, better leaping ability and definitely better hands. He really has know hands Ruggs if he can add the whole wide receiver package to his game he can be unstoppable. So just imagine if he has his amazing speed then add to it route running, hands and leaping ability he will have everything and know one will be able to stop him. Because if a corner is guarding him all there going to have to do is just watch for his speed on a deep route and if a clamp down his speed he has nothing else to go to. But when he has the whole package they won't know what to do on him. He will have the route running with his speed and if they lockdown his speed and are guarding him well he will have the contested catch so if they figure out a way to guard him he will have a answer to get away from it every time by having the whole receiver package. So he needs to focus on other receiver skills not just his speed.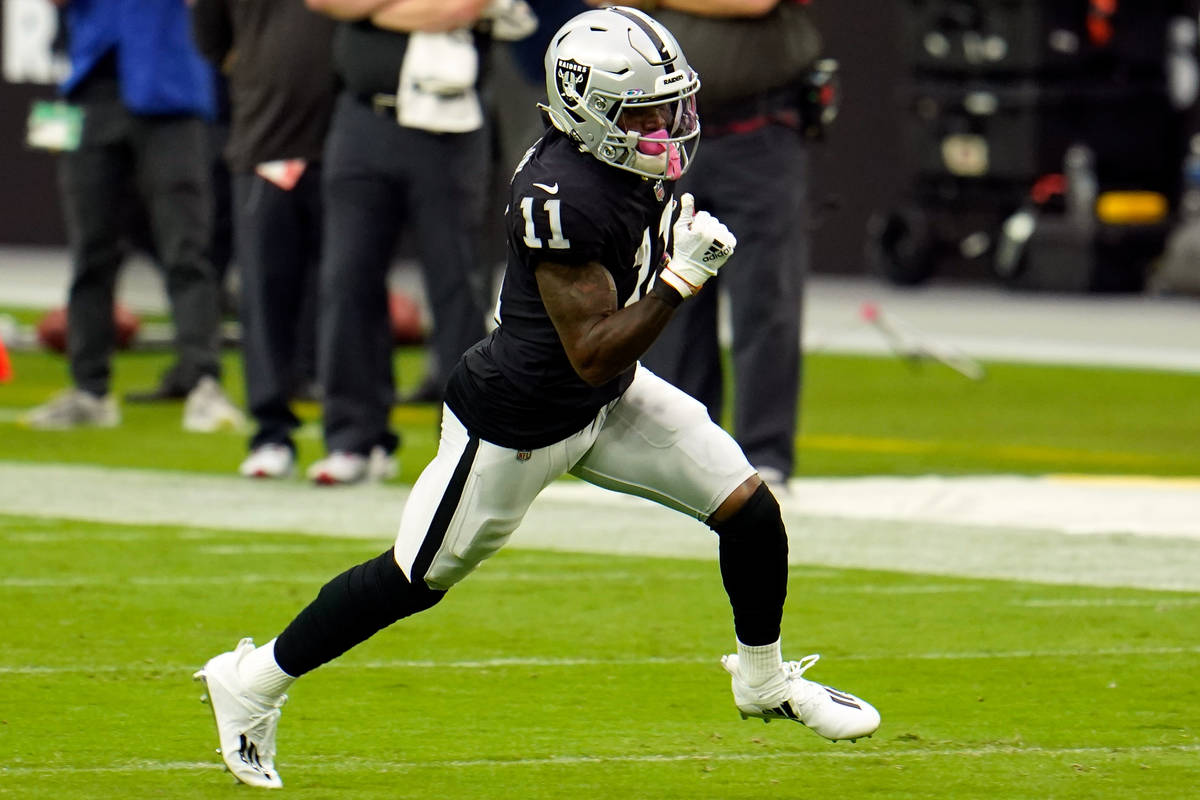 He is a perfect type Raiders receiver:
His playstyle for a Raiders receiver is perfect. Through out the Raiders history in drafts they always pick the fastest receivers. Even in the draft class if the fastest guy in the draft isn't the best the Raiders will still pick the fastest guy anyways because that is just how the team play style always goes around with there team. Which I think is cool it may not be a strategy that wins you the super bowl but it is fun to watch to have a whole wide receiver core be a bunch of speedsters being deep threats bothering defenses. So about Ruggs being apart of that Ruggs being fast and being a perfect Raiders receiver he will be great with them for the years to come because he fits with there system he is know different than any of the other receivers through there history so Raiders will know how to train him through there playbook. Like I was saying earlier Ruggs needs to work on his route running and hands that may be hard for him to do though. But Raiders having fast receivers in the past having those same problems only being fast they will know how to get him his route running, hands and everything. 
He may not develop as fast as the other receivers in his class:
The receiver draft class that Ruggs was in was stacked. My opinion was maybe the most stacked rookie receiver class all of history. The class was filled with guys like Justin Jefferson, Cee Dee Lamb, Brandon Aiyuk and Chase Claypool. But there are plenty more guys too but Ruggs for right now isn't on a skill level with them because he is not going to develop as fast as the other receivers in his class because of Ruggs playstyle. The other receivers in his class are breaking out quickly because they already have a more all round game that doesn't mean they will always be better than Ruggs. They are just for right now because there games are already developed. So what I am saying what Ruggs needs to do is grind in the offseason way more than the other guys in his class and his all round game will came out later than his guys in his class but will come out even better because he has grinded more adding more skills to his speed.
That is my article on my thoughts on Henry Ruggs future. I am fan of this guy one of my favorite receivers. Let me know if you agree with me on my thoughts about Ruggs, Thanks so much for reading.