This is going to be my top 5 receiver list! I'm glad to make this because receiver is my favorite position and is the position I know the most about. Most of my favorite players are receivers with my two favorite wide out's being Mike Evans and Allen Robinson. Receiver is just so fun to watch with how flashy they are. They are probably the most important position on offense behind the quarterback position. If you have a really good wide receiver one you are looking really good and can build around that. All you need is just an average quarterback to get a really good wide receiver one's offense going. The best receivers can show their superstar flashes even without a really good quarterback all they need is just someone average. The guy I mentioned earlier Allen Robinson has totally proven that. In his career, he has had a load of bums throwing him the ball and he still plays at a level as one of the best offensive weapons in the game. Not only has he just not had a good quarterback throwing to him he has never had an at least below overage quarterback giving him the ball. Throughout his career, all the quarterbacks that are passing to him are top 25 which is just beyond ridiculous. Those quarterbacks have been Blake Bortles, Mitchell Trubisky, Nick Foles, Andy Dalton, and a learning Justin Fields. Reading that list makes me want to pop my eyes out. Just shows how good he is he catches passes from horrible quarterbacks but makes it look like he's catching them from superstars. That's what the best receivers do they work with what they have and still show their skills. There are so many star receivers in this league so there is non-stop arguing over who is better than who and who is better at certain skill sets. I think my top 5 receiver list isn't too bad of a list I really don't think I have many hot take guys on here but no matter what I know there will always be people who will disagree with my picks. But with that let me start my list of the five best receivers in football.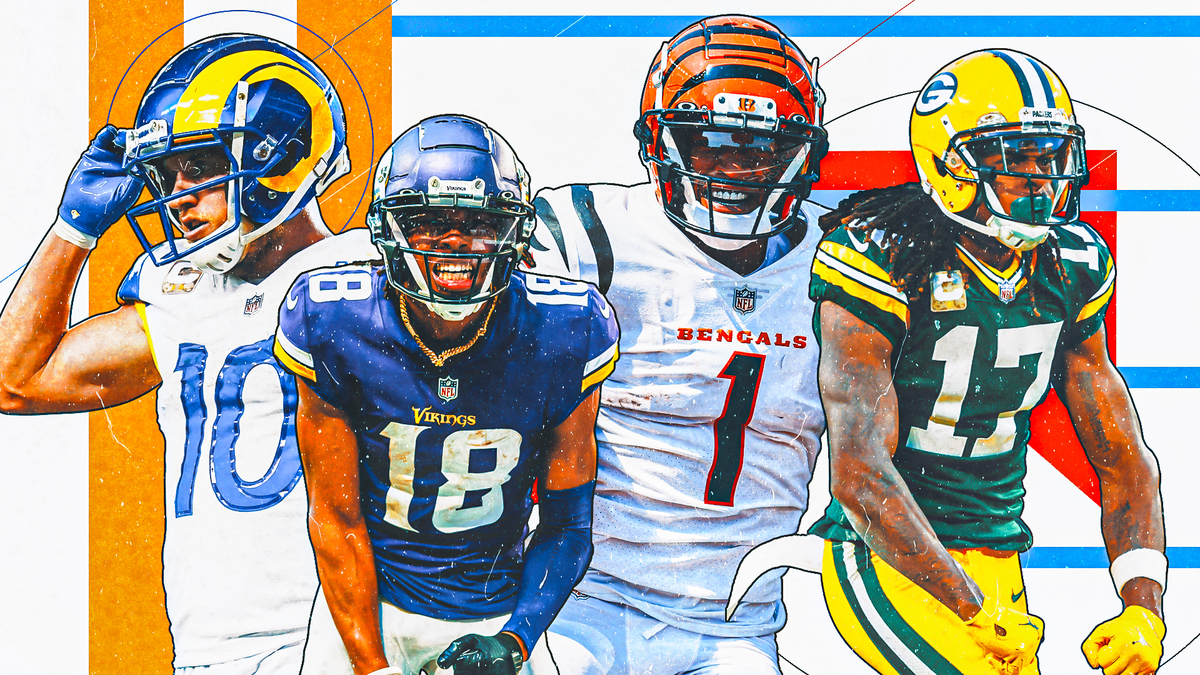 Adams
Adams is my number one receiver in football. Off of all-around skill set, I really don't see anyone else that is better than him. He is the best route runner in football has amazing separation and seems to catch every ball that comes in his way whether it's contested or not contested. You don't have to worry about him messing up an easy pass because this season he caught 96.1% of catchable passes Rodgers gave to him. It's almost positive to say when Rodgers is giving him the ball it will be caught it seems like they always make sure the ball will be there when playing with each other. Rodgers and Adams are probably the effective duo in football. They never mess up with each other and are pretty much the two best players at their position. Rodgers might not be the best quarterback but I feel like there is no one else that can make the same connection he has with Adams. Some players together are just always there making plays. Adams makes an amazing play with Rodgers every single week they play. The film Adams has just shown he is the best. If you were to want to learn how to play receiver and learn routes someone's film you would want to watch is Adams. His film would be the best teaching film to anyone. I know highlights might not always show who is better but in the film Adams has just shown every single skill set that he has I don't think any other receiver in football would have a more entertaining film than him. Adams plays for my rival team the Green Bay Packers. But I don't care even me being a huge Chicago Bears fan I put all the biased talk in the trash when this guy's name comes up. This guy is just so fun to watch and has so many skill sets it's impossible to say he's not the best. He is so fun to watch even him playing that Packer uniform does not bother me because this guy is sensational I love every part of his game. I am a fan of this guy and I'm ready to watch him next season. Who knows maybe he won't have his duo partner Rodgers next season so it might be different. If Rodgers leaves Green Bay then Adams will most likely leave and create a new duo with another quarterback. But no matter who's throwing to him he will always be great because of his ball separation and overall skill set and he in my hands is the best wideout in football.
Cooper Kupp
Man oh man the year Cooper Kupp just had was beyond sensational. When you read some of this guy's numbers you just can't even believe they are real. In this 2021 season, he led the league in receptions, receiving yards, and receiving touchdowns. He owned every single receptions stat you could think of. The number of yards he was producing was amazing as well. He had 11 games where he had 100 receiving yards. It makes sense as to why this guy won the offensive player of the year he was just exploding for every single receiver stat you can think of with receptions and yards. Kupp was a total machine with those two stats because no matter how much focus defenses had on this guy he would always be open. I don't know how he does it but whenever he gets the ball there is no one even in vision of him. It's not like he's making all these flashy contested grabs like some of the other receivers do but his ability to be wide open no matter how much defenses go over his moves and playstyle just shows a great he is. They say when he is in the slot he has a great vision of where the defense will be. Before the ball is snapped he probably has a certain spot in mind where he's going to go and has a decision on how he will break off on that first spot he goes to. This guy without a doubt just had the best wide receiver season ever. The stats prove it and his production made it the best season ever. To be honest I don't even think it's a debate he had the best season ever by a receiver he had the best season and that's final. A huge hot take I have that most people make fun of me about is a big one. I think this year's MVP should have gone to Kupp. To everyone else, this is a hot take because you got all these bums thinking the award can only go to the quarterback. But no I don't think the MVP should be so biased towards the quarterback. Yes, I will agree most of the time it should go to them but with the season Kupp just had he should win because you might not ever see a season like that by anyone ever again. Not only will you see that type of production by a receiver ever again you might not ever see that by a player ever again. So I don't understand why he couldn't have won. He broke records in so many categories he broke Rams records by breaking Isaac Bruce's record for most receptions and receiving yards. He broke the record for most receptions in the postseason which I believe broke Larry Fitzgerald's record which is sensational because that guy is always getting the ball. Kupp in the open field might not look as fast or as flashy like Tyreek Hill and all those really fast guys when they have open room. But that doesn't matter he is a lot faster than you think and when someone is going for an isolation tackle on him he is a lot more shifty on juke moves than you think. I have seen him make cuts on corners trying to tackle him and he breaks off most of the time. People don't pay attention to the part about his skill set. Yes, he most likely isn't as deadly in those type of plays like Tyreek Hill but when people talk about Kupp they really won't mention his elusive moves when he has the ball. He has those moves even when not having the ball which is why he is so wide open every play. Kupp is amazing I love watching him even before this breakout season I knew he had these underrated skillsets in him but I didn't know they were this good. I can't wait to see what Kupp has to show next season.
Deebo Samuel
Deebo Samuel is in my top 3 for receivers. A lot of people will have him in their top 5 and wouldn't think he is top 3 but he totally is. Deebo is amazing the best receiver from the 2019 draft class without a doubt. I'm not even sure if I should call this guy a receiver this guy is running multiple positions. He has got receiver, running back, punt returner, kick returner you name it. Any position where you can find any little space to go through and make a big play there going to put Deebo at that spot. This man is the most versatile player in football. My close second is Cordell Patterson but Deebo is the best at it. Deebo is impossible to get to it seems like any catch with him is wide open. You give him the ball with a guy all over him and all he needs is to just break off that guy and he is gone for 20 yards. He turns one-yard little out routes into the biggest highlight plays. That's why they got him at so many positions he always knows where to go. Whenever he takes a handoff and the line is stuffed he just bowls his way through it and if he's not doing that he can juke through stuffed blocks and break free. He never gives up on a play no play is over when he has the ball. I don't chillax about the play being over until Deebo is fully down because it will look like he is all wrapped up and swing out of it and he's gone for a touchdown. His playstyle is perfect for the 49ers he is the whole reason they were winning. Kittle is their best player but with all the different things Deebo does he is the one that made their big playoff run. The 49ers target this guy over and over. There really isn't any reason why you wouldn't. He is the type of player that anyone would take on their team without a blink of an eye. He can run so many spots you can have him on the team he is basically one guy playing like 10 players. You can set him at a spot have him run all these different routes and that saves roster space for the positions you need when Deebo is running multiple positions. But his main position is receiver and he is in my top 3 I can't exclude him out of it with the playstyle he has. He is top 3 and his playstyle is something everyone wants. He distracts defenses like crazy because they have no idea what position or route he can go to when they're going up for the snap. Just him being on the field makes the offense more explosive for everyone else because they have to focus on Deebo so much they forget to focus on the other guys. Deebo is special and he always will be the way he explodes through lanes is sensational and I'm ready to watch him do it again next season. 
Justin Jefferson:
We got another NFC North receiver on this list and that is Justin Jefferson. Who can also be known as JJ. He is also the griddy man. He is most popular for his signature dance he does whenever he scores by slowly bouncing on your heels and swinging your arms back and forth. Most of the time when players have a dance they do it always annoys me because I think those players are full of it but with Jefferson's dance, I'll admit I actually really like the griddy that he does. He has made the dance popular all over the NFL. He is the one who has made the dance popular because the way he does it is better than anyone else. But with his game and skill set that's even better. JJ had such a good rookie season by having 1,400 receiving yards which set the record for most receiving yards by a rookie in the NFL's super bowl era. Some people were saying his rookie year was the best rookie season by receiver ever. He is in the conversation for that but what was even better was this season. After his rookie year, I knew he was amazing of course but I always thought he was overrated after his rookie year and said he wasn't top 10. Man, I look back on that take and feel like a total clown. This season JJ completely threw my opinion into the dirt and proved to be a top 5 wideout with clean route running and breaking the NFL record for most yards by a receiver in their first two NFL seasons by having 3,016. Having those yards in only two seasons is very impressive. Jefferson is the future of the NFL this league is set for the future. There is so much young talent and Jefferson is pretty much the main guy running the young talent. The way he is playing is showing he is only going to get better and could be a receiver they will talk about forever at the end of his career. He is carrying Vikings former receiver Randy Moss is legacy. I'm not saying he will be as good as him but he is continuing the legendary moments that Randy Moss had. JJ is on my rival team just like Adams but again even him being in a Vikings uniform it does not matter to me and I can't help being a fan of this guy. I feel like he is an NFL player that's hard to hate and I don't hate him at all even him being on my rival team. I am not biased towards anything at all if someone is on my rival team and I like their play I'm a fan of them no matter what. I can't wait to see what else JJ has for us in the future and to see how many more griddy's we will see in the end zone in the future years.
Ja'mmar Chase
What a season this guy had! That guy is literally a twin to what Justin Jefferson is. There only one year apart of being in the NFL, both are the two players who are famous for the griddy and have the same young playstyle. If there were to be anything on this list people will disagree with me on is putting Chase behind Jefferson. Jefferson vs Chase is the biggest debate in football right now because of their young talent with identical playstyle. I can't go wrong flipping these two in order with how close they are but Jefferson to me has the slight edge. But even with that Chase is outstanding and will run this league just like JJ will. Chase just made the super bowl in his rookie year and even made a sick one-handed grab in that game. This stud did not seem phased by the playoffs at all and balled out every game during the season. Some people before the season were calling him a bust because he had a drop problem in the preseason. I'm going to call myself out here and I was actually one of those people. I didn't think he was going to be a full-on bust I thought he would have a great NFL career with the skill set he has but might struggle his first year with his drop problem. I know I look bad now saying that but it was true. In preseason he had a really bad drop issue and was dropping balls that where he was wide open. I got to say when he was going for passes he looked a little scared and didn't look calm when the ball was coming his way. That is common for rookie's it was the start of the pros for him and might have got into his own head and then when the regular season started he snapped out of it. In the regular season, he looked like a completely different person. He was running deep routes going super aggressive and was making great contested grabs when just a couple of weeks ago in exhibition he was playing nervously. He for sure found a way to snap out of it because he went from being called a bust of a pick to now some people saying is already the best receiver in football. He is good without a doubt but I'm not going to call him the best yet but I will someday and that will be very soon. He and Burrow are one of the best duos in football. The chemistry they have might be the best in football the throws Burrow gives to Chase looks exactly how they did it in college. Nothing has changed between them and they are only getting better and will run this league for a long time. The connection they have is just flawless and they are so fun to watch. That is the quarterback to receiver duo. But Chase is duo's with another player on this team and that is Tee Higgins. They are a deadly young wide receiver duo with only being a year apart. Higgins without a doubt isn't on the same level as Chase but he is super underrated and is top 15. His long body with his leaping ability added to that makes him impossible to guard. Being a cover man and seeing both of those guys lined up against you would be scary especially when they got Burrow giving it to them. Chase is great and he will only get better.
That is my top 5 wide receiver list! I know I will have disagreements on this with people but I'm fine with it I don't mind some debating. Even with people who will disagree I think this is a list that most people won't get too mad about. My list has changed a good amount from last year but every year everyone's list will change. So I hoped you liked the article and let me know what your top 5 list is.