The NFL wild card is here! It is tough that the regular season is over and we can't watch games from morning till dark but it's now the playoffs with seasons on the line. Wild card weekend is always so much fun. To be honest, it's always my favorite part of the playoffs it's the first games of the bracket and everyone is fighting just to move on. This year there are a lot of good times and it's really hard to say who will win this year everyone seems about the same. This year there will for sure be some teams winning games that you didn't expect to win. There have been some teams in the playoffs this year that I didn't even expect to make it teams such as the Raiders, Bengals, and my most surprising one the Eagles! Before the season I was poking at this team so much saying there going to have a 3 win season and was ripping on Jalen Hurts saying he was a bust. Both of those things I was wrong about the Eagles have shown there a very productive team and Hurts has some really good stats and has been balling out. The Raiders their roster isn't bad so with their roster you can call them a playoff team but the reason why I'm surprised they made it is that they beat it through all the distractions. All in this same year there flashy wide receiver Henry Ruggs was cut from the team for drunk driving and head coach Gruden was fired for bad emails. With all of those team distractions, the Raiders still made it to the playoffs. With the Bengals it's not much with them I just thought Joe Burrow would just get pounded by their offensive line but he has proven he and Ja'marr Chase have turned into one of the best quarterback-receiver duos in football. Chase has surprised me to in preseason he had a really bad drop problem and I thought he would struggle this year but he totally proved me wrong on that with him being the best rookie receiver this year. But even with the surprising teams making it they have just a good of a chance as anyone else with how wide-open it is this year. So with how good the predictions are going to be this year with how close everyone is let's get into my predictions. I will go into every wild card game break down who I think will win why they will win and at the very end announce my super bowl winner!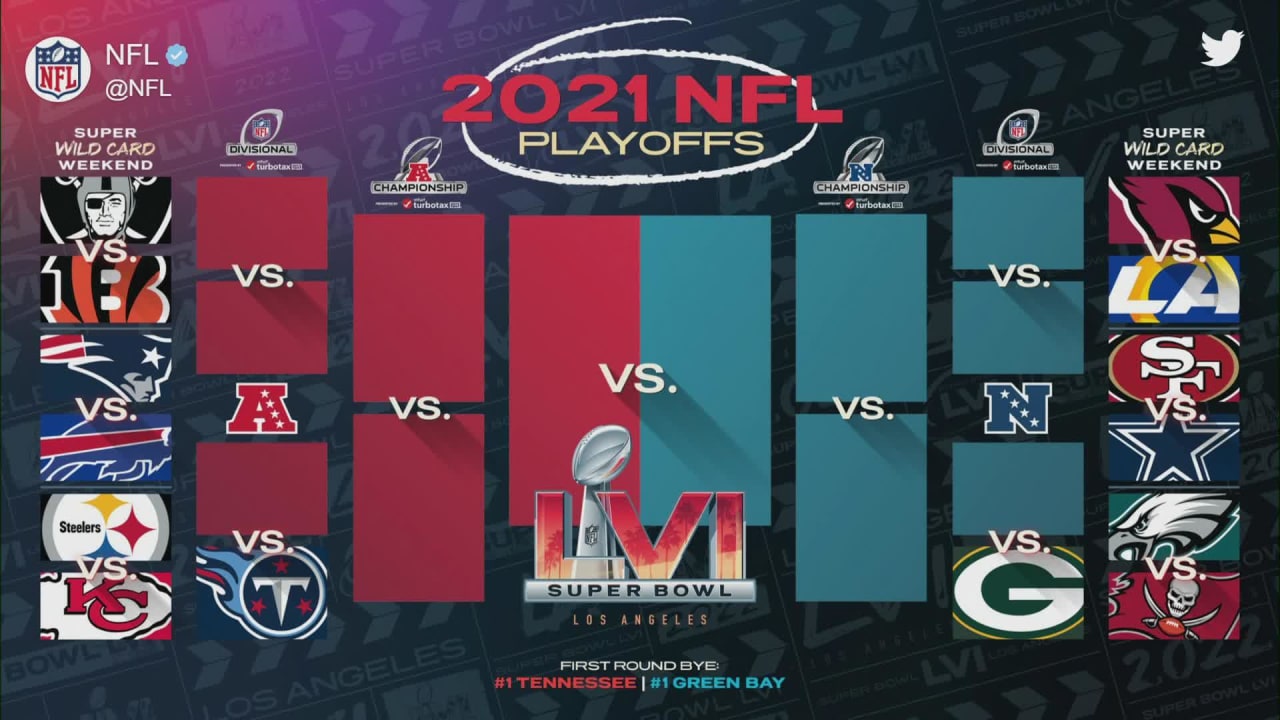 AFC:
Raiders vs Bengals:
This game is better than people think. A lot of people are saying with the Bengals high-powered offense there going to take care of business in this one. But I'm not so sure about that the Raiders have lots of momentum beating the Chargers on national television which might have been game of the year! That game was amazing and the Raiders pulled through against Herbert who is similar to Burrow. So maybe the Raiders can find something against the Bengals this Raiders defensive line is no joke if they get into Burrow's face enough maybe that can change things. The Bengals have one of the deadliest receiver cores of Ja'mmar Chase, Tee Higgens, and Tyler Boyd. The thing that is scary is that those guys are pretty young especially Chase and Higgens them being in their first and second years. Added to young wideouts Burrow is in his second year and will be caring the legacy of the quarterback position for the years to come. So yes this Bengals offense is stacked and the only thing I look at as a positive for the Raiders defense is their defensive line they get into Burrow's face that can affect the deep ball connection he has with Chase. They don't have corners to keep up with their trio so to cut off the time of the deep routes this defensive line will need to play one of their best games of the season. If the line is on their game then maybe it will shut down the passing but if they look flat then it might go well. If your the Raiders in a game like this you need a big game out of someone and someone having a big game will affect things a lot. They need a big game off the defensive line so that person who needs to have a good game is Maxx Crosby. This guy is really good at pressures you don't necessarily need sacks you just need to be in the face of Burrow to affect the pass and Maxx can do that. This one is the first playoff game of all the games so people will be watching this one I will be as well. The Bengals do have a history of blowing games in the playoffs. Their team is very young and I team that always finds a way to shoot themselves in the foot having a young roster in a playoff game might not go well. But this team is good and they're the better team than Las Vegas this offense is stacked with their receiver core and star running back Joe Mixon. My prediction for this game is my biggest upset of all picks! I have the Las Vegas Raiders beating the Bengals in an upset! They're coming off a huge win and have momentum and the Bengals are young so I am taking the Raiders. Derek Carr isn't young but this is his first playoff game so has just as much experience as Burrow does. But this is my upset pick and I have the Raiders taking this one.
Bills vs Pats:
Two division rivals going at it! I like this one a lot, to be honest, I like all of the wild card matchup's but even with me liking all of them I might take this one as my favorite game because it's so interesting. This game is probably the game that took me the most thought on who I thought would win. The Bills probably want this one bad in the past decade I wouldn't necessarily so the Bills have been that dominant. In those years the Bills weren't dominant and the Pats had Tom Brady and with him, of course, there going to be dominant with him. So the Pats were taking care of the Bills over the years so the Bills finally want to get back at them and show them were good now. But it's not as easy as that even with the Pats not being as good as they used to be there still totally capable of taking this game. In fact, they might be even the favorite for this game but in this one, I wouldn't say there is a favorite it's just so close there isn't any bad answer on this one. Both teams are capable of winning but if the Bills were to lose this game that would be tough for them. The Pats have been owning them over the years and they finally have their chance to own them. But the problem with that even when the Bills have improved the Pats are still a productive team that can beat them and keep their winning edge on them to this day. Mac Jones can totally win this game I'm not too big on Mac but he can win a playoff game. Some people out there will say Pats aren't super bowl contenders because they have a rookie quarterback and won't even make it past the first round. I don't agree with that I do understand they won't be super bowl contenders but to say they won't make it past the wild card round just because of a rookie quarterback is a bad take. Mac this year has not even had to do much he is a system quarterback and he runs this Pats system better than ever. He is the perfect quarterback for this team. I don't think he would be too good on any other team because of his rare system style but he is luckily on the team where his rare system style fits. In a playoff game, he won't have to do much, he is a guy who is totally fine in a pressure game and at the end of the day, the Pats are still the Pats. It was just a few years ago they won the super bowl and Belichick is a genius you can never count out this Pats team. This team is a smart team and they just get the job done and Mac can totally do that even though I'm not too big of a fan of him. The Bills on the other hand you already know they got gunslinger Josh Allen probably the best deep-ball thrower up there with Russell Wilson. They got maybe the best route runner in football Stefon Diggs who has been playing amazingly like usual. Josh Allen and Stefon Diggs have such a great connection. They are similar to the best quarterback-receiver duo in football Aaron Rodgers to Davante Adams. Rodgers is an amazing deep thrower with Adams who is probably the best route runner. Josh Allen has a rocket arm with Diggs amazing route running they don't have as much chemistry as Rodgers and Adams do so there not as good. But the Bills duo is the same playstyle as the Packers duo and there younger so there going to be good in the future too. Added to a great air attack the Bills defense is super hard-hitting they always had a good defense even when they were bad in 2018 the defense was still good. So with their offense and defense being the more consistent team being good last year as well, I'm taking the Bills in this one.
Chiefs vs Steelers:
All the other games in the bracket are games you have to put thought into on who you think will win. All the other games I have gone over are just so close of a prediction but for this one most people aren't thinking for at for this one. The Chiefs are pretty much the main team to win the super bowl a lot of people might go with the Packers or Titans but picking the Chiefs is a pick where you really can't go wrong. So the Chiefs are the main super bowl team and there playing the Steelers and most people will probably say there the worst team in the bracket. The Chiefs are arguably the best team in the bracket with maybe a few other teams being more favorites and the Steelers are arguably the worst team in the playoffs with a few other teams maybe being worse like the Eagles. So it's the same thing for these teams expect the Chiefs are at the top and Steelers are at the bottom. The Steelers are coming off a pretty good win against their rivals the Ravens that winning giving them a sweep on the Ravens two years in a row. That was a good win to end the season but the Ravens didn't have Lamar. Even with the win the Steelers probably shouldn't even be here the only reason why they're in this position is because they got lucky that 3 win Jaguars beat the Colts so the Steelers can barely get in. I wouldn't say the Steelers are at a playoff skill level some argue that they could be I wouldn't say they have the grove all the other teams have. The other teams in playoffs might have the same record as the Steelers but the other teams made it with hardship, chemistry and had a clean season with the Steelers getting in kinda ugly. The Steelers have a horrible matchup for themselves playing one of the higher-powered offenses in the NFL. With sensational quarterback Patrick Mahomes and him having a great connection to speedster Tyreek Hill. They also have arguably the best tight end in the game Kelce. He is for sure the best receiving tight end he is perfect with Chiefs he can catch off-screen passes, run routes mid-field, is great at breaking isolation tackles, and overall reception wise the best tight end. The Steelers defense is not bad but there not going to be able to contain all of that. The Chiefs defense could be a problem sometimes there good sometimes there bad. But the Chiefs probably won't have too much of a problem with the Steelers offense. Big Ben is pretty washed he has zero mobility in the pocket and the weapons he has with Chase Claypool are decent but aren't anything eye-opening. The Steelers do have Najee Harris the best rookie running back he might be their best friend in that game. But I feel like the Steelers can put up a fight especially when this could be Big Ben's last game. I'm not too big of a fan of Big Ben and even if you aren't you should cherish this game you are witnessing most likely the last game of a legendary quarterback. It's his last game Big Ben loves the game of football no matter the score in this game he's going to ride it out to the end with it being his last game ever. So that's the only thing that makes me think Steelers can win because Big Ben and the team will fight for him. But it's obvious who will win this game I have already made it obvious who I will think will win and I am taking Patrick Mahomes and the Chiefs.
NFC:
Cardinals vs Rams:
This is set to be a good one! What makes it a good one is it's a divisional game I think it's the best thing ever when divisional teams play each other in the playoffs. Both of these teams are the same with everything except the Rams have a stacked defense and the Cardinals aren't really on that. But one thing that these teams without have in common is the stacked positions these teams have on offense. The Rams at every spot are set with them having receiver core of Cooper Kupp, Odell Beckham, and Robert Woods. Yes, I know Woods is out for the season but I had to mention him in the receiver list with how effective that trio is. Woods is such a versatile player he has so many slots that he runs that he really hard to guard because you don't know where he can run. Cooper Kupp where do I even start with him this man is having an eye-popping year with leading the NFL in like every stat. This man is first in receptions, yards, and touchdowns! With stats and production-wise he is the best wide receiver in the NFL. Overall with skill-wise and overall set I would take Davante Adams as my best receiver but for this year you can't go wrong saying, Kupp. Kupp is just always open I don't know he does it defenses have everybody fill over to him after a couple of steps into his right and he still finds space to be open. With Odell Beckham you are all aware of him with his spectacular one-handed catch after one-handed catch! Odell is probably pretty overrated with the catches he makes but defenses can't forget about him. Beckham has great speed and is a scary deep threat him being on this receiver core really distracts defenses. Him going deep totally sets things up for Kupp if corners are all over Kupp then Beckham can break free. If they focus on Beckham going deep that's just more stats for Kupp. Odell might not be totally a superstar receiver playing for the Rams because he is joining the system late and isn't what he used to be but him being part of the playoff run makes this team scary. What really is the leader of the offense is Stafford I say that because the Rams were always a good team with Jared Goff but would come short and he was never good enough to get this team where they were supposed to be. The Rams were always a quarterback away from being contenders and they finally got it with Stafford. If this guy doesn't fold up in the playoffs I give this team a serious chance of going to the super bowl. The Cardinals it's the same with them they got a quarterback who's even better Kyler Murray probably the most elusive quarterback in the NFL. He is insanely fast with one of the best receivers from the past 5 years Hopkins. Hopkins will not be playing in this game which sucks but him on the team proves how good they are. James Connor people before this season were saying he isn't set to be a running back one and is solid just getting a couple of handoffs. But no this year he has been great shown he is a really deadly pass catcher and has shown his one handed catches this season. My opinion this guy is very underrated. Back to there receiver core with Hopkins they have Christian Kirk very steady receiver people don't talk about him much. So this will without a doubt be a good game but the Rams and Cardinals have about even offenses and the Rams have an amazing defense to come with their offense. The Cardinals at the end of this season have looked shaky they haven't been making big offensive plays look easy like they used too. For when you go in the playoffs you want to be hot at th end of the season not shaky like the Cardinals. The last time these two teams played the Rams won and took it to them the Rams have the experience as well I'm taking LA in this one.
49ers vs Cowboys:
A lot of history in this matchup! This matchup goes all the way back to the Joe Montana days when these two teams would have crazy battles. This one will be a good battle as well with the 49ers having plenty of momentum off winning a huge thriller against the Rams. They got a game tying drive in with about a minute left in the game then took the lead in overtime and picked off Stafford to secure a playoff spot. The Rams on that play were going deep to Beckham on the sideline it was just the corner and Odell. With how scary is it sounds for 49ers fans Beckham on that play had the corner totally beat with just the two of them next to the sideline. They got the whole entire route going their way with speedy receiver Odell Beckham beating the corner what looked like isolation. With Odell open Stafford looked his way and totally under threw it and it was picked 49ers secure the playoffs. Who knows if that throw was on the spot maybe I wouldn't be talking about the 49ers right now because their season would have been over. So they have a lot of momentum off of that where there a team who is on a role. This team might be a wild card but there probably one of the most serious a veteran wild card teams in this years playoffs. This team for a wild card team is so experienced not just for a wild card there experienced in overall. A lot of people say if a wild card team were to win it all it would be the 49ers because of the experience and their playstyle that can beat better teams. Their playstyle has been spot on hated on quarterback Jimmy Garoppolo has totally proved the haters wrong this year. He has been super consistent, been a great pocket passer, had great decision making and has been doing enough to get this team by. He doesn't have to do much with how great they defense has been also with the great offensive weapons they have. They got the best tight end in the league George Kittle and the most versatile receiver in football Deebo Samuel. Deebo has probably become one of my favorite players this year with how he can break free so easily. Like it's amazing all this guy needs is 2 yards of space when he catches is then he's on the run. Not even that too he can catch the ball with a corner draped all over him break off that guy and still be going. He has been great probably a top 5 receiver this year. Their run game is good like usual with rookie running back Elijah Mitchell he has a future and is for sure a top 3 rookie running back. Their offense is set so is the Cowboys offense! This Cowboys receiver trio of Amari Cooper, Cee Dee Lamb, and Michael Gallup is probably the best trio in football. They totally proved that on a Thursday night football game against the Saints where all 3 of these guys balled out. That night when I watched that matchup they made me fall in love with the receiver core with the amazing catches they were making. You all know the quarterback position which is Dak Prescott I got plenty of trust in him for the playoffs I don't have any worry for him choking. The running back is decent with Zeke this guy is going down and down every year since his sensational rookie season. But he is still affective down look down to this guy he is totally capable of having a break out game. This guy always gets so much hate and a lot of the hate isn't totally false the stuff is true. He really isn't as deadly as he used to be but don't ever say he's not capable of having a 100-yard game. But the 49ers look a little better going in this game 49ers have history of winning playoff games the Cowboys really don't I got 49ers taking this one.
Bucs vs Eagles:
This one is pretty similar to the Steelers vs Chiefs game. It's obvious to who is going to win this game. The thing about the Steelers game is everyone has the Chiefs winning and is saying it's going to be Big Ben's last game. In this one some people are actually saying the Eagles are going to win which is a ridiculous take. Veteran Tom Brady is not going to lose in the first round to a young Jalen Hurts with a team who has 9 wins. The Eagles are not a bad team I have no grudge against them when I'm saying they have no chance of winning. I really like Hurts he is fun to watch they got a stud wide out DeVonta Smith. Him and Hurts are great because they are both very young and I think played at Bama together. A lot of people before the season were hating on Hurts and Smith. People were calling Hurts a bust and after this year should move on. Same with Smith people were saying he would be a bust because he didn't have enough weight and he totally proved them wrong. I do think for the future he should put on a little extra weight so he can have strength added to his long arms which would make him even harder to guard. But people saying he would automatically be a bust just because he is light was a terrible take. With the Bucs what do I really say about them they go Mike Evans the best red zone receiver in football has great size and is one of the best jump ball catchers in football. All he needs is just a little bit of space against a corner and that's all he needs to get the advantage for the jump ball. They did have Godwin to make the two of them an affective duo but he is out for the season which might come back to them. There run game is solid with Leaonord Fournette who has 6 straight playoff games with a touchdown. The Eagles run game is fun to watch as well with Miles Sanders he is a pretty good pass catcher who can put the moves on you. The Eagles are ranked 1 in rushing and the Bucs are ranked 1 in passing it's two opposite teams playing we will see how this plays out. I already made it obvious who I think is winning this game no hate towards the Eagles at all but I am having the Bucs come out with this one. 
My super bowl winner:
This is only the wild card round and we don't totally know who is going to win. But my prediction before the playoffs start is a prediction which is a one most would agree on. I know I can change my prediction later in the playoffs because a injury could happen or they can go out early. But my super bowl winner for this year is the Kansas City Chiefs. I know there not a dark horse but I think there getting revenge from last year and there going to win it all.
That is my wild card prediction article! Thank you so much for reading and let me know your thoughts on predictions. Let me know some of your predictions as well. This is going to be fun watching these games come back to this and read my recap's of these games.