The Chicago Bears Week 3 matchup against the Cleveland Browns was bound to be a good one it's Justin Fields starting debut, two really good defensive lines going at it with both teams having superstar pass rushers with Khalil Mack and Myles Garrett. There were also a good amount of people saying we could win this game and pull an upset I really didn't think we would pull one but we were looking so good some people actually thought we might win. But the People who had us winning were wrong as they can be because yesterday's game was just terrible the worst Chicago Bears game I have ever watched not only the worst Bears game I have ever watched probably the worst NFL game I have ever watched. This offense just looked terrible it was terrible because we had 1 lousy passing yard do you want me to say that again? 1 passing yard that is just terrible this offense looked like a bunch of bums out there today especially the offensive line it was pretty much all there fault the only reason why the rest of the offense looked trash is that the offensive line wasn't doing a thing to let anyone else on offense create any magic. Our defense looked great like usual it looked like last week's defense we had pressure on the quarterback our cornerbacks were contesting balls on receivers and we did a pretty good job at shutting down Baker Mayfield's play-action passing which is saying something because he might be the best play-action quarterback in football. I know it might not look like our defense did good because there were 26 points on the board for the Browns but it's because our defense was on the field the whole game I mean like the whole game. Our offense was having 3 and outs every time so our defense would just go on the field for a super long time and put crazy effort then Bears would get the ball on offense and get a 3 and out and not give the Bears defense anytime to rest and it was the same cycle over and over. It's so ridiculous like we can't rely on our defense to do everything I mean they should do most of the stuff to win us games because were always one of the best defenses but make them do everything actually get some offense going and chip in a little and move down the field with some drives. So I have let out some anger here in my opener and let's get into my thoughts for the future of this season and my keys to the offense getting better and recap everything.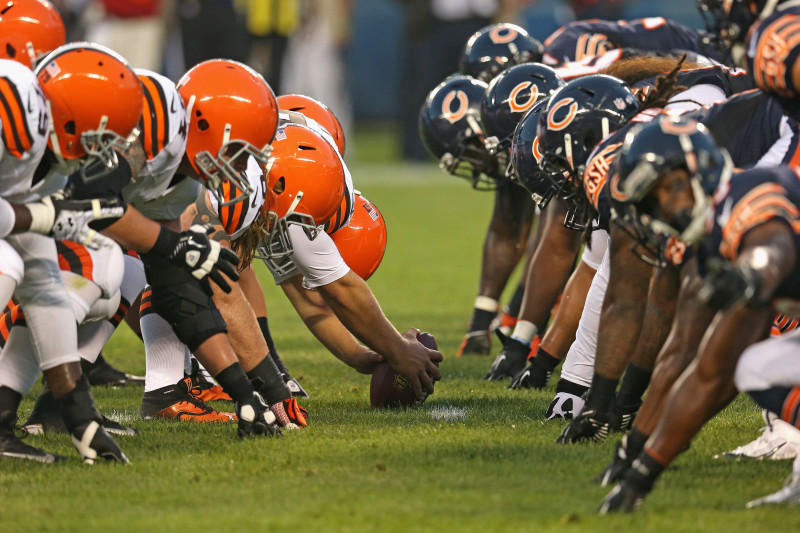 The offensive line was the worst I have ever seen:
This offensive line is trash it might be the worst in Chicago Bears history. These guys can't block to save their own lives. If they keep blocking the way they did in yesterday's game I really don't think rookie quarterback Justin Fields will have a life. My man got sacked 9 times yesterday that is just hard to even type on my computer that stat is something I want to forget for the rest of my life. Like how do you feel as an offensive lineman letting your brother back there get sacked like that? If that doesn't make you lose sleep at night or make you feel bad mentally if you are one of those offensive linemen that is just terrible. Most quarterbacks don't get sacked that amount of times in a couple of games and Fields got sacked that amount of times in one game.
                           Offensive line allowing pressure:
Superstar pass rusher for the Browns Myles Garrett one of the best players in the NFL went off on us today he was in Fields face all day. I can understand why he would have a good game against us because our offensive line is trash he is one of the best pass rushers but I saw some plays out there today where Myles Garrett wasn't even being blocked!! I saw one play where the ball was snapped and the guy on the edge where Garrett was shifted over a little bit to the right to block someone in the middle and left Garrett to run right through and sack Fields. Know one even touching the guy like how can you have that bad of miscommunication that a defensive lineman won't even be touched? He is also their best player so if anything he should be blocked the most out of anyone else I would be less mad if it was someone else not getting blocked but having one of the best pass rushers not blocked that is terrible. I saw so many other plays where he wasn't blocked two like a quick review on one of the plays where a Bears player was blocking Garrett the linemen slipped and didn't even try to get back up and block him just let him run by to be truly honest I think our offensive line gave up today.
                                Garrett sack on Justin Fields:
I'm worried Fields will get his confidence blown:
You might be surprised by the title of that but I think that is actually possible. I am not saying I think that will happen to Fields but there are good possibilities that can happen. You see Justin Fields is a very confident young man I can see this by the way he talks, walks, throws, and everything. But there is a chance he can get his confidence blown the offensive line just let him go to hell yesterday and he is probably going to start for the rest of this season so he is going to be dealing with this every game. So if he is going to get sacked like 5 times every game and only have under a second to throw and can't hit any receivers it's possible for that to get into a young guy's head. That is exactly why I didn't want him starting against the Rams in week 1 because of stuff like this if he started vs the Rams there could have been a good chance he could have gotten battered against the Rams just like today. I didn't want him to start against a super good defense for a reason because of what happened today I knew if he started against a team like the Browns this would happen. I really wanted him to start week 4 which is when I predicted him to have his first start because it's a little later in the season and he is playing a weak defense the Detriot Lions and wouldn't have to worry about a bashing defensive line because the Lions don't have one. I really wish he started against a more terrible team so we don't have to risk having anything get to his head or have his confidence blown in any way. I say Fields is a confident guy but I have seen so many other guys just like him come out of college with confidence and are complete studs but then have their first career game against a hard team and have horrible offensive lines then get destroyed and just like that their confidence is gone and everything is in there head I can see that with Fields because on the sideline today during the game he didn't look so good. I see this happening because right before Justin Fields there was quarterback Mitchell Trubisky coming out of college was a stud he had a lot of confidence with his arm he was always throwing deep balls in his first two years with Chicago. But then in 2019 the offensive line got terrible they gave no time for Trubisky to throw and started playing trash and that blew his confidence I can tell he got his confidence blown I can see he looked scared in the pocket and wasn't throwing deep you want to know why? Because his confidence was blown. But I don't think this will happen with Justin Fields I am just saying there is a chance.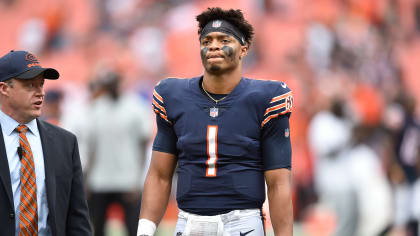 Fields taking a sack:
Matt Nagy should have been fired a long time ago:
Matt Nagy, a 9-year-old kid can play call better than you I actually think I could have come up with some better play calls than Nagy did yesterday. I know we didn't have the ball at all yesterday and the Browns had it the whole game because our offense was doing nothing. But when we were on the Field the playcalling was terrible I know that our offensive line was playing like the worst in the NFL and there wasn't much you can do like I saw a stat where it said the offensive line was giving Fields 0.78 seconds to throw like that is terrible. That is under a second and that is under 2 seconds than the average time a quarterback has to throw. So I understand if the play calling is bad if your offensive line is giving 0.78 lousy seconds because no plays in the world of football will go anywhere with that time a wide receiver is only like one step into his route in that amount of time so you can't hit anyone. But there were certain things Matt Nagy could have tried to move the offense first off he kept on running on 1st down and it wasn't working. At the start of the game he tried to start the run game and play smash-mouth football and I am fine with that but it wasn't working but even though it wasn't working Nagy kept on doing it the defensive line was clogging Montgomery every time so if it isn't working either do a different type of run play where you pitch it to Montgomery and get him into space or throw it to him in the backfield because all the run plays to Montgomery were all the same run play. I understand when he was trying to start the run game at the start of the game but even when we were getting blown out and the game was slipping out of our hands he was still doing it! Like, stop the run hasn't been working were down on the scoreboard actually throw the ball more.
But the throwing game wasn't working either but it's the same with his run offense whenever we were throwing Matt Nagy was doing the same type of pass plays over and over he was just having Fields just sit in the pocket and hit receivers who were running the same route every time. I don't understand why Nagy kept him in the pocket he got sacked 9 times if he is none stop getting sacked and every play even when he is not getting sacked he is taking hits in the pocket. So if he is none stop having pressure wouldn't you know to role him out of the pocket? No Nagy doesn't know that because he is an idiot play-caller I have said over the past couple of years role our quarterback out of the pocket because all of the games are like what happened yesterday this has been happening for years and it still hasn't come Nagy's head to role the quarterback out of the pocket because it doesn't work keeping him inside the pocket with our offensive line. That is exactly why former Bears quarterback Mitchell Trubisky failed he had a terrible offensive line and wasn't play called to do what he does best and that is role out of the pocket and Nagy didn't do that with him and I don't want the same to happen to Fields. 
                         Trubisky rolling out: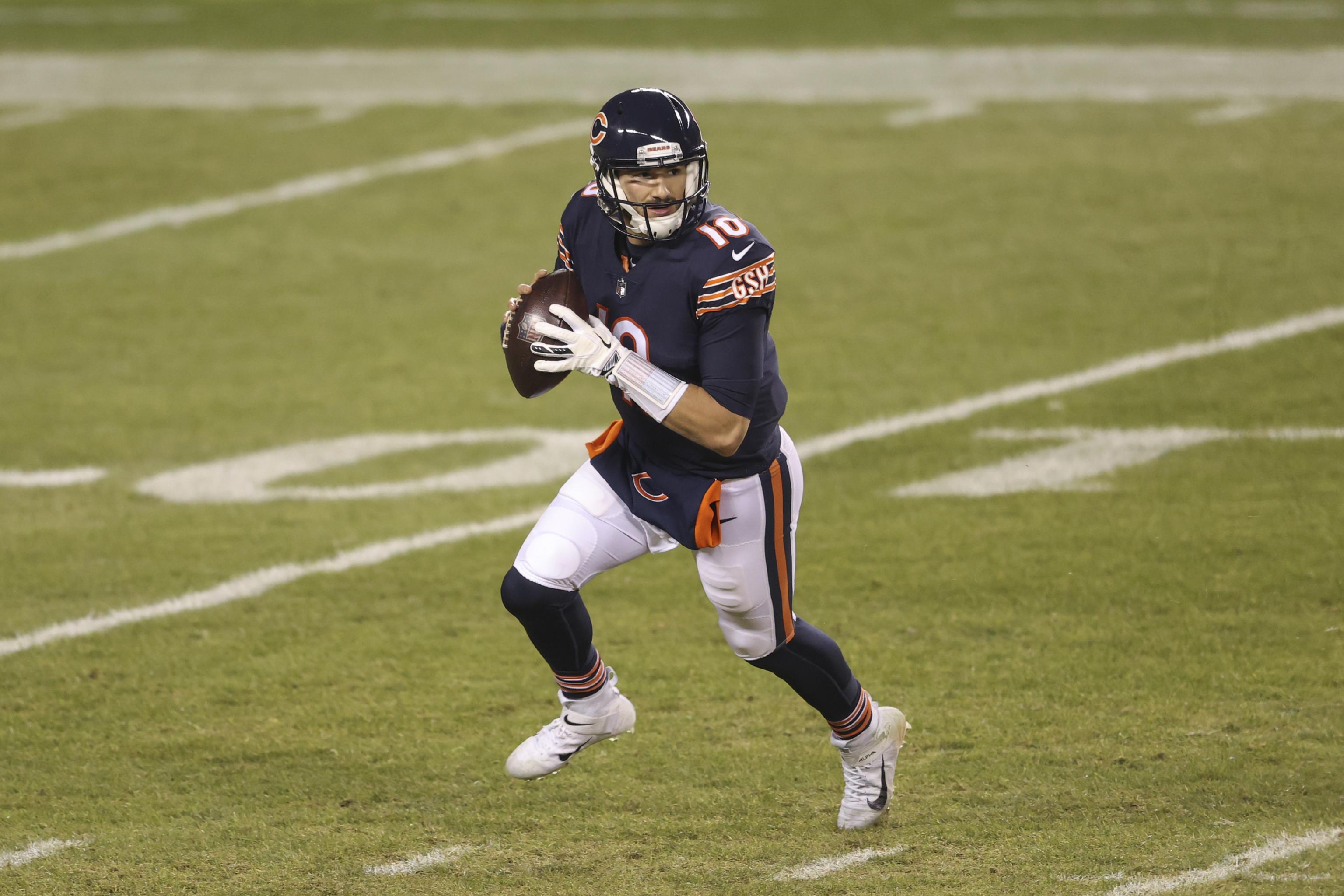 Justin Fields rolling out:
Khalil Mack and Robert Quinn duo is turning deadly:
With how terrible this game was yesterday there is one good thing that came out of it. Our defensive line balled out I know people will ignore that because this game was like the worse game ever but I will always notice positives even in bad games. Our defensive line destroyed Baker Mayfield I think we got about 5 or 6 sacks on him! The whole defense looked good yesterday players like Jaylon Johnson and Roquan Smith but mostly the defensive line because Robert Quinn and Khalil Mack were on fire yesterday there were always right in front of Baker Mayfield. The Khalil Mack and Robert Quinn duo are deadly. I remember when we got Quinn in 2020 I was so excited because I knew he was coming off a great 2019 season and thought he would be good. But then in 2020, he looked trash and I just completely gave up on him because I was so disappointed. But supposedly I heard he had a foot injury all last season he had an injury where it affected his push-off on his rush to the quarterback so he couldn't do anything. So this year it looks like he means business he is looking like his 2019 self and is playing how I expected him to when we first got him. Khalil Mack looks good to one of the best players in the NFL I have seen him get some really good sacks this season the past two seasons for Khalil Mack you can for sure say were disappointing they were good years of course because the guy is amazing but this year he looks a little bit like his 2018 self and if Robert Quinn and Khalil Mack keep playing the way they are the pass rush for us can really scare quarterbacks. This duo is looking deadly having both of those guys on the same defensive line is just terrifying who knows not just will they keep playing the way they are they might get even better in the games to come. I'm exited to see how these studs do for the rest of the NFL season.
                           Robert Quinn fire week 3 stats:
                     Khalil Mack rush on Mayfield:
That is my recap from the Bears game! This was not a happy recap and was hard to even talk about this is a game Bears fans will definitely want to forget. Let me know your thoughts about all the things I talked about and let me know if you agree with my takes thanks for reading and like always bear down!!