What an opener to the NBA season that was! The Celtics and Knicks had a great and competitive game that went into double overtime. Overtime games happen all the time but you rarely see games go into multiple overtimes. I know this game was a heartbreaker for us Celtics fans to see happen but I think we played good yes I'm disappointed about the loss but I'm not worried or anything the Knicks are a good basketball team. It was just two good Eastern Conference teams going at it and the Knicks happened to win. It didn't seem like we had a problem scoring because we ended the game with 134 points I know it went into overtime so it gave us more time to score but even in games that go into overtime not all of them will go that high of scoring. Even if it didn't go to overtime we ended with 116 points at the end of regulation so it still would have been a good amount. Going into this game my main worry was our scoring it was our first game back and sometimes teams on their first game back are a little flat even the best teams and teams will play tight and all of that being added to it we were playing one of the most lockdown defenses the Knicks. But back to my being tight part the whole game we were scoring consistently besides the first 3 minutes at the start of the game the Knicks went off to an 8-0 run and we missed good shots and when one shot went down for our first basket which I think was a 3 that seemed to settle everybody in and then we got to it. I really loved the scoring tonight we played good team ball and Jaylen Brown played like his best game ever. But what I loved, even more, was our grit at the end of the game. With about 5 minutes left in the game Knicks star, Julius Randle had isolation with Grant Williams did a jab step and a pump fake and blew right past Grant and through it down to put the Knicks up by 11.
 It wasn't looking so good chances are we weren't coming back after that dunk I stopped paying attention to the game a little bit and wasn't as focused or intense to the TV as I was before the dunk. So with me loosening up and thinking the games over most teams will just do whatever they want and just start randomly playing and think they're not coming back but the Celtics kept fighting. That is what I loved a lot of teams would just give up and the other team would keep pouring it on but we locked in and got the score back down to like 5 after some good stops then at one point to 3. But when got the score back to 3 with around a minute left former Celtic Evan Fournier knocks down a big 3 to make it a 6 point lead he was hitting them all night on his former team too and was hitting them when they needed the shots the most. But after that, the Knicks really shot themselves in the foot by getting back-to-back turnovers both of them with less than 1 minute left and the Celts took advantage of those turnovers by scoring on both of them to make the score 110-112. Knicks now are inbounding the ball the Celtics needing to foul with only like 10 seconds left they inbound it to Fournier and he is open under that basket and puts it in to make it a 4 point game. Celts call time out and down by 4 needing a 3 because there is barely any time left. They feed it into Jaylen Brown and he dribbles for a bit then pulls a deep 3 from the logo and hits it absolutely nails. The Celts foul of course and Julius Randle knocks down both free throws the Celtics with no timeouts race down the floor but not exactly race, to be honest, it wasn't racing down the floor because when the ball was passed in the possession started slow. They inbound the ball to their best player Jayson Tatum he slips and I think oh no were not going to have enough time to go down the floor or he is just going to turn it over since he fell but he quickly passes the ball then it gets thrown down to midcourt to Dennis Schroder and he finds a wide-open Marcus Smart on the right side of the court and he bangs home a buzzer-beater to send it to overtime. I already explained a bit of the overtime in the start and Celtics fans already know what happened so no need to get into that. It was a tough loss to take in the double-overtime but it's okay we will see those guys again. 
                    Marcus Smart 3 to send the game to OT:
I'm done with the story of how the game ended that was hard to type about with how heartbreaking the sequence of the loss was. We end up making a miracle comeback which most teams wouldn't come back on. Now let me recap the things I liked in this game, didn't like and the players let's start.
Jaylen Brown looked sensational:
I have said in my previous Celtics article that Tatum all round is better than Brown but last year Brown was our best player. In this opening night game, he continued to do what he was doing last year but did even better dropping 46 points that is now his career-high. Not only did he get a new career-high he did it on opening night on the first game of the season in like the biggest city in America New York. He walks in there and drops 46 what a way for the fans to admittedly get themselves into the season everybody is already excited for the season and not expecting a huge night out of someone just excited to see some ball again and he makes it exciting as possible for everyone to show this season can be insane. He did this having Covid just like 10 days ago he missed the Celtics last 3 preseason games then breaks his career-high after covid recovery. It's one thing to break your career-high but it's even bigger to do it on the first game and in such a big city of New York and recovering from Covid. This just might show this season could be the same thing as last year in overall between Brown and Tatum's careers Tatum is for sure the better player. But last year Brown had a breakout season and he isn't slowing down I really wouldn't be surprised if he ends up being our best player in the season again and him being better than Tatum in a full season is really saying something. It's not that Tatum is playing bad Brown is just on a level that's higher than Tatum has been it's really scary because Tatum's play isn't dropping it's the same as it's been Brown is just going through a time where he is the better player. If Tatum plays his normal skill level and Brown is still playing the way he does this young duo is going to scare the NBA. That's just crazy Tatum keeps playing on the level he has been his whole career then Brown plays this season goes off again playing better than Tatum's regular skill level is deadly because that is basically two Jayson Tatum's on the floor because Brown is playing better than he is. I love it when Brown goes off he is my favorite player on the Celtics one of my favorite players in the NBA. I like Tatum to but Brown something about the way he scores is more fun to watch in my opinion the way he gets to the basket is fun to watch and he has good athleticism going anywhere and his athletism goes around his whole game. Tatum has been better than Brown most of the years but I have always thought Brown has had the edge on him for athleticism. The reason why Brown has been playing better than Tatum is because over the years he has only been getting better I have watched him since his rookie season and it's crazy how much he has changed since then same with Tatum. It is scary for other teams to see this there skill level goes up so much just by each season and there still in their early 20's these guys are the future.
Tatum had a terrible night:
I know I was saying good stuff about Tatum saying he is amazing and his getting better every year but in the opening game his skill level was the complete opposite of Brown's. My man had a tough night he went 7-30 shooting but still had 20 points. I don't think those 20 points are to special because he took a lot of shots. You're not going to win most games when your top scorer shoots 23%. But it's okay it's not anything I'm worried about the best players always have bad games and it was also the first game of the season next game Tatum will probably be back to himself. I have seen Tatum have terrible games and since he is the best player people will say stuff about his bad performance and then the next game he will drop 30 with an amazing shooting percentage. I don't really ever see Tatum have multiple bad games in a row he seems like he always knows what he is doing. A lot of times if the team's best player has a bad game people will none stop talk about saying stuff like if he continues this their season is over when it's only one bad game. I have had no worrying thoughts about this bad shooting night and not even going to say much about it because it's just one bad game people act like it's the end of the world when the best player has one bad game acting like it's been like that the whole season. So I don't really have any worries or things to say about Tatum I know he will be back to himself on Friday against the Raptors in fact he will probably go off that game and even if he doesn't he will at least play good enough that it won't be as bad on the stat sheet as it was against the Knicks.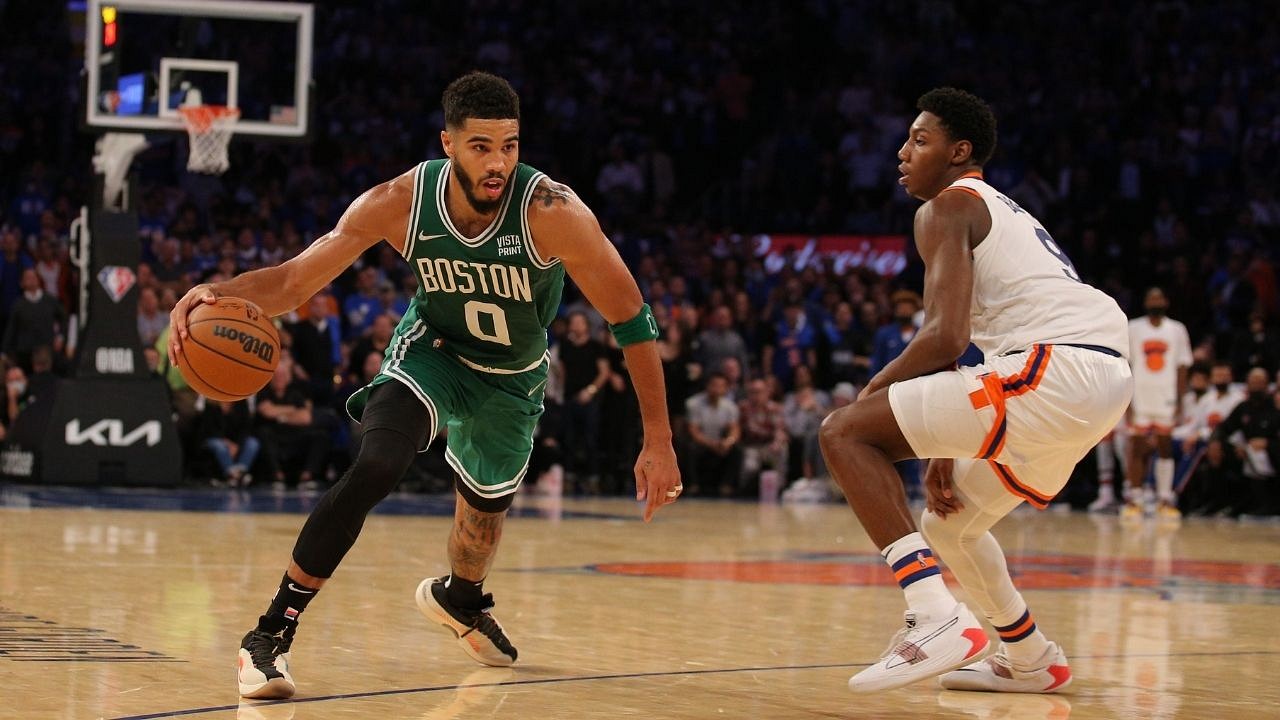 The turnovers are a serious problem:
In the preseason the Celtics were making a lot of turnovers during the span of those 4 games of preseason I saw a lot of sloppy basketball. I think we could have gone 4-0 in that span other than 2-2 if it wasn't for the turnovers. I didn't like seeing the turnovers when I was watching it because it is always frustrating to see teams make all these dumb passes and just play careless and doesn't look professional. When I was watching that in the preseason I thought to myself I know it's preseason and this stuff won't actually translate to the regular season but a takeaway I took from the preseason was don't continue this sloppy play into the regular season. I was worried about it but also not at the same time because in preseason a bunch of bench players are in and they don't know how to play with each other and a lot of those guys are just trying to earn minutes off trying to prove stuff to the coach. The preseason is meant for bench players because they're guys trying to make the team and being in because they don't want to risk getting their starters injured. But the Celtics in their preseason actually played their starters a decent amount so starters were making turnovers to. So going into the regular season one takeaway I had was don't continue the turnover play we have been doing. Then right off the bat in our first game of the season we drop 18 turnovers and no excuses all starters were in and I saw some bad passes and the 18 turnovers might have been the thing that lost us the game. I remember in one of our preseason games against the Raptors we had a solid lead in the 1st quarter then in the 2nd quarter we were making turnover after turnover and the Raptors got themselves back in the game off of that they were scoring each time we turned it over. It seems like whenever we are careless with the ball the other team is really good at taking advantage of it and scoring points off our turnovers they never miss and find a way to score off our bad plays. I think we will slow down the turnovers once the season keeps moving forward it's not something that will always be with our team we will figure out a way to stop the bad passes on our offense. Were a good team our offense won't always be like that but we can't keep doing it because if we do this against good teams the good teams always find a way to take advantage of bad plays you can maybe get away with this against the crummy teams such as the Magic or something. But if we're in a game against a solid team they will know how to make the turnovers into points.
Starting Marcus Smart at point guard is not right:
Last night as I was watching the Celtics game while the intro happened as the players were standing at midcourt ready for tip-off they showed both teams starting five like they usually do. The starting five looked how I expected it to be until I saw Marcus Smart was starting at point guard I was so surprised. I was positive at point guard it would be Dennis Schroder he is a better ball handler and played point guard for other teams. First off I really want Dennis Schroder at starting point guard because that's what I thought we picked him up for and Schroder is a full-on point guard there is no other position he can play Smart can maybe switch over to shooting guard. But I guess the coach wants Schroder coming off the bench which should be the complete opposite. Smart is a perfect bench player he has been a bench player in the past his playstyle is just perfect for it he plays hard, dives for every loose ball, and I have said this in an article before but I say it again because it deserves to be said he plays every game like it will be his last. I know those are great things they really are but I don't know if I want that playstyle in the starting five I think that's a playstyle that should be coming off the bench. Some guys just play better coming off the bench and Smart is one of those guys he is not fit to be a starter and he isn't even fit to be a point guard. They got him in the wrong playing time part and at the wrong position. I don't know who I would say is the better player between Schroder and Smart but Schroder should start he fits at point better and Smart performs better off the bench. They say Smart is going to be the full-on starting point guard and I don't like it plus that might not even last for long either. I have seen Smart for many years now and I know what his role should be I love him as a player he does what a lot of players won't do. I just think Schroder should start not saying he's better but his ball-handling and get the offense going a little better. I haven't heard anyone debate much about this and I'm surprised but I guess we will see how it plays out.
Jaylen Brown's missed dunk might have cost us the game:
Hats off to Jaylen Brown for how he played tonight he put on a complete show dropping 46 points. But he did have one play in this game that really got to me and might have cost us the game. There were about 3 minutes left in the second overtime and the Celtics missed a shot and the possession went to the Knicks. Julius Randle was dribbling the ball up and Brown stole the ball from him and there was no one in front of him just him and the hoop he only had to take a couple of dribbles to get the rim because he stole the ball from Randle quickly. So with me and most likely everyone else thinking it's an easy two points Brown jumps in the air and misses the dunk. Not was it just a normal dunk when Brown went up for the score he did a really athleticism jump to the rim and put his arm super far back and tried to throw it down and make a highlight. That is what really pissed me off like what are you doing? It's overtime and your only up by one and you're trying to throw it down and make a big highlight just put the ball in it doesn't matter how you scored on that. I understand if you were up by 20 in garbage time go ahead and do that but in the overtime situation just put the ball in that's a bad mistake. I know he played great and he is my favorite player on the team can't take either of those things away from him but the missed dunk was bad.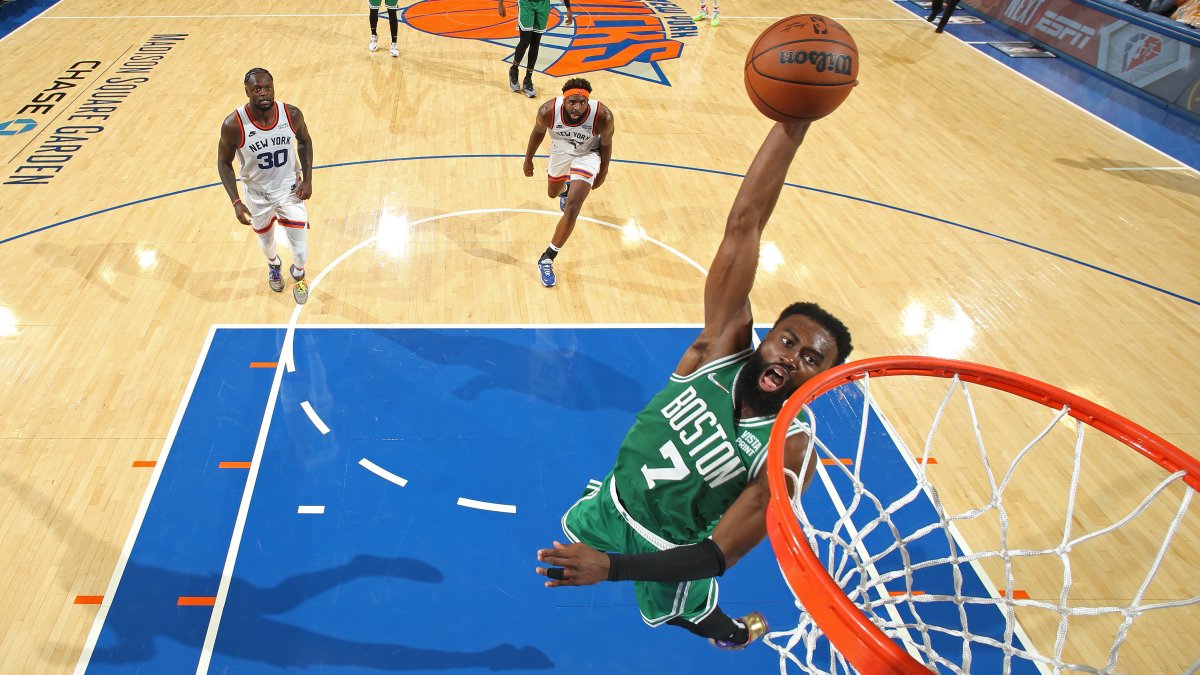 There you go that is my Celtics post-game recap off of their opening night! This was a fun one to recap there was a good amount of stuff to go over even though it was only the first game of the year and a really good first game of the year. Let me know your thoughts on the Celtics this year what seed will they land? I say anywhere from 3-5 in the eastern conference thanks for reading and like always Green runs deep!