Recapping some of my favorite picks of the NFL draft. The draft was very exiting it seemed like everyone was looking forward to it because it was so stacked. Was mostly stacked with quarterbacks and some good receivers to. In my opinion this year might have been the most stacked quarterback class in history and also in overall one of the best drafts ever out of all positions. And even though we all know who the main good players are of the draft couple days ago some surprises happened like a lot of the good players got drafted a lot later than we thought they would not all of them but some of them. But enough about what happened lets talk about my thoughts on some of the players with there new teams and how I think they will preform. 
Justin Fields to Chicago?!?!:
Man oh man yesterday was a great day to be a Bears fan not just because Fields was drafted it was a great Quarterback day. Bears big rivals Packers quarterback Aaron Rodgers said he doesn't want to play for Green Bay anymore and then we got Fields yesterday was a good football day for me being a Chicago Bears fan. But about Fields I wanted Bears to get him of course because he is a stud but I didn't think we would get the chance to because we had a later draft pick and thought most likely Fields would be taken top 5. But no that wasn't the case 49ers were expected to take Fields but they took Trey Lance so everyone else still picked who they were going to pick anyways so that left the door open for Chicago. Bears clutched up traded few picks and got the 11th pick to take Fields. Giving away the draft picks was worth it there is a actual good chance this man can be our franchise guy because how good every quarterback is this draft class. Fields is amazing but they should make a bit of a plan for the young stud. I know everyone is exited Fields is coming to Chicago I am to of course but Since he is a rookie and still may not have full experience I think maybe Bears should start veteran quarterback Andy Dalton for the year. I know that sounds horrible but it may not be that bad because if we put Fields in just right off that bat with know experience he can play bad and not be ready and we might just blow all of his confidence. But if we start veteran Dalton he can teach Fields while he is benched his rookie year and Fields can learn from the sideline while he is out for the year. But if Dalton leads us to a losing record maybe that can accomplish a rebuild for this year we would get another young stud to build around with Fields next season while he starts. My other option is maybe start Andy Dalton for the first couple games than after those games we put Fields in on his first year after couple games on sideline and finally give Allen Robinson and Darnell Mooney a quarterback. But know matter what here Dalton is starting week 1 and I am fine with that were not desperate to start Fields week 1 like other teams have like Bengals last year with Burrow. I am so happy about Fields being with Chicago.
Devonta Smith to join Eagles:
This man Devonta Smith is amazing he is crazy fast and that is what makes him so fun to watch. I know he is pretty small and skinny but I don't think it matters this man is going to help the Eagles receiver core a lot. Because I look at the Eagles receiver core and there literally bunch of nobody's maybe one of them is decent. This will help Jalen Hurts a lot he needs someone to give it to because a lot of people say Hurts job may be on the line next season or to. But I am pretty sure not positive but Hurts and Smith played college together. These to guys have chemistry than can help they work together. I think that Devonta Smith is the best receiver from the draft class some of you might say it's that guy Ja'marr chase but it is debatable.
Mac Jones heading to New England:
Mac Jones heading to New England wasn't really expecting that. And he also got drafted at 15 which is surprising to. Out of all the Quarterbacks in this class the main five quarterbacks Mac Jones probably my least favorite I think that he is out of shape and in college got everything handed to him because he had the best receivers and they would always be open by like 20-30 yards anyone can make a throw with someone that wide open. But even though I still may not like Mac that much I do think he is heading to a great situation in New England. First off he is a perfect Pats quarterback he is a un mobile pocket passer quarterback kinda like Tom Brady. And he is also in the same situation as Fields he has a veteran quarterback around him and that is Cam Newton. They will do same thing as Dalton and Fields. Cam coming off a horrible season and deserving another chance Cam will start week 1 and Mac will learn from the sideline and Cam can teach Mac. Not only Mac will have Cam he has Bill Belichick you all know him. Bill is a absolute genius when it comes down to this type of stuff he will know exactly what to do with Mac he drafted him for a reason and Bill probably knows his quarterback play goes around pats type quarterbacks so he knows what he is doing. If Mac learns from Bill he is learning from the best. Even me like I said earlier I don't think Mac Jones is that good and I didn't think he would be good with anyone but the Pats may be the only team he can be good with and it fits him.
Ja'marr chase heading to play with Joe Burrow:
Chase was drafted by the Bengals and his heading to play with his former teammate Joe Burrow both from LSU. I think both of these guys are going to be great together. A young duo with a future who have played together in the past and were both huge prospects coming out of college. Not only will it be duo of Burrow and Chase. Bengals now have receiver trio of Ja'marr Chase Tyler Boyd and young Tee Higgins. I think having Ja'marr and Higgins together will be great to young developing receivers Higgins just finished his rookie year so they got a young future of there receivers for there rebuild. and to have running back Joe Mixon there offense ain't bad. Ja'marr Chase is up there skill level with Devonta Smith but there both different type receivers my opinion. Chase seems to be a little bigger and looks like he can make really good contested catches and play style may be different. I truly think most of the receivers and quarterbacks from this years class will breakout it is going to be really fun.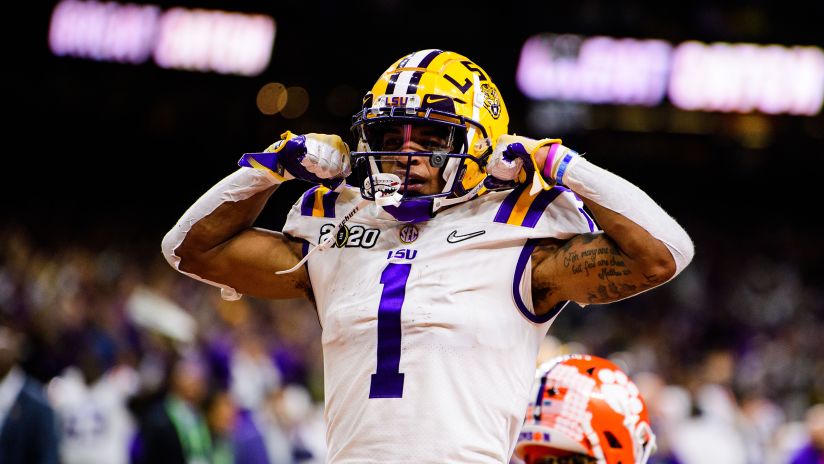 That is my article on recapping some of the draft players. Let me know if you agree with my opinions and let me know who you think will be the best of the bunch and who will breakout. and who will be a bust Thank you so much for reading.