Should the bears start Justin Fields after such a ugly loss to the Rams? There is already a little bit of talk if the bears should start Fields now after we looked terrible in a loss to the rams and there will be more talk about that in the time to come for sure about Fields starting week 2. I have a lot of thoughts on that before I get into that I want to get into something else.
That is how terrible this sunday night game was like wow this game was just like last years game were playing with a washed QB we had know offense I mean we had some good offensive drives better drives than we did last year when we played the Rams. But still this offense looked stalled like usual when we have played the Rams the past couple of years. Not just to the offense but the defense was just terrible too and I am very surprised I am saying that because with the Bears the defense usually isn't a problem but in this game it was the Rams receivers were burning us on every play by like 20 yards every play. Especially Cooper Kupp who had a deep ball td on us where none of our DB's even followed him it was blown coverage and not even joking had us burned 30 yards on that play. Cooper Kupp got a lot of touches today he had some nice grabs I'll admit he owned us today and he made it look easy which It kinda was because the Bears DB's were terrible at guarding him. It was terrible how many missed tackles I saw too I saw so many plays where we would stuff the receivers in the back field off a screen pass and have the chance to make 3 yard loss tackle instead the Rams receiver would blow past everyone and turn it into a 15 yard run.
But enough about my anger on this game let's get into who I think should start week 2 and that is Andy Dalton with some people that may piss them off and some may agree but to the ones that don't agree I have my reasons why he should continue to start and I will break those reasons down and go through some of the good and bad things that he did in his Chicago Bears debut.
The loss to the Rams wasn't his fault:
Like I have already said the loss to the Rams was tough one and was a trash game in overall. But was the game being trash Andy Dalton's fault? I really don't think so I actually think he played a solid game he didn't make any td passes or make a big highlight but he didn't really do anything wrong to make me think it's time to start Fields. Because his turnover rate wasn't too bad I'm pretty sure he only threw one pick and that pick wasn't even his fault he was throwing to a open receiver and it got deflected off a defensive linemen getting the ball deflected isn't much of his fault so that pick isn't that big a deal. And when he was throwing he made accurate passes and didn't make any dumb passes either which proves why he didn't have like 5 picks like I expected he would. The decisions he was making were decisions a veteran QB would do and that's what he is and even though he had some sacks he was playing vs the best defense in the nfl. I bet some of you could say his stats weren't wowing so that proves he wasn't playing good that is because most plays were actually hand offs to David Montgomery and if there were more passes Dalton would have more yards. 
He deserves to play his former team:
In our week 2 matchup we are playing the Bengals. And most of you know Dalton spent pretty much his whole career there and was a franchise QB for the Bengals and was actually pretty solid QB for them. When he played for the Bengals he was teammates with receiver AJ Green and Green and Dalton as a quarterback and wide receiver duo were deadly. They were actually a good duo with a amazing connection. So Dalton has so many memories with the Bengals and there is not to much time left in Dalton's career it's coming to a end so I think he should play the Bengals and put a tear on his former team and actually put a good note to the end of his career if Fields played vs the Bengals I just don't think that would be right let the red rifle shine one last time and have it be vs his franchise team. I say shine because the Bears schedule this year is really hard and when Dalton is playing vs teams all of them are going to be tuff teams. And the Bengals aren't really that good so this is the only team Dalton can actually play where he has a chance to be good. And when he is playing his former team he is going to have a lot of motivation because whenever players play there former team they go off because they want to put it into there face and not only that his QB job is on the line to Justin Fields so he has two different things to motivate him to do good and I feel like with a veteran having those things in his hands he can go off.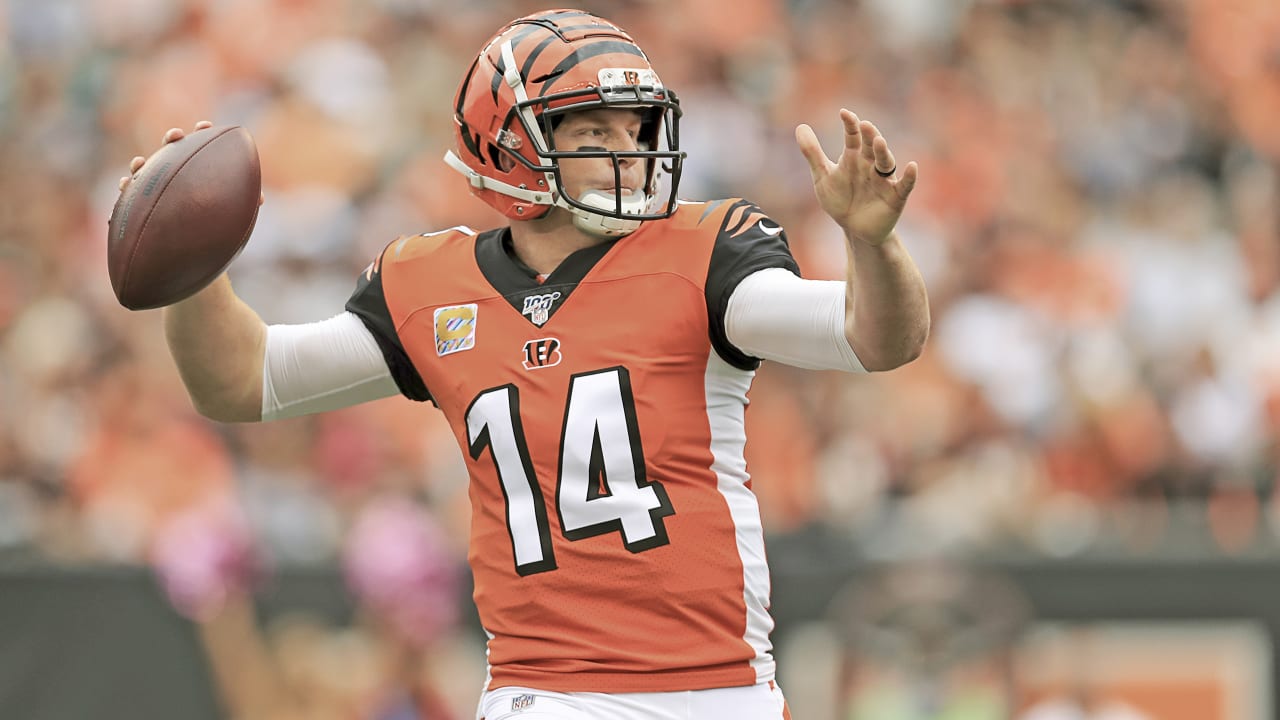 We can't rush Fields:
I have said this so many times on social media to people in person and I have said this everywhere but I am going to say it again. We can not rush Justin Fields I know everyone is saying he has a lot of confidence and he is nfl ready. Yes those things may be true but why take the risk to rush him by putting him in like 3 weeks earlier than he is supposed to when there is a chance he could be our franchise guy for 10 years. Your really going to risk his whole franchise career with us by putting him in 3 weeks early just because you hate Andy Dalton are exited to watch him? I know it's going to be hard seeing him on the sideline because were exited to see him we all our I am exited but I think it will be worth waiting a little bit and having Andy Dalton play just about 5 weeks to have him be our franchise guy. Because watching Dalton play for 5 weeks while having Fields learn on the sideline for a bit and going threw a little bit of hard times for a 10 year franchise guy like Justin Fields is totally worth it you guys just got to be patient with it time will come for Justin Fields.
That is my article on who I think should start next week for the Chicago Bears. I feel very confident in my Andy Dalton opinion so let me know if you agree or don't agree give me your thoughts. And like always bear down!!!!