Congratulations to the Los Angeles Rams for winning super bowl 56! They really deserved it and wasn't totally surprised that they won because that team is stacked! They got veteran quarterback Matthew Stafford and that veteran's targets are receiver duo of Cooper Kupp and Odell Beckham. That is a very elite duo mostly Cooper Kupp who in my opinion just had the best season by a receiver ever. He has always been one of my favorite wide out's and I always knew he was better than people thought but I never would think he would have the season he just had. Odell Beckham is a pretty solid receiver nowhere close to where Kupp is but him joining the Rams around mid-season was a good pickup. I had my doubts when they picked him up because on the Browns he was just miserable and I didn't know if he would be a distraction for the Rams and ruin their super bowl run. But I was wrong he actually adjusted the Rams system as soon as he got there and had a great half-season with them. With some of the plays he made out there, he showed some flashes of his old self. I don't think he will ever be what he used to be but he for sure isn't washed. Do not forget about running back Cam Akers what a comeback story that was. He blew out his ACL earlier this year and came back and won the super bowl. It's not only just to come back from an injury like that but to win the super bowl coming back from that injury all in the same season is crazy. That's just their offense this team is mostly known for their defense and that line of there's is eye-opening. You got arguably the best player in football Aaron Donald and veteran Von Miller. Imagine being a quarterback in the pocket and seeing those two guys running at you. Even if you get the throw-off before those guys get to you in the backfield they got without a doubt the best corner in the game Jalen Ramsey. That guy can lock anyone up! He locks down the NFL's superstar receivers consistently week after week. Those guys being D'Andre Hopkins, DK Metcalf, Allen Robinson, Mike Evans and there are plenty of more. Yes, some of those receivers I mentioned have made some big catches on him but if you're going to guard the best receiver on each time every game at some point there going to break on you. But in overall Ramsey wins most of the matchups even against top 5 wide out's. So with the roster, I have gone over it wouldn't be a bad guess to say this team won the super bowl if that was your prediction. I really don't see why any reason why the Rams would have lost against the Bengals. The Rams had every advantage they have the better roster and was playing on their home field in the super bowl. The Bengals are a really good team but the Rams had everything going in their favor for that game so if they lost there would be no excuses. But the Bengals didn't play bad they just lost to a better team this team has a future with future superstar Joe Burrow and young wide receiver duo of Chase and Higgins. Burrow and Chase are the real deal of a duo as well having great chemistry playing at LSU together then continuing to the pros. They got top 7 running back Joe Mixon this team is stacked I know they lost this year but don't sleep on this team next year. Making the super bowl twice in a row is literally impossible but with the roster they have I look at it as a super bowl roster so I won't loosen up watching this team next season. But enough congratulating both teams I want to get into my recap's. There are certain plays in this game that I want to go over and certain players that I wanted to say what they did right or wrong so let me start.
Eli Apple can't guard anyone:
Eli Apple is just terrible. All this guy does is just talk non-stop trash then just repeatedly gets burned by receivers. Eli Apple trashed talked two of the league's fastest wideouts after winning the AFC Championship. During that game against the Chiefs, Apple said that Tyreek Hill is a big baby and said Mecole Hardman can call for super bowl tickets because he won't be in it. But two weeks later when the big game came Apple ate those words pretty much blowing the game for the Bengals. He made the biggest mistakes at the worst times possible. On the Rams final drive, Stafford took a shot to the end zone and Apple committed a pass interference call to put the Rams at the one-yard line. Then I believe on second down when they were at the one they had Cooper Kupp on the right side with isolation with Eli Apple. You already know where this is about to go. The Rams know that's an advantage having a receiver who's having the best season of all-time at the position one on one with the most struggling made fun of corner in football. As soon as the ball was snapped the first thing Stafford did was turn to Kupp's direction and hit him with perfect ball placement of a small out route. That right there ended up being the game-winning touchdown and Eli had no business even guarding Kupp on isolation that is a death wish. That highlight is on every single social media just to clown Apple for his poor coverage on the play. It wasn't only that he also gave up a touchdown earlier that game as well he blew coverage on two Rams touchdowns and I think both of them were off of Kupp which isn't a surprise. Mecole Hardman made a couple of jokes on Twitter about him being burned by Kupp just a little revenge trash talk for what he said to him and Hill. Eli is the laughing stock of social media right now people all over tik tok are showing videos of burnt toast saying that the toast is Eli Apple which is actually pretty funny. I really can't stand Apple because he talks trash like he's one of the top corners when he's at the very bottom. Jalen Ramsey who might be my favorite cornerback talks a lot of trash and I'm totally fine with it. That is because Ramsey has the right to talk he is the best corner out of anyone he has owned about every pro bowl receiver so he can actually back up what he says. But With Eli Apple he talks just as much as Ramsey but can't guard any receiver to save his life. Not a fan of Eli at all and I hope he continues to struggle. 
Stafford finally got the ring he deserves:
Stafford is a great quarterback I actually won't be shy to put him in my underrated list. He just got his super bowl ring that he really deserves. He deserves it because he wasted pretty much all of his best years with the poverty Lions. Yes, he is a Lions legend he made a big name for himself in the city of Detroit. But he is just another wasted Lions talent. The Lions are probably the worst franchise in football probably one of the worst in all of sports. But even with that I won't lie they have some legendary players. They have had probably the best running back of all time Barry Sanders and Calvin Johnson. A huge hot take I have is if Calvin didn't deal with so many injuries and didn't retire early he would be the best receiver of all time. He retired early because he was always playing through injuries and probably didn't think it was worth it to destroy his body for the future just to have 4 win seasons with the Lions. The next Lions legend would be Stafford some people say a hall of fame quarterback and he has gotten screwed by this team during his career. Him and Calvin were such a great duo but even having a talented duo of those two they were still having crummy seasons. So even with having great players Lions still only get like 4 wins each season. But Stafford stuck it out being with that team you never heard him complain he just balled out quietly and actually played threw a lot of injuries like Calvin did. Stafford is a lot tougher than people think he has played through a lot of injuries on the Lions and would have the courage to play hurt while playing for a bad team. So Stafford left the Lions finally and joined a stacked team of the Rams. He has never been part of a team with the type of roster the Rams had and he showed what he can do when he's not around a bad organization. He created a great connection with Kupp and won the super bowl. He just showed how good he was and how bad the Lions were. He joins a new team and wins it all his first year away from them. Yes that Rams team was very stacked it's hard to struggle with a team like that but still he won. He was the whole reason why I was going for the Rams because this team has so many veterans that deserve to win and the main one was Stafford. I knew if he didn't win this year it would be hard for him to win any other year and he got the ring he deserved. 
OBJ got the ring he deserved:
OBJ just like Stafford got the ring that he needed. I was fully going for the Rams this super bowl all because of their veterans. This team had a lot of players who have been passed legends and they deserve to get a ring and this year might have been their only chance and they all did it. OBJ is the main reason I wanted them to win. I said the same with Stafford because I wanted both of these guys to win. I couldn't decide who I wanted to win more Stafford or OBJ but it was about the same because these guys needed them. It made me so happy to see OBJ score the first touchdown of the game and do one of his classic dances when he was on the Giants. To see him crying on the sideline put warmth in every kid's heart. That is because he has made most kids' childhoods. Even if you aren't a big Odell fan he is a big part of your childhood because the one-handed catches that he does makes every kid want to recreate that catch in their backyard. I have been playing catch at the park or in the backyard and so many times I have put my body into a certain position so I can try to make the catch he made. I even tell my throwing partner to throw it in a certain spot so I can try to do what he did. He has made every single kid's childhood better just for his catches. The thing is I'm not even that big of an Odell fan. I like him but I wouldn't put him in one of the slots for my favorite players. So he isn't even one of my favorites and it still got me emotional to see him win. Just imagine how the huge Odell fans felt when he won. I do think Odell has some history of overrated to his name but I'm still happy he won. Yes, I will admit Odell's one-handed catches are sick I want to recreate them in my backyard. But the catches he makes without a doubt add's way more hype to his name than there is supposed to be. Just because he makes the one-handers doesn't automatically mean he is a superstar receiver. Just because he made the best falling back catch ever does not mean that he was the best receiver ever during the time he caught that catch. Odell was never as good as AB or Julio people said he was better just because of his catches which I will admit I hated that take. Odell even to this day still acts and talks like he's one of the NFL's superstars like he was back in the day but he isn't. He is still elite I'll put him in my top 20 and is an amazing wide out number 2 behind Kupp. His flashy style of running is so fun to watch and he has great speed but he isn't a superstar. This is not hate to Odell at all this is just one of my wide receiver takes I had to say. But all do to respect congratulations OBJ for winning the super bowl and you deserve it!
Chase burned Ramsey several times:
I know earlier I was saying Ramsey was the best corner which he is but I can't lie about the fact that Ja'mmar Chase burned him in the super bowl. All week there was so much talk about who would win this matchup because it was the best corner against Chase who has arguably been playing like the best receiver. I thought without a doubt Jalen would win but to be honest Chase without a doubt won the matchup. I'm pretty sure there were about three times that Chase beat Ramsey on a play. The first play he burned him on was probably the best of all because this was a real burn of a route. With about a minute and a half left in the 1st quarter Ja'mmar ran completely straight on a route and at the last second made a cut to the right and burst into speed after going right and reached out and snagged it one-handed. The ball was just a little bit overthrown and Jalen reached out at Chase and shoved him a bit while going for the ball and he still caught it. That was probably the most spectacular play of the super bowl. Kupp's game-winning touchdown would probably be the most impactful play of the game but the flashiest and best highlight would probably be Ja'mmar Chase one-hander. That is two great things that will always be remembered just in one play. First, he burned Ramsey which is just great because with the ego he has whenever he gets burned he does not like it all. Fans love to clown him on social media when he gets burned because they know he will somehow see it and it will get to him. Then of course the second part is the one-handed grab. In the super bowl's there has been a history of amazing catches that are shown on highlights to this day. There is Julio Jones's sideline toe-tap grab, Julian Edelman's catch where the ball bounced off a corner's hand while three guys were going for it at the same time he was he still caught it before it hit the ground with three guys all around him. There are plenty of more but Chase's one-hander might be one of those super bowl catches shown over and over in the upcoming years because it's so special he burned Ramsey.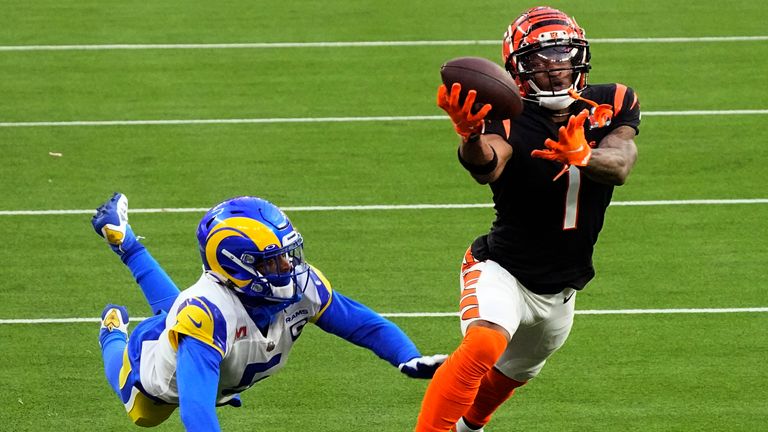 When Chase was burning Ramsey it wasn't always because he got him on a really good cut or double move a lot of the time he would just beat him with speed and that really shows promise to him. There is a play where he beat Ramsey really badly that no one is talking about and that was the last play of the game. It was 4th and 1 on the Bengals final play of the season where they should have sent Higgins and Chase on slant routes to secure the first down instead they sent Chase deep. But him going deep actually worked the ball was snapped Chase just made one little step to the left, not even a cut and he get enough space he burst into speed and beat Ramsey pretty well. He was open streaking down the sideline but Burrow had crazy pressure coming in and had to throw a random dump off to the running back and it didn't work. I have watched the clip a lot of times just to run through my head what would have happened if Burrow had more time. Chase had him beat he would have gone the whole way. Who knows maybe that could have been the Bengals celebrating on the big stage if he hit Chase. But the main point is Chase won the matchup against the best corner and burned him several times safe to say one of these years he's going to be the best wideout in the NFL maybe he already is.
The no-call on Tee Higgins is one to complain about:
You guys probably know what play I'm talking about and the no-call for pass interference makes me question the ref's eye ability. I know the Rams won so it doesn't matter but if they ended up losing this game the facemask Higgins did on Ramsey would be shown and talked about forever. If you don't already know about this let me explain how weird this was. On the very first play of the second half, Higgins was sent on a deep route on Ramsey. When he got far down the sideline Burrow lofted it up there for Higgins who has great length and leaping ability with his body. But while they were both about to go up in motion for the ball only one of them were able to go up for it. That is because right before the ball came down Higgins put his whole entire hand in Ramsey's facemask and had some pull to it and it created his body to go crashing down instead of going up for the ball. I don't know how this wasn't called because what he did was the exact definition of a face mask. What he did couldn't get any more of how a facemask call can be explained. Higgins literally put his hand in his mask where it's close enough to touch his face, pulled his face mask which changed his body motion. They don't like the facemask call because it twists people's necks not only did he create that he got his whole body to flop down. The refs for sure made a mistake on that one if that wasn't a facemask then I don't know what is! Even this play not giving the Bengals the win still makes me mad how this wasn't called. I have always said the NFL is soft and they should let loose on calls but on something like that it can't be a more obvious pass interference. The refs don't make any sense on some plays where both the receiver and the corner are both going for the ball and one of them makes a slight little bump at the last second they call pass interference. But on the Higgins play, there were nothing refs are always making it as soft as possible but couldn't even see this dirty play on Higgins. Wasn't on purpose I don't think but still should be called.
That is my super bowl recap! That was a fun super bowl to watch everything that happened I expected to happen there wasn't totally too much that surprised me. Just a really stacked Rams team full of veterans with better depth beat the young Bengals. I predicted it to be close with the better Rams team coming out on top and that's what happened. There were pretty exciting plays that were fun to watch and the Rams game-winning drive was very clutch. Those game-winning super bowl drives are always cool to think about. Everyone in the country is watching the crowd is all around you and you have to make big play after big play and that's what they did by getting Kupp in the end zone for the final play. It's sad football is over and we're going to have to wait like another 6-8 months but that's okay because this season was one of the funniest I've watched. I'm not going to be sad it's over I'm glad a season like this happened with how exciting it was. Thank you for reading and stay tuned to my offseason articles!