NBA is back! Well not fully because it's preseason but even when preseason games are on I still get excited because I get to watch my team after waiting for so long during the off-season. A lot of people don't like preseason because it doesn't actually count towards your team's actual record and most of the players playing are a bunch of bench guys who are just trying to make the team. But in the 1st quarter and in the 1st half, they actually play some of their starters because they should. I know you don't want to risk getting your starters injured but your starters need to get reps to and they also need to warm up for the season they are just like bench players they can go rusty too. Preseason games have the same rules as regular games so I think starters should at least play for the 1st half to be ready for the season because the intensity of being in a game again even with it being preseason can get you back into focus. I know those guys are playing in practice and working out in basketball gym's but it's a lot different when you're In a game pressure and focus is different even when it's preseason. Because you have fans in the crowd you have guys hacking you hard because it's an actual game and not practice so some preseason games are fun. But no matter how much you say preseason doesn't matter you can take a couple of things away from preseason and I have a couple of things I can take away from the Celtics' first preseason game.
Jaylen Brown looks great:
Jaylen Brown, this game is picking up right where he left off last season. I know last season he broke his wrist and couldn't play in the playoffs but before his injury, he was doing great in my opinion last season he was the best player on the Celtics I know all round and overall Tatum is for sure better than Brown but people last season were saying Brown was playing so good he was the best on the team. I am so glad Brown went off the other night because if he plays like this year like he did last season that can be deadly. I know some of you might say oh it's just a preseason game it doesn't matter but Brown was playing in the first half of this game and in the first half most of the starters are in so his points weren't against scrubs. He was in for a little in the 3rd quarter where some bench players on the other team might be in but still having a good game is having a good game no matter who is in. Jaylen Brown's stats last night were 25 points with 8-16 field goal percentage, 4-12 from the three-point line, and 5-6 from the free-throw line. Then other than his scoring to add to his stats he had four rebounds, three assists, one steal, and one block. Pretty good for his first game back seems like he didn't have any nerves or looked tight in any way some players can be nervous before the first game but I guess not if he plays like this during the season that can be scary.
Al Horford looks like his old 2016 self. 
Horford looked solid out there in his first game back with Boston. Horford isn't one of those players where he makes big highlights on ESPN or does anything that crazy so it may not same like he is doing that well and you might still think that he is washed. But I don't think that he is washed Horford fits perfectly with the Celtics system. I think the reason why he hasn't been that good since he left Boston is because he didn't go anywhere that fit him. He left Boston after 2018 and played with the 76ers in 2019 and I never really saw him play it seemed like he was injured or was always on the bench I thought he and Joel Embiid would be a good Center and Power forward duo both big men together but they really weren't that good I was surprised when Horford went to the 76ers I knew there was something off when that happened. Then for the 2020 season, he was with the Thunder and they didn't work out either people just think he played badly because he was on a bad team because the 2020 season for the Thunder after they lost in the bubble they were terrible. They lost Chris Paul and they were a rebuilding team. Yes I will say Horford probably isn't what he used to be but I don't think he is washed he was playing with crummy teams now that he is in the Celtics system again I think he can be good he really doesn't have to do much he just plays defense which we need because he is one of the best in paint defenders and get rebounds and he can score a little bit too. Even Horford not being the same player he used to be with the Celtics he can look like the player he was before because all he has to do with us is be a role player Brad Stevens brought him back to the team for a reason Brad knows with the system he can fit with us. Horford in the preseason opener looked good he looked like what he needed to do. I want him to be a role player nothing else just score a little bit and play defense and that's what he did in the opener he looked exactly like he did when he used to play for us I know Horford for sure isn't the most athletic guy around but he is super steady and gets the job done when I think of Horford I think of a guy that cares about that game a guy who is super consistent and full-on steady and that's a player the Boston Celtics need. 
Jayson Tatum dunk on Wendall Carter Jr was filthy:
Jayson Tatum at the start of the 3rd quarter had a great dunk! He had the ball in the paint and was well guarded and kicked it back out to his teammate at the three-point line then Tatum moved over to the right to get into a better position for an isolation play he passed back out so he can get into a better position to blow past the defender for the isolation. It is important for him on that because Tatum is becoming one of the best isolation players in the NBA. He seems to get better at it each year!
                              Jayson Tatum isolation:
But Tatum gets the ball fed back to him jab steps a bit does a little pump fakes and blows right past the guy then driving to the hoop with an open lane Wendall Carter Jr fills over to prevent the easy dunk Tatum goes up and throws it down on him. But Tatum dunked it without even touching the rim Wendall Carter put a good body on Tatum when he was in mid-air so he had no room to dunk but Tatum threw his arm down and threw the ball in. His arm was in dunk motion he was doing with his arm just what he would do on a one-handed jam but instead throws it in on that motion without his arm touching the rim while Wendall Carter is draped all over him plays like that just shows Tatum is one of the best players in the NBA. It's not like he had any room either driving to the rim and dunking it when he passed his first defender he was going right driving from the baseline he had no moves for any fakes and from the side of the hoop throws it down without even touching the rim with Carter draped all over him. Not only that right after the dunk the Magic rushed down the floor and they fed the ball to Wendall Carter who was posting up and he bobbled the ball a bit when he was bobbling it Tatum took advantage of that and stripped him Celtics pushed down the floor and Smart slowed it down a little bit did a no-look pass to Jaylen Brown who pushed his body into Wendall Carter and scored on him. That was a bad sequence for Carter he got dunked on then stripped then got scored on by Jaylen Brown who pushed into his chest scoring off a no-look pass from smart. Those are plays he will want to forget let's just say Tatum owns him dunking on him then stripping him which led to a score.
                     Jayson Tatum dunk on Wendall Carter Jr: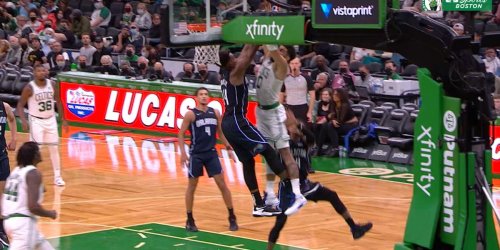 The team was taking this game like it was an actual game:
I know I said preseason can be important it's a real game it is but the actual real game everyone cares about is the regular season. A lot of times in games you see teams kind of be loose during the preseason and working on things they're not good at in preseason because the games don't mean anything for the playoffs. But the things the Celtics players were doing in this game were things I see them do in regular-season games it seems like they completely forgot it was preseason they were diving for loose balls, running fast breaks they seemed all business. I know most of the guys who would take it seriously are the bench players because they are just trying to make the team and preseason games are more for them but the starters for the Celtics were acting like they have stuff on the line to just like the bench players. Well, they really don't but they looked like dogs out there Jaylen Brown, Jayson Tatum, and Marcus Smart all looked amazing it didn't seem like the risk of injury was in their heads Brown had an amazing game he played the best and Tatum had some good plays that made the highlights. Then Smart was playing like his usual self like a complete animal that guy every game plays like it's going to be his last. I am glad the players were playing this game like it counted because I have watched the other preseason games and other teams' intensity looks different than ours that is what creates the differences between the bad teams and the good teams. Not only were the players into it the fans looked hyped they were acting like it was the playoffs towards the end of the game they were all cheering super loud. I am not surprised by the Boston fans doing that Boston is one of the most dynamic sports cities and the fans there are diehard I was happy with what I saw from the Celtics in their preseason opener.
Thank you so much for reading my Celtics article. This is my first Celtics article of the NBA season there will be many more of these Celtics articles. I will have game predictions, game recaps, and much more. This article was so fun to make and most of these things on here were positive let me know your thoughts and as a Celtics fan like always green runs deep!