The Celtics are starting to look good again. Like they did last year last year they were 3rd in the east and made the eastern conference finals. At the beginning of this year and little bit towards the middle the team just didn't look good. They looked flat and weren't playing very good team ball. The only thing that was keeping the Celtics moving was there overall second best player Jaylen Brown was playing lights out to keep them winning games. If Brown wasn't playing at such a high level I don't know how the team would be doing because they weren't playing as a team and then if Brown wasn't playing good team would be losing a lot more games. But that isn't the case anymore Celtics are starting to look like there old selves now and it is looking good now. And here are some reasons why.
                                Boston Celtics:
Jayson Tatum is taking control now:
Tatum at the beginning of the year was playing good it was good but he wasn't totally playing at his best. And crazy to say this Tatum start of this season wasn't our best player it was Jaylen Brown. But now Jayson Tatum has recently starting to play like him old self and is starting to be our best player again. He just recently won Eastern conference player of the week which he really deserved. The one thing that really got him that award was that week he dropped 53 points in a clutch overtime win vs the Timberwolves. But here is the thing just because Tatum is starting to become the Celtics best player again doesn't mean that Brown is slowing down Brown is still playing like he was earlier this season so it is looking really good now. Because we have Tatum doing better now playing at his usual skill level as our best player Brown still playing the way has before this season Tatum and Brown are clicking at the same time and are looking to stay that way. Not only with that not just our to players are going off the whole team seems to be playing a lot better. It is great our to best players are playing at there highest levels while the whole team is playing as a team at the same time. the whole team looks like they know what there doing the system this season just took some time.
                      Jayson Tatum Eastern conference player of the week:
Adding Jabari Parker to the roster:
Jabari Parker was a good pickup. I am glad the Celtics cut Moritz Wagner because all they were going to do with Wagner was ride him on the bench and only bring him in during garbage time. I really don't think that he is that good he is just another one of those big white centers that can't do anything. But to Jabari Parker I think that is good for Boston he really isn't anything special he isn't a big time superstar but he is a role player. That has been on a lot of different teams during his young career and he has always been trying to find a team to get on to stay on for a while and fit with there system. And I think Boston is a perfect fit for him they cut Wagner for a reason maybe the reason was to get Parker and Brad Stevens is a good coach I think he will know what to do with him. In his first game with Boston he looked good I am pretty sure he dropped about 12 points or something. I know that really isn't anything exiting but they didn't get him to become a star they got him to become a role player and do some dirty work. He did the Job they needed him to do played like a perfect role player in his first game and even had a really cool dunk vs the bulls on a cut to the basket. I truly think he is going to make this team better help this team improve and keep this Boston team moving that is a reason to how Celtics are doing better.
                       Jabari Parker dunk Vs Bulls: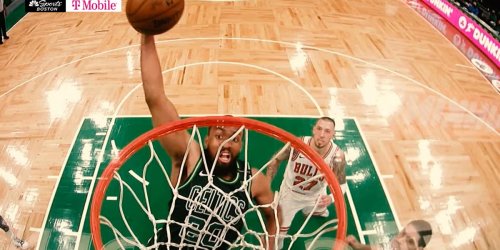 Robert Williams and the center position is stepping up:
Robert Williams has been playing lights out this year. Just like Jaylen Brown he isn't putting up monster stats or anything or making the all star team. But he has a huge chip on his shoulder this year and he has improved a lot over the years. In his rookie year he got in trouble for showing up to a practice late and showing to a meeting late. And I made a opinion on him where I thought he was a really lazy center that just does nothing and only goes in because he is big. But I was totally wrong he is not lazy he really hustles out there on the court he dives for loose balls sets pick and rolls for dunks and does the dirty work. I do know that a lot of his plays might not make the big highlights or make the exiting plays but he does what he needs to do to help this team. So the Center position is really helping and improving this Boston Celtics team. Not only is Williams doing it. Center Tristian Thompson has been pretty good Thompson pulls down some rebounds plays hard in overall plays some defense and has a really good lefty hook shot. So the Center position looks good right now I do wish we had a really good scoring center who main playstyle is scoring to help Tatum and Brown but our centers our hard workers and that is what I like and that is what is improving Boston right now.
                     Robert Williams hustle plays:
                                         Tristian Thompson hook shot:
People are forgetting about the Celtics:
People are forgetting about us. Like I have already said at start of this season Celtics were not playing good. So since we were playing bad everyone quickly forgot about us and gave up on us and just thought we were done for and stopped paying attention to us. So everyone has been putting attention to the Nets who have Kyrie, Kevin Durant, Blake Griffin and so much excitement to them. And same with the Bucks who have the Greek Freak and then the 76ers this year are playing better than normal so they just gave all there attention to those teams. Because they got all the all stars and all the high standings. But the Celtics are now playing better and people are still not talking about us. But I think that is a good thing were a lower seed team who is currently playing like a top seeded team now. So I think when playoffs hit around we can shock everyone and be a 5th seeded team playing like a 1st seeded team and shock everyone because were playing good at the end of the season. Because over the years were always a top seed in the east and we are always a team that has championship conversations. And whenever were a team that is in Championship conversations we always fail to convert in the eastern conference finals and maybe the one year know one expects us to do anything that may be the year we run the playoffs and make the Championship. So I think people forgetting about us is helping us and giving us runs right now.
                   Celtics old playoff game photo:
Now that is my article on the current Celtics! That is how they are looking better and becoming better all of those things have been and are making them the team they are right now. Celtics were on a winning streak then lossed to the Bulls where they looked flat there are some games where they don't look totally good but there looking better. They got a big contest vs the Suns this Thursday there one of the best western teams if Celts can pull a W off that I have confidence in them. Thank you so much for reading my Celtics article and let me know your thoughts on the team!