Mitchell Trubisky had an up and down career with the Chicago Bears each year was different for him each year something different was happening. In his rookie season with Chicago, he didn't start the full season because they wanted him to develop and started quarterback Mike Glennon the first couple of games so in his first season he wasn't even in the whole time and was still learning that year and didn't fully breakout yet. Then after that came 2018 his breakout season that was his best season I know the Bears had the best defense that year so he got carried by them but even with that going on this was his best year he was throwing so many deep balls yes he did make throws that were dumb and risky like he usually does but in his 2018 season he didn't look like he was scared to throw he had his confidence he was running well too. 2018 was the year where he exploded with his legs when he first started taking off with runs I was always looking at the tv like what? Is he seriously running like that because Mitchell Trubisky does not look like a guy that can run that well but he can. Not only was he running for the first downs he was using his legs for pass plays to Matt Nagy in 2018 for one time in his career actually had good play-calling and made calls that fit Trubisky and Mitch was using his legs rolling out of the pocket and hitting receivers all the time because that's what he felt comfortable with.
                   Trubisky 2018 TD celebration Vs Lions:
Then here comes 2019 this is where things went down for Mitchell Trubisky he started this year with a terrible opening game outing putting up 3 lousy points against the Green Bay Packers. He moved no offense at all that game after that game I was confused why he played so bad and I thought to myself it's just one game he will look more like himself the next coming games. But he didn't this season Mitch just wasn't his 2018 self Nagy wasn't rolling him out of the pocket he didn't run as much and wasn't doing the things he did last season. With Mitch starting to play bad he got his confidence blown I can tell he looked scared when he had the ball in the pocket I can tell by the way he is moving around and whenever pressure would come in on him he would throw the ball and quickly move his body back because he is scared. I think a lot of throws got into his head to I didn't see him using his arm strength and he wasn't making those risky throws anymore I know that's a good thing to not make risky throws but he usually has no business doing that so he was so blown he was even too scared to make those weird throws he always used to make.
                     Trubisky opening game Vs Packers:
 Then his last season came with Chicago 2020 he wasn't guaranteed a start Chicago had signed veteran quarterback Nick Foles and a lot of people were saying Foles should start week 1 but they didn't they gave Money Mitch his chance and he did pretty good until they took him out week 3 because he had one bad first half I think that was ridiculous but I'll get more into that later. But when they put in Foles after Trubisky's terrible first half Foles went off in the second half and got us 16 point comeback win on the Falcons and that's what made him start for the next couple of games. 
 But Foles got us to a record of 5-1 then dropped us to 5-7 and Matt Nagy decided to go back to Trubisky. Mitch moved our offense way better and looked good out there I know he got taken out during the season but he looked a lot better in 2020 than 2019 because he looked more comfortable in the pocket and was making throws he wouldn't make the season before. So each season wasn't really fair for Trubisky his first year he didn't even play the whole year than 2018 was his good year because that was the only year Nagy knew what he was doing. Then 2019 he got his confidence blown because Nagy wasn't play-calling the right calls for him and in his last season with us, his final chance to save his job gets ruined because they decide to bring in Foles just because of one bad half and that was so dumb. But enough about my long intro I'm going to get into the things Trubisky did that made him fail and things he did to make him succeed also the things that weren't his fault. 
He stares down his targets:
I know in my intro I was backing up Trubisky and saying all of his years weren't really his fault and I always do backup Trubisky. But there is a lot of things he does wrong and here is one of them he stares down his targets. Before the ball is snapped and there in the huddle and there saying the play call in the play there is always the main target who they want getting the ball there is always an offensive target in the play who's the first option who they want to get the ball. A lot of the time the main target of the play will be their best player but not all the time sometimes it will be a different player because that player is running a certain route and a player might be good at play that is perfect for the situation of the game the main target isn't always the wide receiver 1 or the best player. But about Trubisky with that playstyle, Mitch knows who the main target is of the play call and he always stares them down as soon as the ball is hiked Trubisky admittedly looks at the main target of the play and he stares them down for like 5 seconds straight and Trubisky stares them down during there whole entire route and defenses always know where he is going that's why he would have interception problems. That's a flaw an inexperienced quarterback will do Trubisky has a lot of flaws that young quarterbacks have and has a lot of flaws that are actually really hard to fix. But with this staring down his target issue what he should do is when the ball is snapped he should look at the other side of the field at the second target and act like he is throwing over there then turn to the main target and if he's open hit him if he does those defenses won't know where he is going. I've seen in all Mitchell Trubisky edits on youtube when they have it zoomed in on him backing up to throw he always has his head in one direction he is never moving around good defenses will always find a way to shut down his passes if he keeps staring.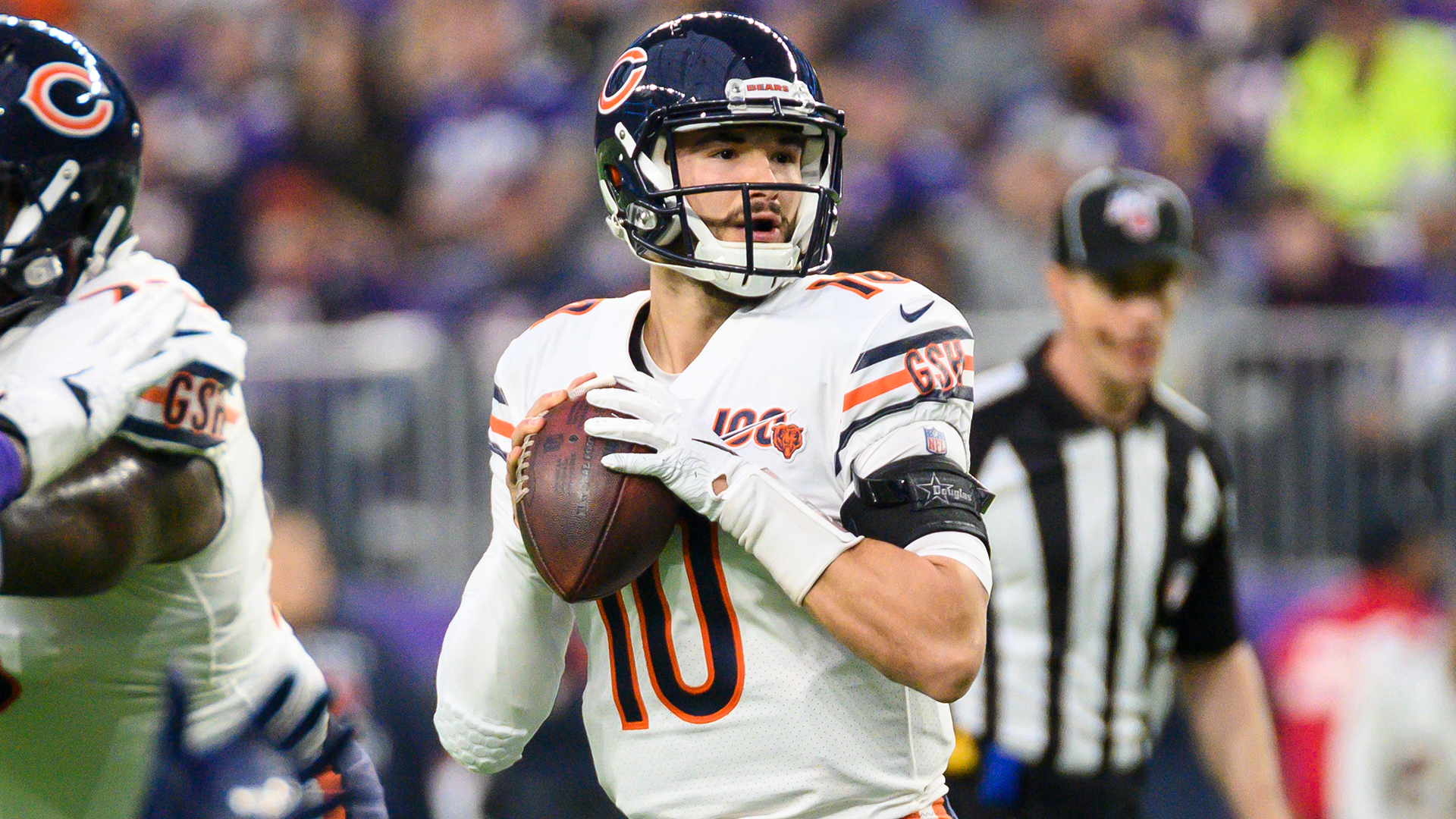 He makes dumb throws:
Trubisky does have a history of making good throws he has a really good arm but the way he uses his arm strength isn't how he should use it. A lot of the time I really don't think Trubisky knows how to throw the ball away he always thinks he has to throw it and make a play out of something. I see him roll out of the pocket have know one open and the right choice would throw it away but instead, he will just throw up to a clump of guys and hope the god the receiver comes down with it but instead it just gets picked off or batted down. Even when he is not rolling out of the pocket and he is sitting in the pocket with a good time to throw he will still throw into double coverage I think sometimes he can't read the safety the receiver will look somewhat open with one on one with the corner then he will throw it without knowing the safety is filling over while the ball is in the air to make it double coverage. That goes to his staring down the target issue he will stare down the one-on-one coverage and the safety can read that and will fill over. Then whenever Trubisky always throws those dumb double coverage throws there all the same he always rainbows the ball super high and can easily land the ball right in the corners hands I get so much anxiety when I see the ball going super high in the air when deep because I know the high lolly pop throws are going to be dangerous because I can tell by the way the ball is in the air it's one of those dumb throws he makes.
Can't read defenses:
I'm sorry to say but Trubisky can not read defenses to save his life it's been proven his whole career he can't read defenses. There is a reason why most of Trubisky's successful games in 2020 were against terrible teams because he can read the bad teams defenses and even if he doesn't against the bad defenses he can still find a way to hit receivers somewhere with their bad coverage. But against good defenses he can't read anything it's not that against good teams he is just throwing picks everywhere sometimes against those teams the offense doesn't move with him at all because he just doesn't know where to throw and has no idea what's going on. The defenses know he can't read defenses so they have certain audible plays that will play with him or certain matchup switches he will start to overthink in the pocket.
He is super inconsistent:
Trubisky is one of the most inconsistent quarterbacks that I know. In one game he will look like a franchise guy hitting every pass no dumb throws, scrambling around doing everything you would want him to do. Then the next game just like a week later he looks terrible looks like a complete bust looks scared in the pocket throwing into double coverage taking sacks when rolling out I don't understand how his playstyle changes that quickly. Not only is he inconsistent game by game he can be super inconsistent during games and I got to say that's even worse. Because in games in the first half he will look terrible overthrowing receivers don't look comfortable then in the second half where we actually have to move the offense that's when he actually starts hitting his passes hits everything with perfect ball placement rolling out of the pocket like his best. It's crazy in the first half he looks like a guy you want sitting on the bench then in the second half he will look like Patrick Mahomes. You can see an example of what I'm saying if you watch the highlights of our week 1 matchup against the Lions in 2020. This can be the other way around to in the first half he will look great and I let loose thinking it's a game where Money Mitch has got us then in the second half he doesn't do a thing with this one you will see an example of this from the highlights of our week 2, 2020 matchup against the New York Giants.
But those were the things that were Mitchell Trubisky's fault let me get into the things that weren't his fault and a lot of the things weren't his fault it breaks my heart how much blame he gets for the things that happened.
Matt Nagy play calling is trash:
Matt Nagy sucks every Bears fan wants him fired everyone in Chicago for sure hates him and even people who aren't fans of the Chicago Bears know he sucks. This man failed Trubisky and ruined his career the only good play calling year Matt Nagy had was in 2018 and that was Mitchell Trubisky's only good year. Nagy play called the perfect plays for Trubisky he called plays that were perfect for his playstyle the plays were ones that made him feel comfortable like the ones he ran when he was in college. Nagy all year long was having him role out of the pocket and perfect routes from receivers for him to throw.
 But after 2018 Nagy's play-calling was terrible as soon as 2019 started that's when things got terrible and when Nagy started doing bad that's when Trubisky started doing bad. In 2019 he wasn't having Mitch use his legs he was keeping him in the pocket and his play calling on third down was just terrible he would always set up a cheeky little screen pass like have Mitch throw. Keeping Mitch in the pocket is not a good idea Nagy never rolled him out I know you should keep him in the pocket some plays but every play doesn't work for him and that made Mitch scared in the pocket you can tell by the way he would move around. Matt Nagy continued his terrible play calling in 2020 so for most of Trubisky's career Nagy was giving him bad play-calling not only was he giving Trubisky bad play calling in 2020 there was much more and I'll get into that now. 
Nagy ruined his final chance:
Before the season started a big debate was who should start Foles or Trubisky and after all the debates they Named Mitch the starter. Some were mad some were happy but some people thought Trubisky would be out after week 1 with how bad he was the season before.
 But Trubisky in his first 3 games didn't have a problem well besides the third one. In his first 2 games, he won both then in his third game he had a really bad first half, and in the early third quarter, he threw a bad interception. So then Nagy put in Nick Foles he made a huge comeback to get us a big win. I really don't think that was necessary I know Mitch was playing bad but the 2020 season was supposed to be Trubisky's final year to prove he can be our guy coming off a bad 2019 season I know he was playing bad but even if we lost we still would have been 2-1 and taking Trubisky out only having a bad first half when it's his final chance to prove he is the guy is ridiculous. Then after Nick Foles only playing one good half against a terrible defense of the Falcons he is named the starter in week 4 after the big Falcons comeback.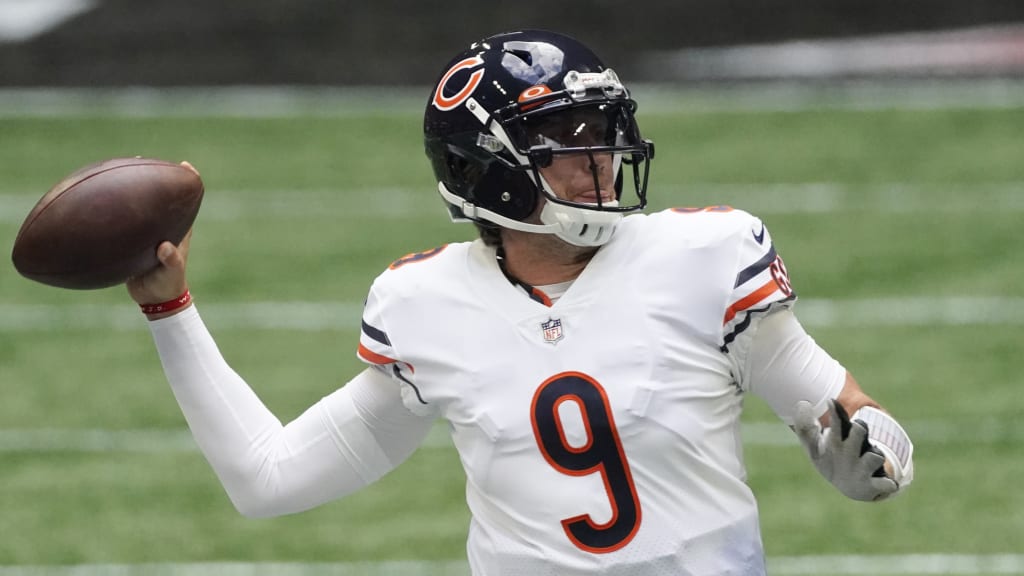 Then destroys our season by having us go from 5-1 to 5-7. That happened because the offense system and bad offensive line didn't work for Nick Foles. If Mitch was in there that wouldn't have happened we might have been able to have a winning record people blame Mitch for giving us back to back 8-8 seasons but it really wasn't him who did that it was Foles. So Nagy failed Mitch not just with play calling but also by taking him out when he shouldn't have. Later in the season when they put in Trubisky again that's around the time when Nagy gave up play-calling and gave it to someone else and then the offense actually started moving. As soon as they took out Foles and got Nagy out of play calling that's when the offense started moving!! You see Nagy was the problem Nagy with Trubisky wasn't working then a different guy play calling for Mitch he was moving the offense. It just shows Foles couldn't move the offense either so it proves Trubisky should have been there all along. 
The offensive line gave him no time:
I think the offensive line was pretty good in 2018 but then in 2019 and 2020, this offensive line was trash. The offensive line is still trash to this day with Justin Fields. But Trubisky offensive line was terrible in 2019 he had no time. First off Nagy had him in the pocket like every play in 2019 so he was getting pressure every play I don't know why you wouldn't role him out when the line is pressuring him every play doesn't make sense but it's Matt Nagy there is always something stupid. 2019 was the year he was in the pocket the most it sucks that the year he is in the pocket the most that's the year the line was the worst and Money Mitch couldn't throw. 
2020 was the same with the offensive line Trubisky had some struggles in his first 3 games with the line but did alright. Then you all know he didn't play in the middle of the year as I explained before it proved the line was bad because Nick Foles played terribly with the line he isn't mobile so with a veteran like him being great with the Eagles before then turning trash that fast shows how bad the offensive line was.
 When Trubisky came in again the last part of the season the offensive line was bad but it really wasn't as bad as it was for him in 2019. At the end of the 2020 season, he didn't have to worry about the line because he was using his playstyle moving around because the play-caller was switched and called plays that fit him and Trubisky in 2020 looked a lot more comfortable out there looked calm in the pocket and did everything better in 2020 than he did in 2019.
That is my article on what Mitchell Trubisky did wrong and right with the Chicago Bears. There are actually a lot more things he is good at and a lot more things out there that happened to him that weren't his fault. But from this article, I will admit that there is a lot of things Trubisky did wrong and for sure has a lot of flaws I'm not going to lie about that stuff as a fan of him those things are true he has his struggles. But thank you so much for reading and let me know your thoughts on Trubisky and bear down!!!