Mitchell Trubisky oh Trubisky hasn't been a very successful Quarterback throughout his career but you guys all know him even though he has been bad. He was the Bears Quarterback 4 years and only about 1 of those years he was successful. That is a reason to why he gets so much hate has struggled as a Quarterback in his career and not a lot of that is really his fault and him struggling over the years isn't on him and people don't totally recognize that. Yes Trubisky has a good amount of flaws but I think he is so over hated and fans hate on him without even knowing any of the things he has gone threw and all the things he has delt with on being with a bad organization. A lot people will just see him make bad couple plays then quickly think he is the problem. But that is what I am talking about in this article why Mitchell Trubisky is so overhated. 
                     Mitchell Trubisky:
Horrible play calling:
Mitchell Trubisky in his whole NFL career has had bum coach Matt Nagy play calling for him. Not his whole career besides his rookie year he didn't have Nagy he had John Fox who wasn't even good either. But most of his time he has had Nagy who has the worst play calls and Nagy's play calling doesn't go around Trubisky's play style at all Trubisky's game is using his legs and rolling out of the pocket. Then Nagy keeps him in the pocket where Mitch would look scared because all of his confidence was completely blown and the offense would just stall with that play calling with no movement. In college rolling out is what Mitch did best he feels comfortable outside the pocket and Nagy wouldn't even realize that. But I will admit there was actually one year where Nagy had good play calling and it was in 2018 Trubisky's only good year. Nagy that year had Mitch moving out of the pocket, Mitch was confident that year, He wasn't afraid to use his rocket arm and would throw deep a lot. Mitch had his whole game that year. One of the reasons to being because there was good play calling isn't that such a coincidence that the one year Trubisky does good is the one year there is play calling that fits him. And since he was so good he had all his confidence wasn't scared to throw didn't look scared in the pocket he had everything because that one year he was in the right system. Put the man in the right system and he can be good. 
                                           Matt Nagy play caller:
                             Trubisky rolling out of pocket:
2. Having a horrible offensive line:
Trubisky 2019 and 2020 season had horrible offensive lines to work with. He was working with bums who couldn't block for anything guys like Charles Leno Jr, Bobbie Massie and other guys. If you can see how bad the offensive line was just this year take a look at how Nick Foles did. Foles is a great veteran Quarterback who has been around a while and even beat the goat Tom Brady in the super bowl. But Foles isn't mobile and just to show how bad the offensive line is Foles horrible mobility struggled he had like 1 or 2 seconds to throw the ball and could never escape pressure and Nick Foles isn't bad. Some people are just saying he is bad because he played bad with Chicago he isn't bad it's just the offensive line made him look that way. And that is exactly the case with Trubisky it is the same exact thing Mitch has to deal with horrible play calling and having the offensive line wear him down at the same time. Mitch can work with a bad offensive line better than Foles can because Mitch is mobile and even had some sorta success at times even with the bad line. So just imagine if you can put mitch on a team with a good line that will give him time for his great arm not get in his head and make him scared. Also to distract defenses he can have some plays to use his arm with line protection then on some plays role out like he does so well and the defenses won't even know what he is gonna do because he has so many choices on offense because he is put in the right system.
                                 Bears offensive Linemen: [ Charles Leno Jr ]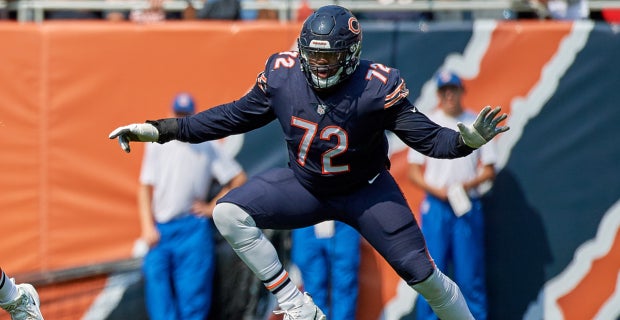 3. He was never given a chance this 2020 season:
Mitch this 2020 season had his job on the line and had one last year to prove himself so they put him in as starter in week 1 over Foles. In his 1st game he played Vs the Lions things started horrible and he did nothing on offense in the first half. But in the 4th Quarter of the second half my man Money Mitch turned into Patrick Mahomes he threw 3 TD's to get Chicago the comeback win. My favorite play was his game winning pass to Anthony Miller in the corner of the in zone to win. Next game was Vs Giants Mitch played a pretty good all round game that game and got the win barely. Ok week 3 this was where things didn't go as planned. Trubisky this whole game was playing pretty bad and wasn't moving the offense and around the 3rd Quarter Mitch threw a dumb pass that lead to a interception and after that when the Bears got the ball back Matt Nagy brang in Nick Foles. But this is what I don't understand They put Mitch in to give him one last chance that he is the guy he goes undefeated his first 2 games and in the next has one bad half and gets taken out. Yeah Foles came in and won Chicago that game but like we still would have had been 2-1 if we lossed and that is still good and Mitch could have kept going to prove he can stay.
                     Trubisky interception play Vs Falcons: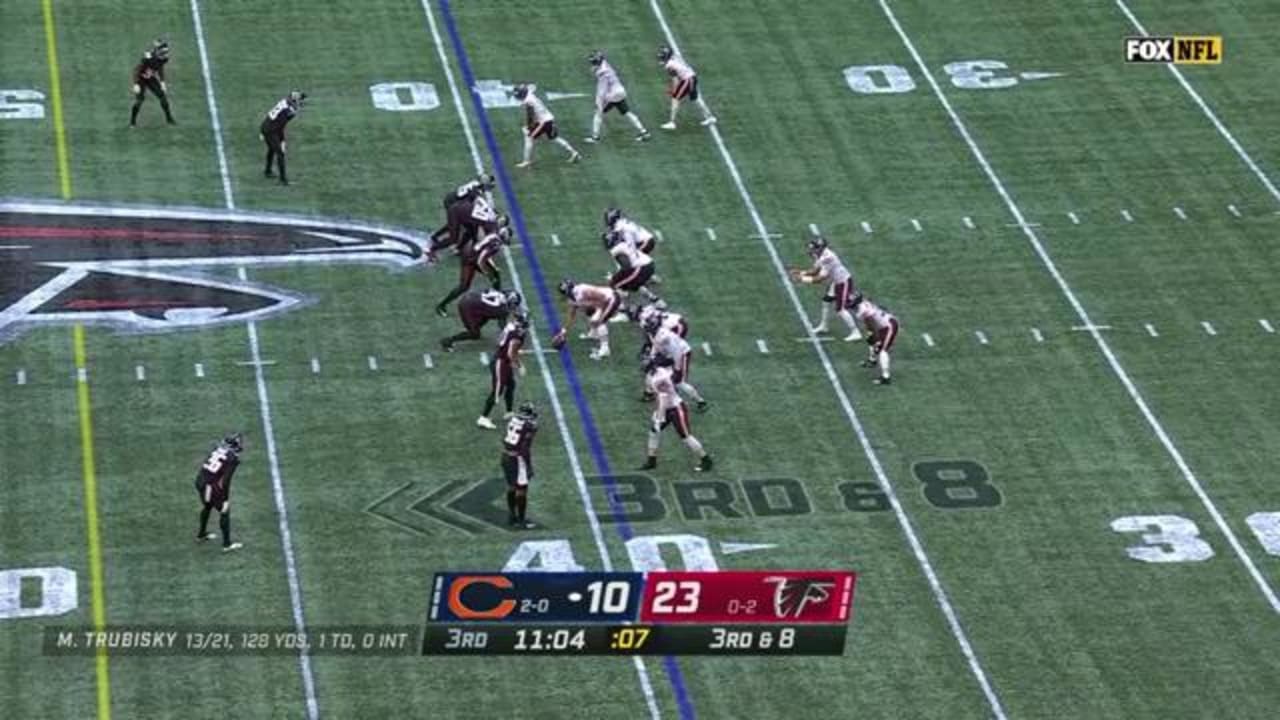 Anthony Miller game winning catch throw from Trubisky:
Mitch wasn't good in Chicago but I truly think that if a team were to give him a starting job and system isn't a bunch of bums and can actually work with Mitch he can succeed. Even if Mitch were to go into a different system and then not succeed I do think he would at least do better on a different team. Yes I will admit Mitch has flaws he can be inconsistent He can make bad throws with bad decision making. Mitch at times Have heard that he can't read defenses and can't figure out what play to use on defensive plays which I do think is true.
That is My article on Mitchell Trubisky on why he is so overhated! Those are all my reasons to why I think he is overhated not all there are plenty more. Thank you so much for reading and let me know your thoughts on Money Mitch what you think he is good at bad at and where you think he would shine as a QB if he were ever to be a starter again. Thanks so much for reading.